Most people like to pack as lightly as they can when they are out on a hike or other outdoor adventure. So when out hiking the mountains in the wintertime, you may wonder if you need a different pair of boots to ski? 
You cannot wear hiking boots to ski because skiing requires specialized equipment to do it safely and comfortably. You cannot slide any shoe or boot into a snow ski binding. Depending on the type of skiing you plan to do, you will need specific boots available at specialized retailers. 
This article will explain why hiking boots don't work for skiing, the history and evolution of ski boots, and how to choose the best boots depending on what type of skiing you plan to do.  
Is It Possible To Squeeze a Hiking Boot Into a Ski Binding?
It's physically possible to jam a hiking boot into a ski binding, but it's not safe or comfortable. The modern ski boot is designed with technology to securely snap into the binding and hold the ski in place on the bottom of the foot. Most ski brands design their skis to work with specific boots.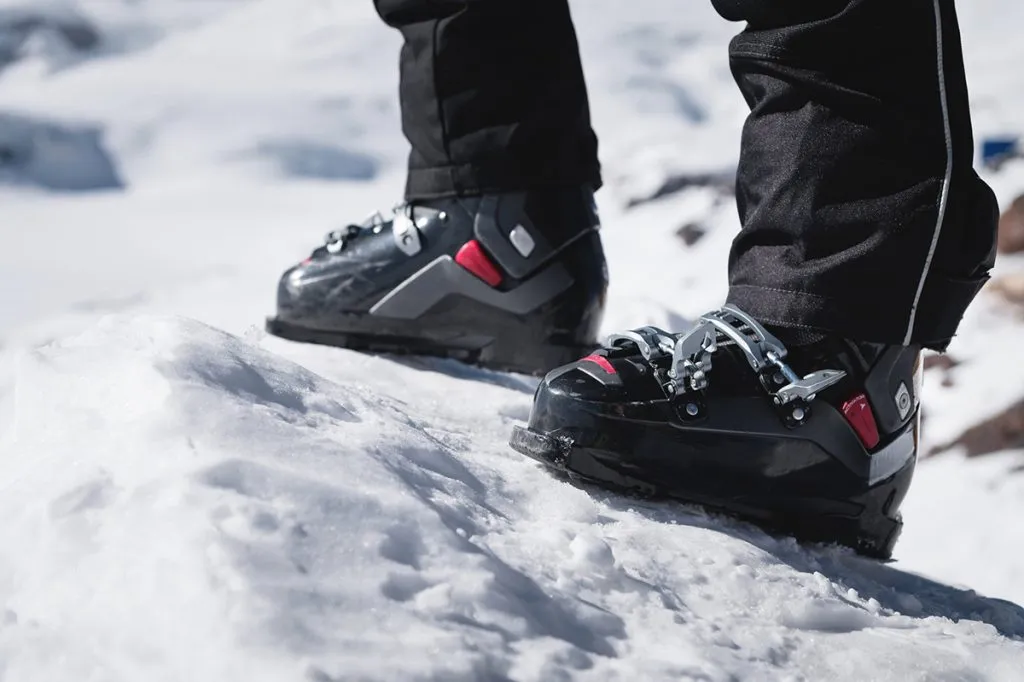 The Evolution of Ski Boots
Skis have been around for thousands of years, and while the original ski was attached to a pair of boots by a leather strap, this is no longer considered a safe or viable option. While you could technically make it down a hill with your hiking boot binder to the ski using a strap or rope, this would not be a recommended method any longer. Like many inventions, our technology improves, and new standards are established over time.

In the mid-1800s, with the invention of the industrial sewing machine, the ski boot began to be commercially available for the first time. Around 1900 the first commercial ski boots started to become widely available. Over the centuries, the technology for ski boots has improved, and it is no longer considered safe to ski in anything but ski boots. Nordica introduced the first example of what we now consider to be the modern alpine ski boot in 1973.

Understandably, outdoor enthusiasts would want to climb a mountain and ski down it without an extra set of boots in tow. Luckily as technology has improved, there are options to make it easier for somebody to experience both sides of the mountain with one set of footwear. 
Choosing Boots for Hiking and Skiing
There are ski boots designed to focus on skiers who do a lot of climbing or those focusing more on downhill skiing. There are: 
Alpine boots 
Touring boots 
According to profeet.co.uk, the main difference between alpine boots and touring boots is that alpine boots focus predominantly on downhill skiing, while touring boots are designed to be lighter on your feet for uphill climbs. There are also what's known as "hike 'n' ride" boots, which accommodate both.
Alpine boots are the best option for downhill skiing. However, touring boots are your best option when you want a boot that will allow you to climb a mountain and ski down it afterward.
Originally, alpine boots didn't have a hike or walk mode. However, as technology has improved and trends have evolved, you can now find options labeled as alpine touring boots. These now offer some of the best tools for ascending and descending mountains. 
If you want to forge your path while skiing, a pair of backcountry touring boots are a great choice. They're technically more ski boots than hiking boots but are suitable for both. 
For example, the SCARPA men's Maestrale RS Alpine Touring Ski Boots (available on Amazon.com) quickly transition between ski mode and walk mode with their Speed Lock technology. It also helps reduce ice and snow build-up for easy mode changes, even when wearing gloves.

Ultimately, the best way to determine which boot is best for you is to visit a local sporting goods store or specialized ski shop. Talk to your local store owner and let them know whether you'll be spending most of your time hiking, skiing, or skinning. Also, be sure to try them on before purchasing to find the right fit. Like many outdoor activities, finding the right fit for you is paramount.
Conclusion
When people are performing outdoor activities, comfort and convenience are two of the most important factors to consider. Skiing is no exception. But you can't sacrifice safety when performing your favorite hobby. 
If you plan to hike and ski in the same afternoon, you would want the best equipment available for both while carrying the least amount of cargo. The best option is to buy a pair of alpine touring ski boots. These boots allow you to hike and ski while providing safety and comfort during both activities.
What To Read Next: