Tights and leggings are the most common skin-tight garments worn by women. A long time ago, men would wear tights when riding horses, but nowadays, it's very rare to see a man in tights.
The main difference between leggings and tights is the translucent fabric used for tights shows off the wearer's skin and, therefore, isn't meant to be a stand-alone garment. On the other hand, leggings are made of thicker fabric that veil the skin and can be worn as stand-alone garments.
In this article, I'll delve deeper into the differences between these two garments and help you know when to wear which of them. Read on.
Differences Between Leggings and Tights
Ladies have worn tights since the 1920s. During that period, these garments were only made of silk and referred to as stockings. Later, they would be made of nylon and acquired a new name; nylons.
They're available in different varieties. Some extend from the waist down to the knees, while others extend up to the feet. Tights are made of very thin materials such as nylon, silk, and polyester. They're also well elasticized, making them stretch well undergarments. 
Tights fit snugly on the skin, and even if it's very hot, you're unlikely to feel uncomfortable since they're not made of heavy materials. Some tights resemble the skin, and since they fit snugly, you can fail to notice someone is wearing anything on top of their skin.
When you look at leggings from a distance, they resemble tight pants, but the two are very different in terms of materials and even design. Leggings can be comfortably worn alone as they're made of thick materials which don't show off the skin. 
However, some leggings might show off your skin, especially if they're made of cheap material. To ensure you're wearing leggings the right way and not embarrassing yourself in public, put your hand in the leggings against its fabric and see whether you see your skin. If you do, you might not want to wear your leggings as pants.
Leggings are also tight, but not as much as tights.
Some leggings extend from the waist to the ankle, while others go all the way to the mid-calf. Just like tights, they're made of elasticized materials that enable them to stretch comfortably.
Materials
Nowadays, most manufacturers make tights from polyester, nylon, or a cotton and lycra blend, unlike in the past when they were made of silk and cotton only. They're somehow translucent when stretched over your legs. Additionally, they're elastic and a bit on the thin side. 
On the other hand, leggings are opaque and are mostly made of polyester, cotton, or spandex. Leather leggings have also been introduced and are super trendy for bikers and for that sexy look. 
If you want to show some skin, tights are your choice. But if you're going for a casual look, you should probably pick leggings.
Styles
You can wear tights on both casual and professional occasions. Girls and women wear tights under dresses, skirts, or even shorts. Some men also wear them under trousers. 
Tights are mostly worn under other garments because they're a bit transparent, and when you wear them with nothing else on top, they'll show off your skin.
On the other hand, leggings are mostly worn for casual looks. You can wear them while working out or relaxing at home. Likewise, you can wear leggings when you need some comfort, such as when taking a walk.
Leggings are not transparent and can be comfortably worn without another garment on top. If you're not comfortable with how the contours of your body show, you can always wear an oversize shirt or sweater.
Occasions To Wear
Tights can be worn for horseback riding, cycling, ballet, basketball, and even football, especially when extremely cold. They're mostly worn for athletics purposes due to their ability to reduce muscle vibration. 
Tights made from materials such as cotton are also good at absorbing sweat. One can also wear them with an official skirt to give that professional look and taste. 
On the other hand, leggings are mostly used as street wear or fashion. They can also be worn as exercise wear or weekend wear, and not many people prefer wearing them to the office or other professional setups. 
There are also Insulated leggings which come in handy during the cold seasons, given that they're also very comfortable.
Accessorizing
To accessorize, you can match leggings with sunglasses, a baseball cap, a purse, or even jewelry. You can either pair them with uncle boots or heels. Your favorite sandals can also give you the trendy look you want. 
Additionally, Leggings can also be worn with a bottom-up silk dress shirt or a flowy tunic top for that ultra-stylish look. Wearing leggings under trousers helps keep you warm in winter. 
Tights, on the other hand, can be worn with a leather mini skirt and ankle boots. When going for a professional look, a lot of jewelry is not advisable. Go simple with a loose-sleeved blouse and high-waisted skirt.
You can also wear them with shorts, blazers, or an oversized sweater. You can pair them with any type of shoes, from flat ballet shoes to high-heeled stilettos. Be careful to choose the right outfit to pair with patterned tights to ensure you create a harmonious look.
Care
Leggings should be washed regularly. Washing helps get the elasticity back to normal after your body relaxes it with heat and gets the circulation back in them. You can hand wash or machine wash them according to the manufacturer's instructions on the tag.
Ensure you put them in delicate bags when machine washing so that they don't stretch. When handwashing, do not use hot or warm water as this reduces their elasticity with time.
Tights, on the other hand, require extra care. Wash them in laundry bags to keep them intact. They should also be washed regularly, like leggings. Avoid washing them with hot or warm water as they can stretch over time and fail to fit snugly.
Brands
Due to the massive growth in the fashion industry, many brands that make tights and leggings have emerged. They make trendy and stylish tights and leggings. These brands include Danskin, under armor, H&M, and Maurices for the leggings.
Some brands that make great tights include Calvin Klein, Danskin, Hue, and Donna Karen. 
Most of the designers make their own leggings and tights. They come in many varieties to help you choose your most preferred.
Tights Vs. Leggings: Types & Styles
Tights and leggings are available in different types, depending on color, patterns, and styles. Below are some of the most common ones. Unlike earlier days, they were only made from a few material types and were mostly available in a single color. 
Patterned Tights
Patterned tights can have large or small patterns throughout their lengths. Some tights feature patterns up to a certain level rather than the whole length. 
The Avcoco Women Fishnet Patterned Tights are a great example of patterned tights. They come in 5 different styles of high-waisted tights.
Seamless Tights
These almost invisible tights show your skin through and fade to the background to allow your outfit to make the desired statement. They're comfortable, have no seams, which means less irritation on your skin. They're very fragile and should not be pulled much.
Opaque Tights
Opaque tights are the opposite of seamless tights. They're mostly black, thick, opaque, and do not allow your skin to show through the material. Although black might be the most common color, they also come in other colors like navy. These are the best to use in cold weather. 
Support Tights
These are made to give your legs the comfort they need. 
After a long period of sitting or standing still, support tights help you with blood circulation, relieve tired muscles, and prevent swelling of legs or feet. These are ideal if you have some health problems affecting your legs and/or blood circulation.
Footless Tights
Tights are mostly made in such a way that they cover the whole leg up to the feet. However, there are these unique types that don't go all the way over the feet. 
Footless tights are great for dancing. You can also wear them to the office and kids can wear them to school, especially during the cold seasons.
Jeggings
These are a combination of denim jeans and leggings. They're not real jeans; they only look like jeans because of their color.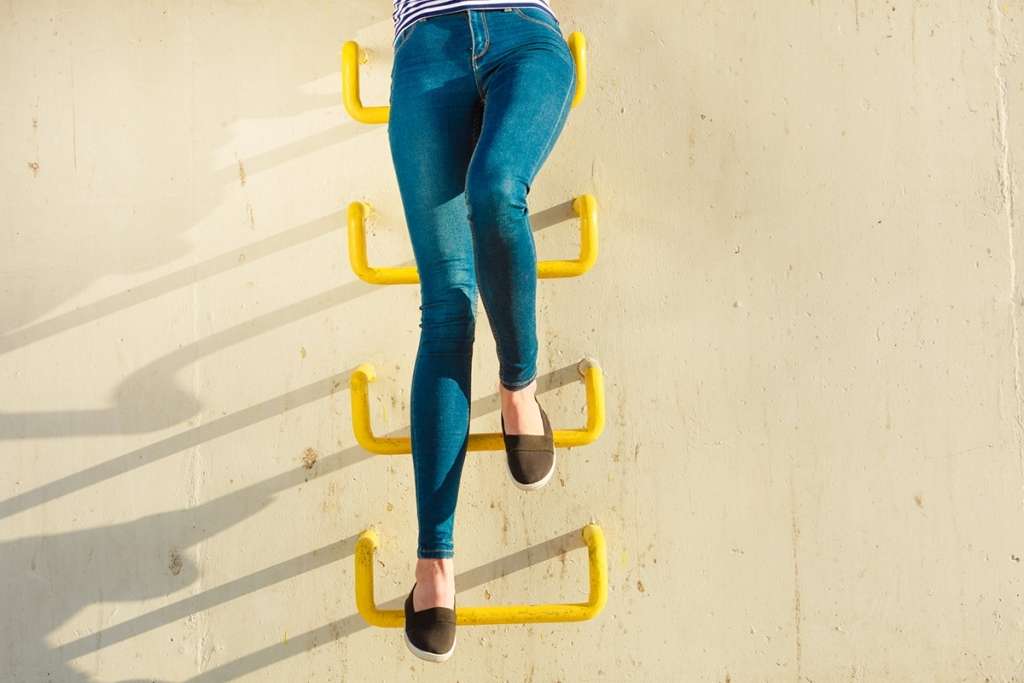 These leggings also feature false pockets, giving a further illusion of jeans. They give you the casual look of jeans, but you're assured of absolute comfort due to their elasticity. Jeggings come in all shades and colors.
Mid-Calf Leggings
As their name suggests, these leggings cut off between the knee and ankle. They can also be called capri pants. 
Women mostly love mid-calf leggings because they have a trendy look. They can be worn together with a long shirt, boots, or heels.
Footed Leggings
These are the kind of leggings worn by ballet dancers. They cover the entire leg and, therefore, need no socks. Footed leggings can be worn with a scarf and long coat or paired with boots or heels. They make beautiful fashion statements on top of providing you with extra warmth.
Leather Leggings
These leggings look like tight leather pants giving you a tomboyish, classy, and sexy look. Leather leggings give off biker vibes and display your legs elegantly. They're also available in several colors; hence you can choose your most preferred style. 
Retro Gong Women's Faux Leather Leggings are a great example of high-waist leather leggings.
Conclusion
Leggings and tights may look similar, but they have some differences. While you can wear leggings as stand-alone garments, tights shouldn't be worn alone since they're translucent, therefore, tend to show some skin.
Tights can be worn as professional outfits, e.g., under a skirt or dress, while leggings are often worn as casual outfits.
What To Read Next: