For many, the fun of a night out begins even before you leave your front door. Putting together an outfit, doing your hair and makeup, and getting ready can be just as exciting. If you're planning on partying at Pacha NYC, one of New York's hottest clubs, you want to look the part. 
Pacha NYC's dress code is club attire. Men should wear smart casual dress, and t-shirts and jeans are acceptable as long as they are clean and sleek-looking. Women should wear smart clubwear, such as dresses and skirts. Avoid shorts, baggy clothing, flip flops, and athletic clothing.
Continue reading to get some ideas of what you can wear for a night out at Pacha NYC.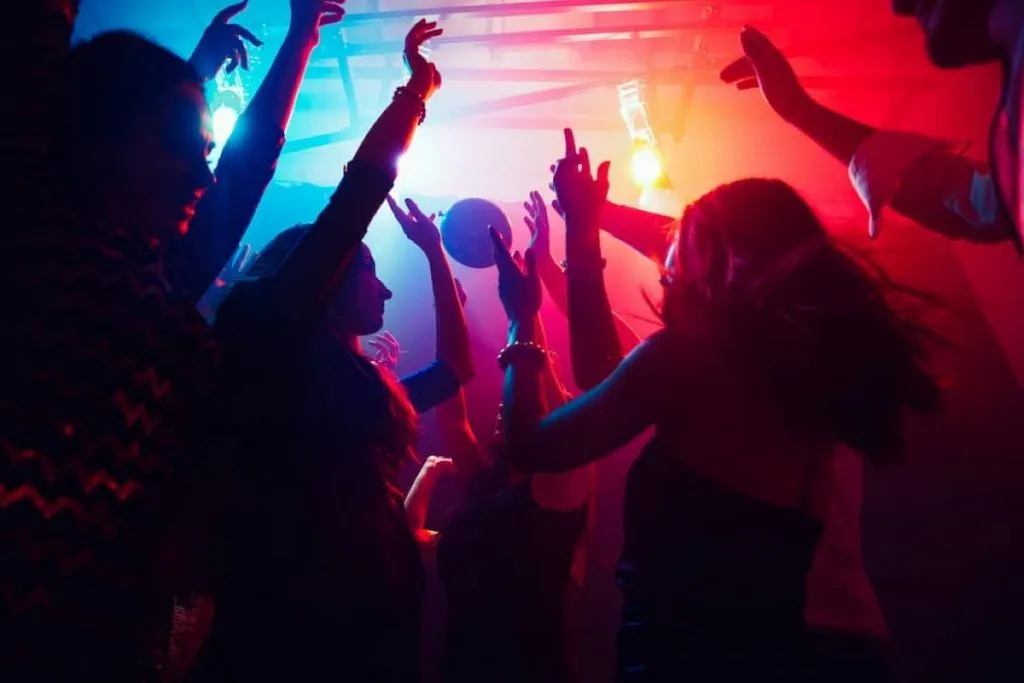 Pacha NYC's Dress Code For Men
Pacha NYC's dress code for men is smart casual, so opt for something chic. Button-down shirts, with long or short sleeves, are preferred, while well-fitting jeans and t-shirts are also acceptable. Dress shoes are also ideal, as sandals and work boots are unacceptable.  
Business casual is the happy medium between formal and urban or casual. While formalwear is the ideal dress code for some clubs, bars, and lounges in New York, Pacha NYC isn't one of them. Show up in a two or three-piece suit, and you're sure to look stiff and out of place. 
Still, you want to look put together and like you put some thought and effort into your outfit. Business casual outfits work well as club attire and are comfortable yet smart. If you are most comfortable in jeans, choose a fitted pair in a dark wash and pair it with a collared polo or a button-down shirt. Complete the look with either a pair of loafers or oxford shoes, like these Steve Madden Harpoon Oxford shoes (available on Amazon.com).
Another option to go with jeans is to add a fitted v-neck and blazer. Finish the look with a pair of Chelsea boots or loafers and a belt. This outfit is super trendy and sure to turn heads. 
Fashion To Avoid
Athletic wear is trending, but this does not mean you can wear your sneakers, hoodie, or sweats to Pacha NYC. Also, avoid wearing overly distressed or ripped jeans or graphic t-shirts. These tend to look too casual and bring down your whole look. 
Pacha NYC's Dress Code For Women
Pacha NYC's dress code for women is also smart casual, with a preference for chic dresses and skirts. You can go for a glam, cocktail, funky or demure look and still fit the dress code. Spend some time doing your hair and makeup since this will elevate your look.
The clubbing scene has changed quite substantially when it comes to jeans. This wardrobe staple is no longer a no-no at clubs as long as you dress it up. If you want to wear jeans when you go to Pacha NYC, pick a pair of skinny jeans in a dark wash and pair it with a blouse. Accessorize with chunky heels and a clutch. To complement this look, your makeup should be bold. A red lip always looks stunning with dark-colored clothes. 
A cocktail dress is always a winner, and if you don't know what to wear, this is the easiest option. Whether you choose a classic black, bodycon, sequined, strappy, or fit and flare, the styling options are endless. When it comes to the length, stick to knee-length or shorter. As elegant as long, flowy dresses are, they can be a hazard on the dance floor. 
If you choose a sequined dress, keep your hair, makeup, and accessories simple. A sequined dress is a statement, and adding other bold elements will clash. 
Accessorize dresses in solid colors like blue, red, or black like this Gobles Bodycon Mini Cocktail Dress (available on Amazon.com) with a statement necklace or chandelier earrings. Try a smokey eye to complete the look. Since cocktail dresses usually already look dressy, you can get away with wearing flats if you prefer them over heels. 
If you want more comfort or don't like to wear dresses, wear black faux leather leggings with a black top and pointy-toe heels for an edgier look. Add bold jewelry like chunky rings and long necklaces. Makeup that goes well with this look is also bold but again, choose either to have fierce eyes or bold lips – not both!
Mini skirts like this Sakkas Shiny Metallic Mini Skirt (available on Amazon.com) seem to be making a comeback and make an excellent clubbing piece. Pair your mini skirt with a cami or blouse and pointy-toe pumps or wedges. 
Keep your makeup simple and accessorize with dainty jewelry and a clutch. Swap your cami or blouse for a bandeau or crop top for a racier look. 
Avoid These Fashion Items
The same rules about athleisurewear apply to ladies – Pacha NYC is not the place to wear your athleisurewear, so no gym tights, sweats, or hoodies. Sometimes you can get away with dressing up your gym tights, depending on the style and fabric, but why do this when there are so many other fabulous options?
As pretty as light colors can be, they can quickly turn into a wardrobe malfunction with spilled drinks and lipstick smears, so unless you know this won't happen or you're prepared to rush to the bathroom to clean the stain, stick with darker colors. 
While heels look amazing and elevate any outfit, only wear them if you can walk and dance in them. There is nothing worse than hobbling around because your feet are killing you. If you want to wear heels but know you won't last the night with them on, carry a pair of flats that you can change into when your feet start to hurt. 
Final Remarks
Pacha NYC's dress code is club attire so choose an outfit that looks dressed up but not stiff. For men, this is business casual. Ladies have more options and can go for a glam, sexy or edgy look. 
Men can wear jeans with button-down shirts, collared polos, v-necks, and blazers. Women can wear dresses, jeans, mini skirts, blouses, camis, or crop tops. Accessorize with jewelry and a clutch, and do your makeup and hair to complement your look. Both men and women must avoid wearing sneakers, hoodies, and sweats as athletic clothing aren't suitable for clubbing.
What To Read Next: