Many retail businesses have adopted casual dress codes. So if you're going to dress casually, why not wear your UGGs when working at Walmart?
You shouldn't wear UGGs to work at Walmart. UGGs are an excellent choice for lounging at home—since they're very comfortable—but not for work. They don't have ankle support or adequate grip, and their warm lining can cause hot, sweaty feet.
This article will explain what attributes make UGGs inappropriate work attire. I'll also give suggestions for what to wear instead. Keep reading.
UGGs Aren't Sturdy Enough for Work
Due to their soft, flexible materials, fleece-like lining, and loose fit, UGGs are both cozy and stylish. But despite Walmart's casual dress code, I can't suggest wearing UGGs to work.
Firstly, UGGs have no ankle support, and at Walmart, you'll be expected to move merchandise if needed. No one wants to twist their ankle at work.
Secondly, as many UGGs owners will testify, their soles are slippery and can cause falls. 
Thirdly, UGGs' lining makes them warm, and the weatherproofed suede doesn't breathe. Damp boots are perfect for contracting foot fungus.
What Can You Wear To Work at Walmart?
You can wear formal or casual clothing to work at Walmart, as long as it's decent and comfortable. Wearing colored t-shirts without graphics or slogans, unripped jeans, white socks, and white sneakers is advisable. Dressing formally or semi-formally is fine, too.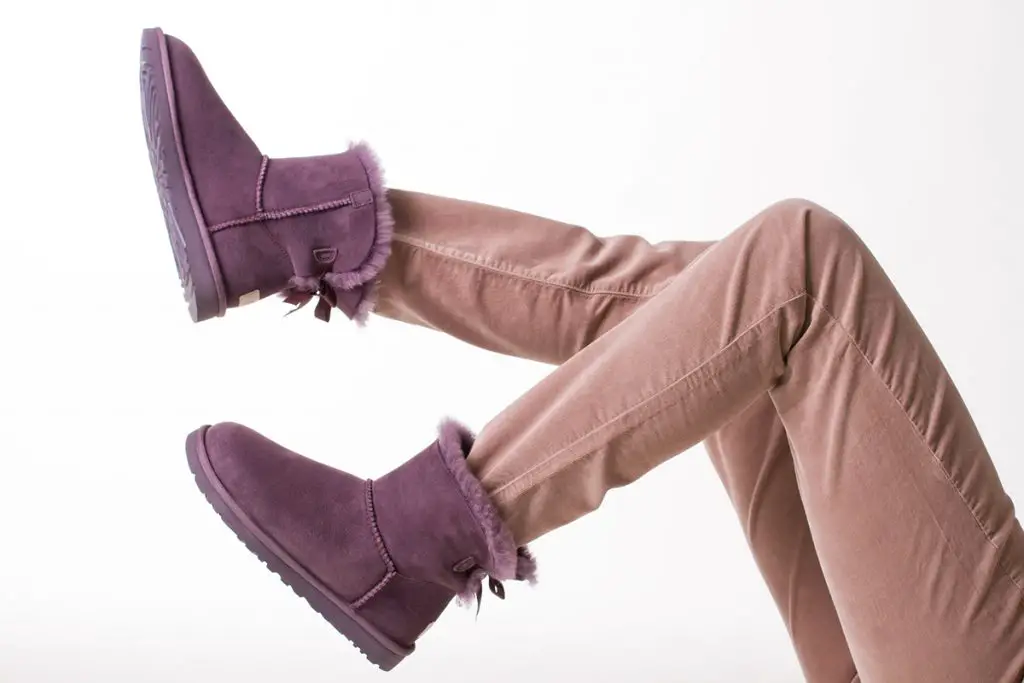 If you choose to dress more formally, I suggest going for dark-colored dress pants, white button-down shirts, black socks, and black dress shoes.
In addition, you should choose loose-fitting clothing that allows for bending and won't rip if you have to lift merchandise.
You Can Dress Casually To Work at Walmart
Sometimes, you may wish to dress in comfortable clothing. If you're a woman looking to dress casually, I suggest:
In addition, some managers may allow you to wear modest dresses. However, it's a good idea to ask permission first in most cases.
Meanwhile, if you're a man, I suggest:
In all cases—men or women—make sure your shirts don't have slogans or graphics, and your jeans aren't ripped, even for fashion's sake.
Dressing Formally To Work at Walmart Is Also Acceptable
Other times, you may want to dress to impress, especially when starting a new position. If you're a woman looking to do so, I suggest:
If you're a man, I suggest:
Make sure to tuck your shirt loosely into your pants, and wear your Walmart vest over top. Pull your pant legs down, so no skin shows above your socks.
Wearing Piercings and Tattoos To Work at Walmart Is Okay
As part of a campaign to encourage their employees to express their style, Walmart allows unnatural dye colors, unusual haircuts, and sometimes, even piercings or tattoos.
However, your manager may ask you to make adjustments, such as changing your piercing jewelry—whatever it may be—to jewelry with clear ends or studs. Also, you may be asked to cover your tattoos or only certain tattoos. 
These decisions are made individually on a case-by-case basis, so you'll need to ask what your manager expects of you.
Conclusion
In 2018, Walmart eased dress code restrictions. Since then, it has upheld casual and formal codes.
Unfortunately, UGGs aren't appropriate work attire. They're slippery, have no ankle support, and can be too warm. In addition, dress codes exist as a tool for companies like Walmart to improve sales and foster employee relations.
I suggest you dress in standard work attire for working at Walmart, like t-shirts, jeans, and sneakers. Or, if you're dressing formally, dark-colored dress pants, white button-down shirts, and black dress shoes. Piercings and tattoos are acceptable.
If in doubt, ask the manager at your store.
What To Read Next: