Duck hunting is a thrilling experience. However, it can be hectic if you lack the proper gear. Since waders are essential in this activity, you'll also have to consider what to wear under them to brace the harsh conditions.
Here's what to wear under waders duck hunting: 
Pants
Jackets
Undergarments
Socks
Gloves
In the rest of the article, I'll discuss what to wear under waders while duck hunting in detail. Read on to learn what factors you should consider when choosing the perfect gear.
1. Pants
Pants are one of the best under wader garments. However, that doesn't mean that all pants are appropriate for duck hunting. Weather conditions will determine what pants to wear under waders.
For summer or spring duck hunting, lightweight fishing pants will keep you cool and dry. However, on those cold winter days, you'll need insulating pants to keep you warm and moisture-free.
Here's a selection of the best under wader pants.
These are wool-nylon blend pants that ensure that you're warm, comfortable, and dry.
Pros
Versatile
Scent-controlled
Durable
Cons
Unsuitable for low temperatures
These pants are elastic waterproof ladies' pants with a dual-fabric elastic waistband. They are slim and breathable to ease your hunting.
Pros
Have four pockets and a zip closure
Fast-drying
Cons
Unsuitable for cold weather
Pricey
The pants have an interior high-pile fleece to keep you warm. They're waterproof with an elastic exterior, allowing you to navigate the waters seamlessly.
Pros
Have pockets
Stirrups keep them intact
Cons
Pricey
Unsuitable for warmer weather
2. Jackets
Insulation and moisture management are factors to consider during duck hunting. Jackets come in handy as a base layer for your waders to keep your chest area warm. You may only need something lighter, such as a T-shirt, when the weather gets too hot in summer.
Here are our top picks of jackets to wear under waders.
Orvis Pro Insulated jacket is a high-quality garment that blocks the wind and keeps moisture at bay. It is stretchable with a side panel and underarm ventilation.
Pros
Breathable
Internal zippered security pocket
Trim cut to fit under waders
Cons
The water-shedding insulating hoodie is a perfect wader base layer. Its nylon stitchless upper body repels moisture, while its fleece interior maintains warmth.
Pros
Elastic insulated hood
Zippered chest pocket
Arm panel with thumb-loop cuffs
Cons
Some parts are tight
Fleece may clump after washing
The three-layer wading jacket is waterproof, breathable, and high-quality. It is perfect for outdoor activities in varying temperature conditions.
Pros
Waterproof zippers and pockets
Foldable fly patch
Has pockets
Underarm zippered slots
Cons
3. Undergarments
The first wader base layer mostly entails light garments, including underwear, leggings, and vests or t-shirts. Ideal outfits for this category should be lightweight, breathable, and moisture-wicking.
Here are some top-rated examples.
The comfortable, stretchable, and well-fitting women's leggings are ideal for cold weather. They maintain body temperature and keep moisture at bay.
Pros
High waistband for easy fitting
Have a slide thigh pocket
Cons
Run small
Unsuitable for warmer weather
Orvis Drirelease will keep your body cool and dry under waders. Its polyester-cotton blend helps in moisture management.
Pros
Lightweight and fast-drying
Moisture-wicking
Scent control
Cons
Best suited for warm weather
They're breathable and ultra-comfortable long-sleeved shirts, and keep you warm when temperatures are extremely low.
Pros
Moisture-wicking material
Lightweight and comfortable
Odor control
Cons
4. Socks
A nice pair of wading socks keeps your feet warm and dry, which should be comfortable and cushion your toes and ankles from injury. The best choices are thin-layered, synthetic, or wool-blend socks.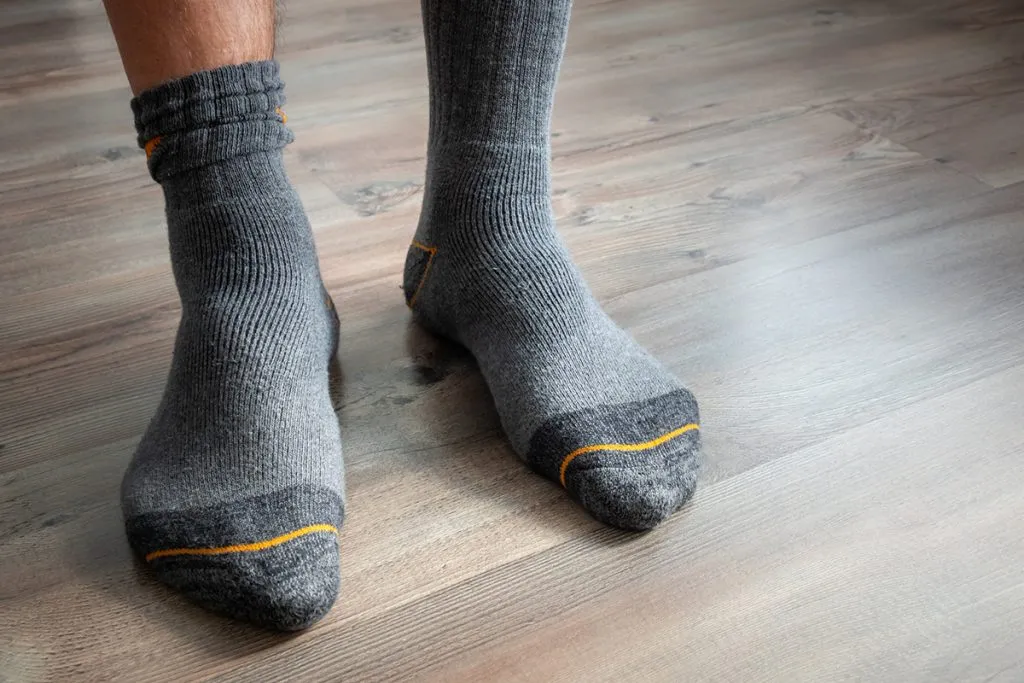 Here are a few examples.
These frictionless wading socks allow you to slip in and out of your waders seamlessly. They're made from poly-spandex material with nylon bands, preventing seam rub. WetSox insulated socks guarantee comfort, dryness, and warmth under the waders.
Pros
Lightweight
Well-fitting
Durable
Cons
Pricey
Unsuitable for cold weather
Featuring a rib-knit style neck, these wader socks provide a nice fit inside waders and boots. They're specially designed for wading during cold weather as they are insulated and moisture-wicking.
Pros
Ideal for wearing under stocking-foot waders
Odor control
Long and provide maximum warmth
Cons
Unsuitable for warm weather
Not waterproof
These wader socks provide maximum warmth and comfort. They have a pull-on closure, keeping them intact under the waders. Though ideal for cold climates, you can also wear them in any season.
Pros
Versatile
Cushion and arch support for legs and feet
Flat seam for enhanced comfort
High-quality
Cons
5. Gloves
Keeping all your body parts warm and dry is vital as most duck hunting seasons are usually cold and wet, so a pair of water-resistant gloves are an ideal choice. Moreover, consider those with palm or finger grippers to minimize slippage.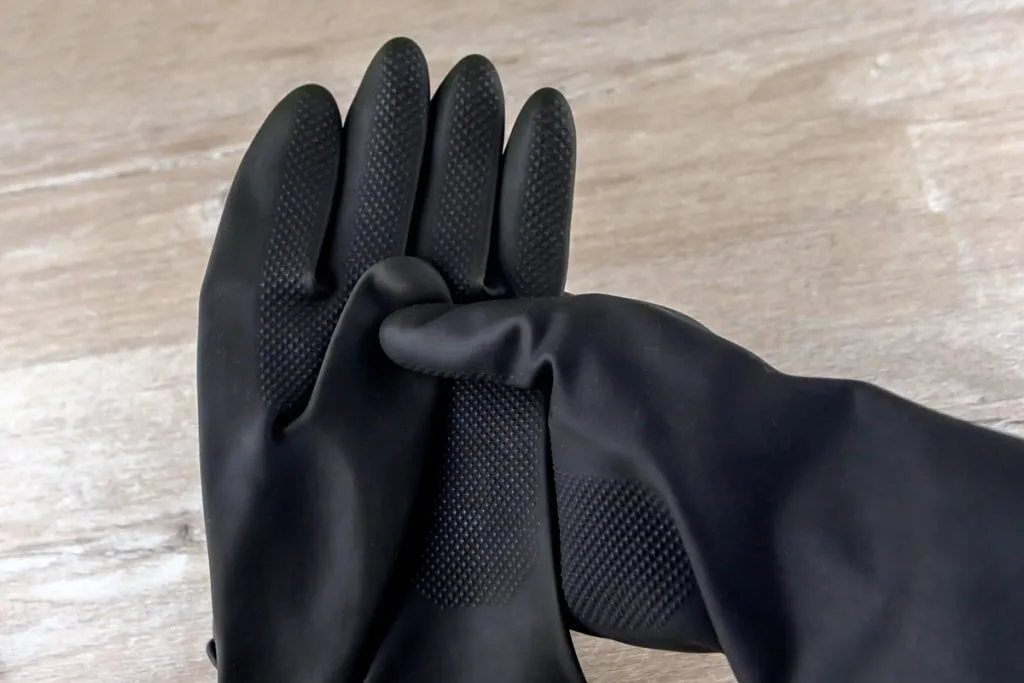 Here are some of the top-rated wading gloves.
These are breathable and waterproof hunting gloves. They have a variety of sizes and well-articulated fingers and provide warmth and dryness even in the worst weather conditions.
Pros
Flexible
High-quality
Backhand absorbent pad
Cons
The elbow-length insulated gloves will keep your hands warm and dry during duck hunting. They have a soft inner layer for enhanced comfort and a textured exterior for a firm grip.
Pros
One size fits all
Perfect for cold weather
Comfortable
Cons
It may be small for users with long arms
Not long-lasting
The high-performance neoprene gloves will protect you from extreme conditions. They're heavyweight, with enhanced functionality.
Pros
Versatile design
Warm and comfortable
Durable
Cons
Unsuitable for warm weather
Not 100% waterproof
Factors To Consider When Choosing the Right Gear
Waders come in handy during dunk hunting as they protect your body from the cold waters. Now, what you wear under the waders will depend on several factors.
Here's what to consider when choosing what to wear under waders.
Season
Weather conditions significantly determine the type of under-wader gear. In summer, the temperatures are quite high around 86°F-104°F (30°C-40°C ), and you're bound to sweat. This is why you'll require moisture-wicking garments. 
Lightweight linen fabrics will be ideal for your body as they dry fast and are comfortable.
During winter, your priorities should be warmth and dryness, as the temperatures are low, 32°F-50°F (0°C-10°C ). Of course, depending on where you live, temperatures get much lower than that during the winter. In fact, the average temperature in the northern US in the winter can get as low as -20℉ (-28.8℃), or lower at times.
You can have two layers of insulated and fast-drying garments. However, they shouldn't be too heavy as duck hunting is strenuous.
Warmth
Keeping warm is critical, as exposure to cold water leads to some health complications. This is why you should wear under-wader garments that keep your body warm and dry. You can also wear apparel that blocks wind and prevents external moisture.
Moisture
Sweating is common during duck hunting. Though sweat helps the body cool down, maintaining a lot of moisture may result in hypothermia (very low body temperature). Therefore, you'll require garments that will wick moisture and maintain dryness.
Breathability
Breathability refers to a fabric's ability to allow your skin to perspire as sweat evaporates. Therefore, it's essential to consider your gear's material for maximum comfort. Fast-drying loose garments would be ideal as they facilitate evaporation and maintain body temperature.
What To Read Next: