Every fisherman that spends long days out in reasonably deep water needs a pair of waders. Waders keep you dry and warm. They also protect your skin from long periods of water exposure, as well as sharp sticks that can cut your legs as you pass them. 
Breathable waders are waterproof pants/jumpsuits made from nylon or polyester that are used for wading in deep water when fishing. They're flexible, comfortable, lightweight, and a bit more expensive than regular waders. They allow water vapor to escape while preventing water from seeping in.
In this article, we'll discuss why you should wear breathable waders, whether they keep you warm, what clothes to wear under them in summer and winter, and we'll take a look at two great breathable wader options.
Why Should You Wear Breathable Waders?
You should wear breathable waders because they protect your skin, prevent overheating, and are comfortable. Not only are breathable waders a substitute for a good pair of pants, but you can also wear them in both cold and warm seasons. 
Breathable Waders Protect Your Skin
Standing in cold water for many hours per day without protection can cause tissue damage, which can have lasting effects. Breathable waders protect your skin from the water as well as sticks, rocks, and other debris in the water.
Staying warm and protected from the water can prevent tissue damage and colds.
Breathable Waders Prevent Overheating
No matter what waders you wear, you're going to sweat. However, breathable waders allow water vapor and heat to escape through the tiny pores in the fabric, cooling you down and keeping your legs dry. The small pores in the fabric are what make the waders breathable, which prevents overheating.
Although water vapor can escape through the pores to cool you down, the pores are too small to allow water in, keeping you dry from the river, lake, pond, or ocean water. 
You can wear breathable waders throughout the year – the fabric they're made of is light and, as the name implies, breathable, which will keep you cool in the warm months.
Breathable Waders Are Comfortable
Breathable waders are more comfortable than conventional waders because they're made from nylon or polyester. These materials are lightweight and comfortable to wear, allowing you to walk far distances in them without feeling pulled down, heavy and stiff. 
Do Breathable Waders Keep You Warm?
Breathable waders keep you warm in cold temperatures – however, you'll also need to layer up. When wearing breathable waders in winter, wear pants with a fleece lining under them, along with socks. Make sure your socks aren't tight, as it could stop blood circulation in your feet.
Although all breathable waders can keep you warm in cold water, most are not suitable for extreme cold. Neoprene waders are better suited for harsher and colder conditions as they keep in all the heat. However, they also retain moisture, so you may find yourself soaked by the end of your adventure.
Clothes To Wear Under Breathable Waders
No matter whether it's summer or winter, avoid wearing denim or cotton clothing! Denim will make moving around less comfortable, and cotton loves soaking up water (sweat). When you get wet in cotton, you'll stay wet. By avoiding denim and cotton, you'll avoid an uncomfortable day out.
Instead, here's clothing you can wear under your breathable waders. 
Summer
Although it may be hot, don't throw on a pair of breathable waders without something underneath. A base layer is always essential to prevent chafing.
You can wear light synthetic pants under your waders – they're moisture-wicking and will keep you dry as you sweat. 
Breathable waders are brilliant for warm weather because they'll keep you much cooler than conventional waders. 
Make sure that you're always wearing a hat when you're spending long hours in the sun – this helps prevent sunburn and eye damage. This Outdoor Research Men's Sombrero is made of nylon and is moisture-wicking. It's large enough to protect your head and your neck, and they're lightweight.
These sombreros are also available for women. The Outdoor Research Women's Oasis Sun Sombrero comes in various feminine colors so that you can feel your best.
Winter
Even though the weather and water may be cold, walking, hiking, or hunting in your breathable waders will still make you sweat.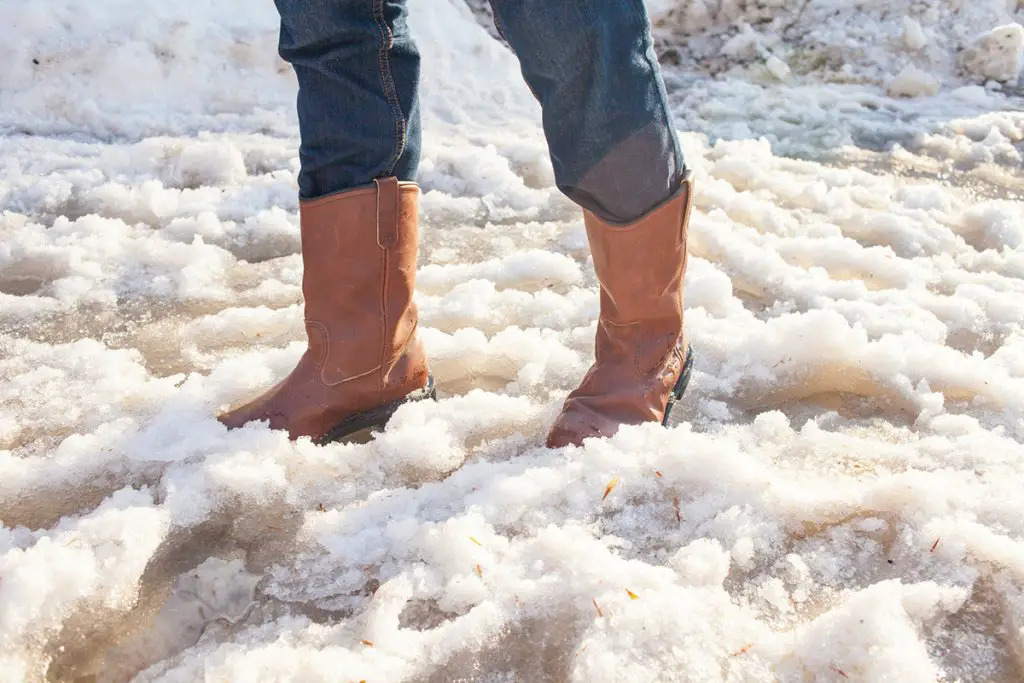 Make sure you layer up in winter. A base layer of synthetic material is a starting point but shouldn't be all you wear under your breathable waders in winter. 
I recommend the Thermajohn Men's Thermal Underwear to wear as a base layer under your breathable wader. These long johns are lightweight, comfortable, wick away moisture, have smart odor control, and are stretchy, allowing you to move around with comfort and confidence all day long.
Layer yourself with materials made from wool, nylon, bamboo, or polyester. These materials are moisture-wicking, breathable, insulating, and will keep you warm, comfortable, and dry.
For durable, lightweight, quick-drying socks that are perfect to wear with breathable waders, check out these Wetsox Frictionless Boot Socks. These socks can be worn in both summer and winter and are very comfortable thanks to the extra padding in both the toe and heel areas.
Best Breathable Waders
Let's take a look at some of the best breathable waders available on the market.
These Simms Men's Tributary Waders are made from polyester material and are waterproof and breathable. They're durable and will make while on the hunt or trails easy because they're comfortable to wear and aren't restrictive.
Although they're on the more pricey side, they come with a 60-day warranty, and Simms promises to exchange them for you if they leak within this period.
For a more affordable pair of breathable waders, check out the FISHINGSIR Chest Waders.
These waterproof breathable waders are made from nylon, are available to both men and women, and come in many colors. 
They're comfortable and easy to slip on and off, thanks to their release buckles. Additionally, your belongings will stay safe and dry in the wader's flip-out chest pocket.
Conclusion
Breathable waders are waterproof gear that'll keep you doing what you love, no matter the season. The fabric allows water vapor (sweat) to escape the material without letting water in because water molecules are too big for the fabric's tiny pores. 
Additionally, they are great for protection, preventing overheating, and are much more comfortable than other conventional waders. 
If you're wearing them in the winter, make sure to layer up with breathable, warm, comfortable, and moisture-wicking fabrics under your breathable wader to keep warm.
What To Read Next: