What is it about driver's license photos that have people anxiety-stricken and filled with dread? Everyone with a driver's license knows that you need to have a new photo taken every time you renew your driver's license and, depending on what state you live in, this is usually about every four years. But can you wear jewelry in your driver's license picture?
You can wear jewelry in your driver's license picture. You are allowed to wear jewelry as long as it does not cover any part of your face, which would make it difficult to identify you. 
Continue reading to learn more about the types of jewelry you can wear in your DMV photo. I'll also share some tips on how to take the most flattering driver's license picture. 
Wear the Right Jewelry for Your Driver's License Picture
Jewelry enhances your outfit and completes your look. Nothing prohibits you from wearing jewelry in your driver's license picture as long as your face is still clearly visible.  
If flashy statement jewelry is your typical go-to, it's best to leave these at home and opt for something simpler. Of course, rings and bracelets of any kind are fine since these won't be visible in the photo, so let's focus on what can be seen.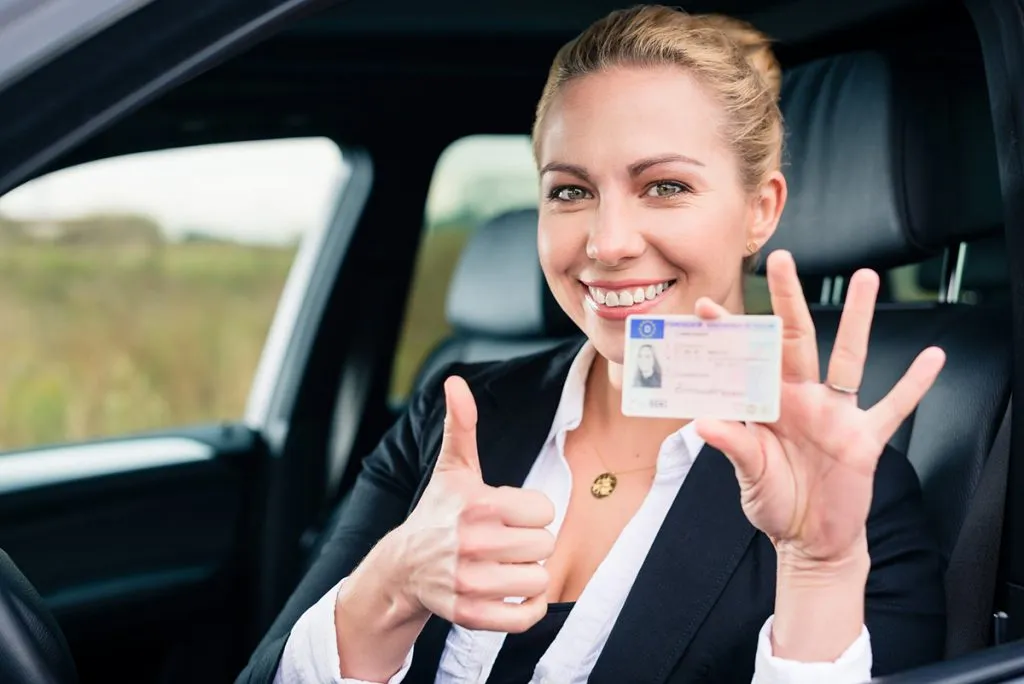 Earrings
Many people feel their outfit is not complete unless they are wearing earrings, and if you are one of them, there are some types that you can wear in your driver's license picture. Studs are perfect as they're usually understated, but you can also go for a dangly style that isn't too overpowering and does not cover your ears. 
Necklaces
Like earrings, the simpler, the better. A dainty gold or silver chain works best, but you can also wear something a little bolder, like a bib or collar style. Stay away from chokers as these hide your neck. Also, avoid super-chunky types in bright colors since these become the picture's focus. 
Piercings
Luckily, if you have any facial piercings, you're allowed to keep these on. Whether it's a nose ring, cheek ring, or lip ring, as long as it's something you wear most of the time and does not block your face to the extent that your features can't be seen, it is acceptable to wear. 
Now that you've got your jewelry covered, let's look at other ways to make sure you end up with the best possible driver's license photo.
Considerations To Take Into Account for the Best Driver's License Picture
You're going to have your driver's license with you for at least another four years, so it's in your best interests to do everything you can to look good in it, especially since the harsh fluorescent lighting and the uninspiring background will do nothing for you!
Before heading to the DMV, pay attention to the following:
Your Crowning Glory
When your hair looks amazing, you look amazing, so it's a good idea to spend a bit of time doing your hair. A helpful tip is to style your hair for your photo the way you often wear it, but it is not a requirement. 
The way you choose to style it is entirely up to you – whether you want to leave it down, put it into a high pony or bun or a cute braid, choose a style that is the most flattering on you. 
The Right Makeup Gets You Camera Ready
Like your hair, you need your makeup to be on point. The right makeup hides blemishes and minimizes the harsh lighting and camera flash effects. 
For your driver's license photo, keep your makeup simple. This means no smokey eyes, winged eyeliner, or contouring. 
Apply a full coverage foundation, a little blush, light lipstick, and powder to absorb any moisture, so you don't end up with a shiny face in your picture. 
You also want to skip the SPF because it can make your face look white in pictures.
Dress (Your Top Half) To Impress
Put some thought into what you wear by considering what colors are most flattering on you. When choosing a color, stay away from white because usually the background is a light color, and you don't want to blend in. Also, avoid black because it can look stark. Finally, stay away from busy patterns, prints, and slogan tees. 
The best colors are neutrals or pale shades. 
Once you've decided on your best shade, think about the type of neckline that suits you, as this is often visible in the picture. 
It doesn't really matter what you wear on the bottom because you can't see this in the photo. Still, it is worth putting effort into the entire outfit because looking good makes you feel confident, and when you're confident, you tend to look better in pictures.
Lights, Camera, Action
Now that your hair, makeup, and outfit are sorted, and you're ready to get your picture taken, there are a few more hints that can turn your photo from cringe to cute. 
Be punctual 
Pay attention to your posture
Wear a neutral, friendly expression
Not only will you annoy staff by being late, but if you're late, they will likely rush you, which isn't the ideal situation for getting the best possible photo.
Sit up straight and try to keep your neck elongated. If you can, tilt your head up slightly. This is usually the most flattering.
This is probably the one time you will be told not to smile too much, but you don't want to look sullen. Smile slightly to look warm and friendly. 
Final Thoughts
You can wear jewelry in your driver's license picture as long as it does not block your face making it difficult to identify you. Choose simple jewelry so that your face stands out. Pay attention to your hair, makeup, and clothes so that you look good and feel confident. 
Arrive on time, be aware of your posture and maintain a neutral expression. If you follow these steps, you are sure to have a picture you are happy with.
What To Read Next: