Kayaking is a wonderful way to get active while taking in some beautiful views. However, if you dress in the wrong gear, you may feel awkward and uncomfortable during your trip, or worse, you may be putting yourself in danger of hypothermia if you dress too light. Watersports often require a distinct assortment of clothing, and kayaking is no different. 
Here's what to wear when you go kayaking in Florida:
Wetsuit or drysuit.
Non-cotton t-shirt or long sleeve.
Shorts or leggings.
Water-resistant shoes or sandals.
Hat and sunglasses.
Personal flotation device.
It's usually best to have several layers when participating in any water sport. If you want to go kayaking in Florida, keep reading to learn more about what you need and how to wear the layers.
1. Wetsuit or Drysuit
Regardless of the weather, the bottom layer is what you should focus on first. Typically, a wetsuit or a drysuit for your first layer works well.
The main difference between a wetsuit and a drysuit is the temperature each is appropriate for. You'll want to use a drysuit for colder weather, below 50℉ (10℃), and you'll wear layers underneath it to keep you extra warm. 
Wetsuits are for warmer weather and are suitable for temperatures between 50℉ (10℃) and 80℉ (26.6℃). 
The fabric is what distinguishes the two. A wetsuit uses neoprene, a synthetic fabric, while dry suits use layers of insulating material. When you wear a dry suit, you'll wear something underneath it to keep your skin dry. The drysuit will then block out any water that you come in contact with.
2. Non-Cotton T-Shirt or Long-Sleeve
On top of your wetsuit or drysuit, you'll wear another set of layers. Experts at REI suggest that the top layer can focus on the temperature of the air rather than on the water.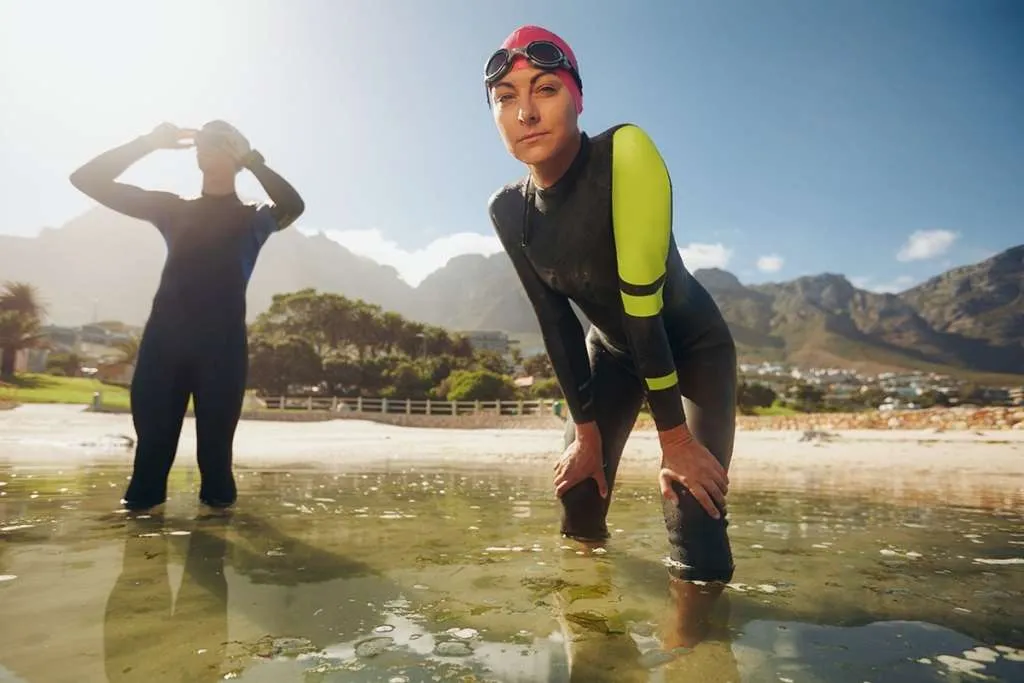 Avoid fabrics like cotton, as they'll stick to you when wet and make you feel colder if the weather is chilly. If you decide to bring a jacket, try to find something without a metal zipper, as they can rust with water exposure. 
If the weather is hot and you'd typically wear a tank top, go for that. You can also get non-cotton t-shirts like the Speedo Short Sleeve Loose Fit Easy Tee or the Hanes Women's Sport Cool Dri Performance Short Sleeve T-Shirt.
If it's going to be cold, wear a long sleeve t-shirt and a jacket. 
3. Shorts or Leggings
On your bottom half, you'll wear what you typically would in the weather you'll be experiencing. Shorts or leggings are typical. If you plan on swimming during your kayak trip, you may want to consider something that will be easy to take on and take off. 
Changing on a kayak can be tricky, so something with many zippers or buttons isn't ideal.
Again, you'll want to avoid clothing made of cotton or any other fabric that doesn't dry quickly when wet. Abrasive cloth, such as jeans, might be uncomfortable when wet. Also, avoid anything with buttons and zippers that is easily rustable when submerged in water. 
4. Water-Resistant Shoes or Sandles
Unlike when you go for a casual dip in the lake, kayaking takes a little more leg work. When you go kayaking, you're going to want to wear comfortable shoes. In addition to being easy to run around in, your kayaking shoes should be waterproof. 
The style of these shoes depends on what activities you'll be doing while kayaking. If you plan on going for a swim, you can try something similar to the VIFUUR Water Sports Unisex Shoes, which are ideal for aquatic sports. 
If you plan to get off the kayak and go hiking, the Quick-Dry Aqua Sock Outdoor Athletic Sport Shoes. 
5. Hat and Sunglasses
Once you've layered up, you can start to pick out some accessories.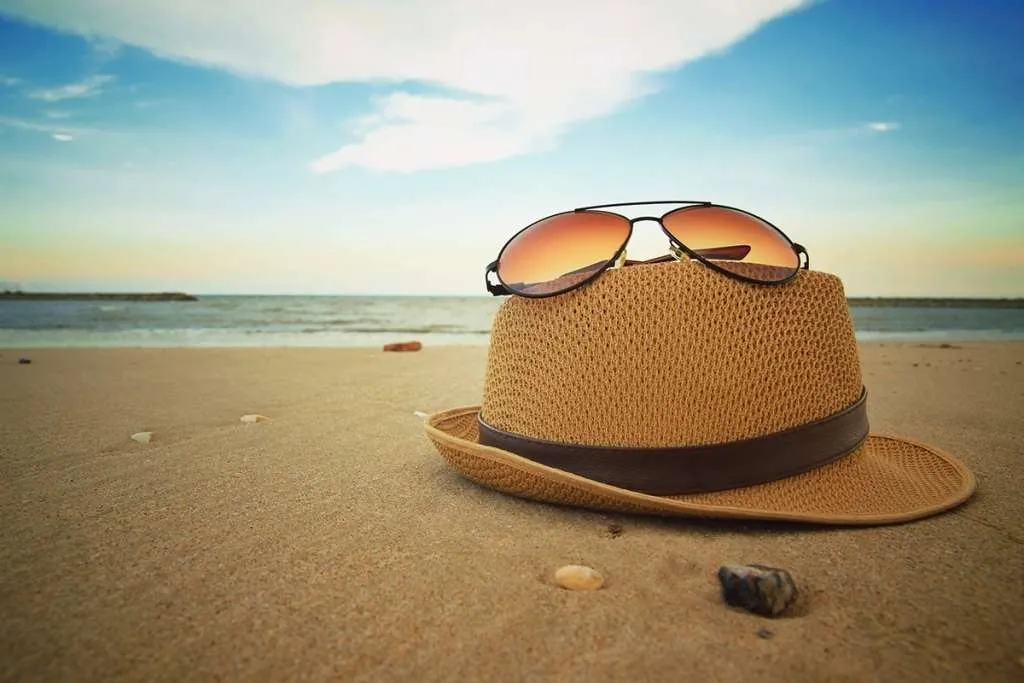 Again, this will look a lot like what you'd typically wear if you were just going on a walk. Sunglasses and hats are always a good start, regardless of the weather. 
For sunnier days, a wide-brimmed hat may be the way to go. If it's colder outside, a beanie should do fine. There are quite a few options for waterproof cold weather beanies, like the SEALSKINZ Waterproof Cold Weather Cable Knit Beanie. 
6. Personal Flotation Device
A Personal Flotation Device is the most important thing you will put on before heading out into the water. 
Some states make them mandatory for anyone out on the water, whether swimming, kayaking, or boating. Florida state law mandates that anyone under 6 years old or participating in certain water activities wear a PFD when out on the water. 
There are a few different types of PFD you can purchase to wear.
Planning for Weather and Water-Temperature
Even though it's likely sunny and warm in Florida, the temperature of the water can change drastically depending on the day.
When picking out your kayaking outfit, it's essential to consider both the temperature outside and the water temperature. You want to plan for the possibility of falling in, even if you are a skilled kayaker. Take a look at the Coastal Water temperature for your trip. 
When it comes to watersports, it's better to prepare for the worst and hope for the best. Prepare to fall in at the temperature described and plan accordingly from the shore.
Low Temperatures
You may think it's irrelevant in Florida, but the water can still get pretty cold at times. Especially if you want to go on an early morning or late night kayaking trip, you're going to want to check the water temp before heading out.
If the water temperature is pretty low, plan for layering. Falling into cold water without the right gear puts you at risk for hypothermia, which can occur at 60-70°F (16-21°C). If it's frigid above water, you can risk severe hypothermia if you aren't layered up correctly once you get out of the water.
Warm Temperatures
If it looks like the weather is going to be mild, plan accordingly. You'll likely still need to layer up and wear either a wet or dry suit to ensure that you'll be taken care of if you fall in. Warm temperatures often mean a higher UV index rate, so invest in some good sunscreen. 
Don't worry about overheating and wear the extra layers. If you capsize or fall in, it'll be tough to put on different clothes to warm up while you're soaking wet. 
Don't worry that you may end up being too warm. Wear the extra layers anyway. 
High Temperatures
If the weather is going to be pretty warm and the water is pretty mild, you can ease up on layers however you see fit. It might even be an excellent opportunity to hop out of your kayak and swim. Invest in a quality, waterproof sunscreen and re-apply often. 
What To Read Next: