Gymnastics is a sport that showcases the physical abilities of a person, including strength, balance, coordination, and flexibility. As such, appropriate clothing and gear are essential for athletes to look and perform their best.  
Here is a list of what to wear to gymnastics besides a leotard:
Unitard
Gymnastics singlet
Tight-fitting t-shirt
Tight-fitting shorts or leggings
Thong or seamless underwear
Gymnastics sports bra
Tampons, pads, and period underwear
Scrunchie
Beam shoes or socks
Whether for training or competitions, wearing the right clothes will help a gymnast move freely and comfortably. Leotards are the most common and appropriate clothing for gymnasts during competitions, but this article will discuss the functionalities of different types of gymnastics apparel and other accessories and undergarments that go well with them. 
1. Unitard
Generally speaking, the Fédération Internationale de Gymnastique has no rules against wearing leggings for gymnastics competitions. However, for aesthetic purposes and ease of movement, most female gymnasts have been wearing leotards for a very long time. 
Whether for practice or competition, clothing must not limit or disrupt the gymnasts' movements or prevent them from worrying about sensitive body parts showing during a routine.
A unitard is a tight-fitting one-piece that covers the wearer's body and legs down to the ankles. It can be sleeveless or have long sleeves that reach up to their forearm or wrists. 
This apparel is suitable for both female and male gymnasts but is more often seen in the latter. 
A unitard helps resolve the problem of disruptive clothing because it can hide bra straps and visible panty lines that are often a cause of concern for many female gymnasts.
2. Gymnastics Singlet
A singlet is a tight-fitting piece of clothing with shorts for bottoms instead of the usual bikini found in leotards. Male gymnasts usually wear a singlet during floor exercises and vault competitions.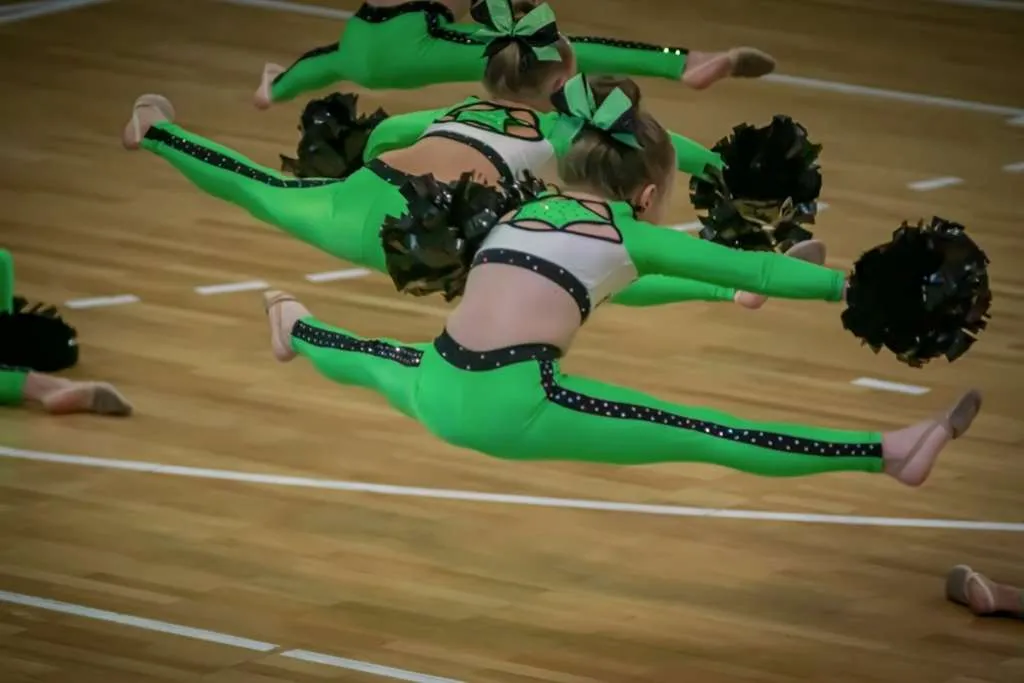 Just like all apparel used in gymnastics, a singlet must not contain any buttons, zippers, or laces that can distract the athlete or disrupt the performance in any way. In addition, a singlet must be the right size for the wearer to avoid discomfort. 
Most gymnastics apparel is made using elastane or spandex—an elastic synthetic fiber. 
Although the material is already stretchy, some companies offer custom-made unitards. It can help gymnasts feel more comfortable and confident. 
Otherwise, options like this ​​winying Men's One Piece Sleeveless Singlet Jumpsuit are stretchy, breathable, and very soft. 
3. Tight-fitting T-shirt
Gymnasts sometimes wear tight-fitting t-shirts during practice because they're comfortable and allow for a wide range of movements. 
For women, it also adds extra relief from worrying that their bra straps may show. It is therefore okay to wear a t-shirt only during practice, especially for beginners. 
However, some coaches want to instill the competition vibe in athletes even during practice, so they don't allow t-shirts. It makes sense because gymnasts have to overcome being too self-conscious during the actual competitions. 
4. Tight-fitting Shorts or Leggings
During practice, some gymnasts pair their t-shirt with tight-fitting shorts or leggings. Some also wear shorts to cover the bikini-type leotards. It can help the athletes feel less self-conscious during practice and focus on their performance. 
Most shorts will look like these ALWAYS Women Workout Shorts, which are affordable, short enough to not get in the way, and comfortable enough to move in.
5. Thong or Seamless Underwear
The materials used in gymnastics clothing are often secure enough that some gymnasts do not wear anything underneath their leotards, singlets, or unitards. In addition, the design of leotards is similar to swimsuits, so there is no need to put on underwear. 
In addition, there are also leotards with detachable and washable inner linings. 
However, some people are not comfortable without underwear. To avoid such feelings of discomfort and to boost confidence, many gymnasts tend to wear undergarments.
Leotards are high-cut, so gymnasts can't wear regular underwear. Visible underwear will cost them some points from the judges. Some female gymnasts wear thongs to avoid such problems. 
On the other hand, those who don't feel comfortable wearing thongs instead choose something like these MOLLDAN Pro Dance Ballet Briefs, which are nude, high-cut, and seamless. They also work well with singlets and unitards because they can reduce the problem with visible panty lines. 
Male gymnasts who wear leotards do not often wear undergarments. Instead, they use the leotard as underwear and put on tight-fitting shorts or pants over it. 
6. Gymnastics Sports Bra
Besides worrying about visible panty lines, female athletes also need to pay attention to their bra straps since judges deduct points when they see them. Most gymnasts don't need to wear a sports bra because the material used for leotards or unitards can provide sufficient support to their breasts.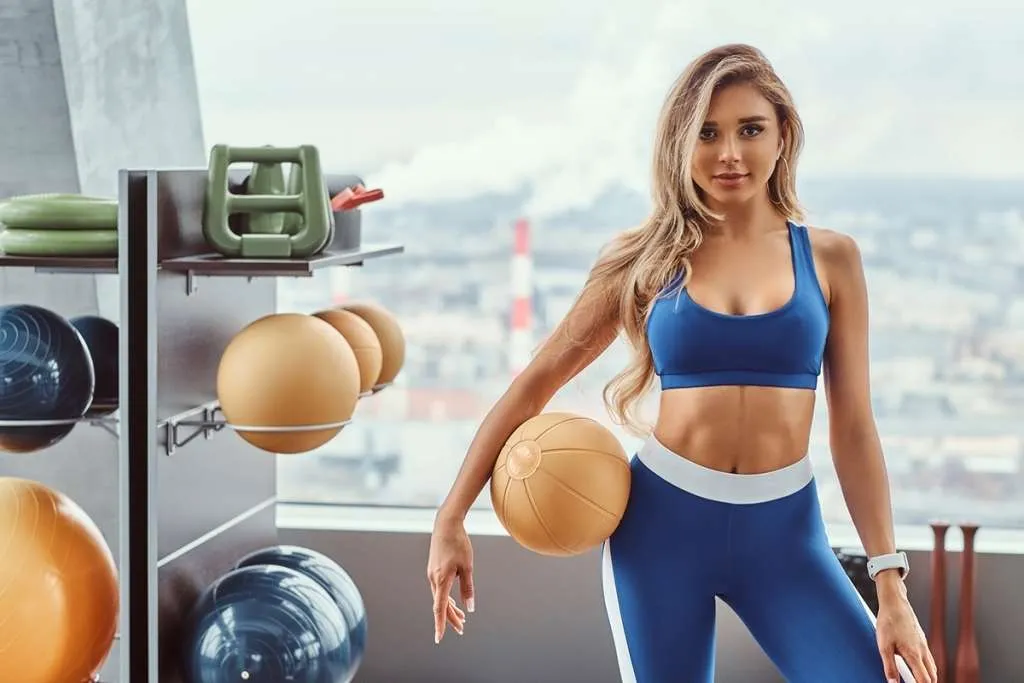 In some cases, however, female gymnasts with bigger bust sizes may be bothered during routines where they have to run or jump. As such, they must wear a sports bra with invisible straps. 
7. Tampons, Pads, and Period Underwear
Another challenge female gymnasts have to face is their menstrual period.
Even though a study showed that most gymnasts have periods less often than non-athletic women due to the physical and biological impact of the sport, having a period during important meets or competitions can prove troublesome. 
During long practice, they can wear heavy-duty pads underneath their practice shorts. However, during competitions, they tend to wear tampons because pads are bulky and can easily slip through the sides of the leotards. 
Another more recent option is period underwear. Companies like Thinx have a wide range of underwear designed to be worn during menstruation without tampons or pads. They even offer sport options and thongs, which come in a variety of sizes and colors.
8. Scrunchie
Male and female gymnasts with long hair need to tie their hair close to the roots in a bun so as not to disrupt their performance. It is also part of the dress code set by the Fédération Internationale de Gymnastique (FIG). 
Some teams even require their female members to have the same hairstyle. It adds to the aesthetic of the performance and is practical. 
9. Beam Shoes or Socks
Gymnasts wear beam shoes to protect their feet and prevent them from slipping while on the balance beam or doing floor exercises or vaulting. Socks also help those with sweaty feet land more steadily and protect the feet from turns and hard landing. 
For example, these MEDUSA ENT LLC Rubber Sole Gymnastic Shoes are white leather and are soft and pliable, making them very comfortable for beam work and floor routines. They also cost under $15, making them very affordable should you need multiple pairs.
During practice, gymnasts may wear socks of any color, but the FIG allows only white socks during competition, and they must be visible.