Monterey is known for its stunning scenery and unique wildlife. Many visitors are drawn to the area's exciting outdoor activities, including kayaking. But before you get out on the water, you should probably consider what to wear while kayaking in Monterey. 
Here are 12 things to wear while kayaking in Monterey:
Nylon or polyester undergarments
Swimsuit
Sunscreen or rashguard
Wetsuit or drysuit
Long sleeve shirt or t-shirt
Quick-dry shorts or pants
Rubber shoes or waterproof sandals
Rain jacket or windbreaker
Neoprene gloves
Wide brim hat
Sunglasses
Lifejacket
Most kayaking enthusiasts note that it's important to dress according to the water's temperature, not necessarily the outdoor temperature. While the city has moderate weather conditions throughout the year, it can get sweltering in September and chilly in January, thus affecting how the water feels and what you should wear. To learn more about what you should wear while kayaking in Monterey, read on.
1. Nylon or Polyester Undergarments
Undergarments can range from bras to underwear, to briefs, and socks. Since these items are worn underneath your clothes and directly against your skin, you'll want to choose materials that are smooth, comfortable, and practical, like nylon or polyester. These materials are quick-drying and don't retain as much moisture as other fabrics, making them ideal for watersports. 
In colder months, you may want to consider switching out traditional undergarments for long underwear. Long underwear is designed to add an extra thermal layer of protection and can be worn as your first layer, or on top of other undergarments, such as bras and briefs.
2. Swimsuit
If you plan to swim in the water, wear a swimsuit instead of undergarments. A swimsuit can be worn underneath your other layers of clothing and directly against your skin. Many swimsuits are made from nylon or polyester fabrics, so they're stretchy and easy to move around in when wet.
Wearing a swimsuit underneath your clothing also provides more convenience, as you can quickly strip down your layers and hop into the water.
It would be best to choose a swimsuit that fits snug against your body, such as a tank swimsuit or swim briefs, without too many loose strings, buttons, or ruffles, as these could interfere with other layers of clothing.
3. Sunscreen or Rashguard
No matter the weather you're kayaking in, it's vital to protect your skin from harmful UV rays. It's possible to get a sunburn on cloudy or chilly days, so you should take precautions to avoid skin damage.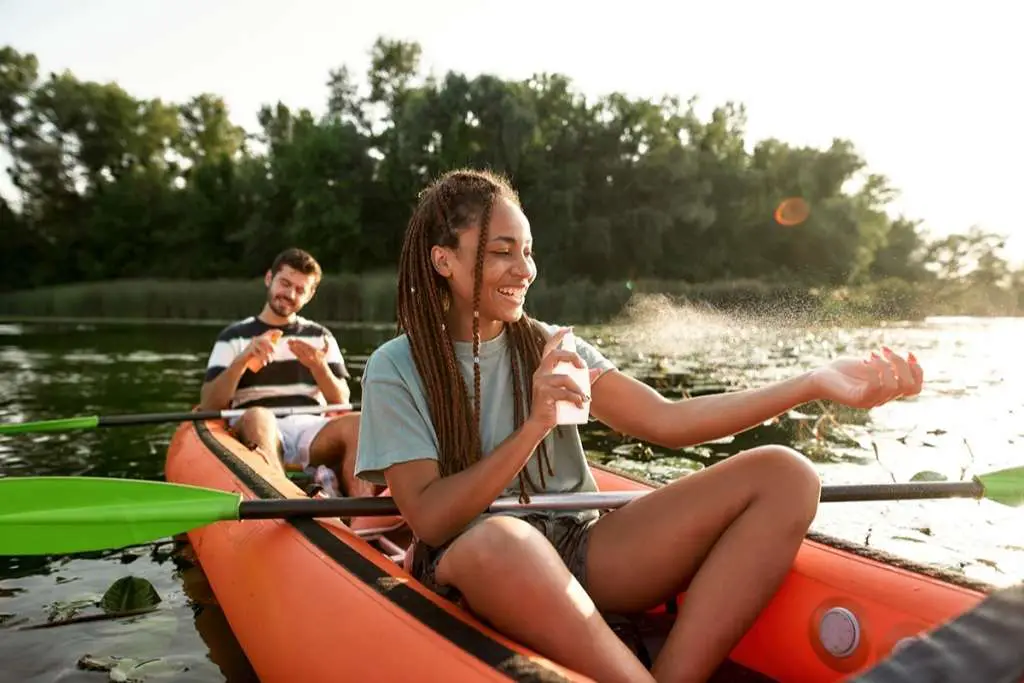 Start by applying sunscreen to areas of skin that aren't covered by clothing and are directly exposed to the sun. If you're wearing short sleeves in the summer, you may need to apply sunscreen to your shoulders, arms, and legs. In the colder months, you may only need sunscreen on your neck and face. 
However, some sunscreens can leave a greasy residue, making your skin feel sticky and your clothes feel oily. If you don't like the way sunscreen feels, opt for a rashguard instead. Rashguards are protective clothing. They work by covering your skin and detering UV rays. You can wear them on top of your undergarments or swimsuit, and underneath your day clothes. 
4. Wetsuit or Drysuit
Depending on the conditions and excursion, you may also need to invest in a wetsuit or drysuit. 
A wetsuit will keep you warm in cold waters, which is why surfers, snorkelers, and divers tend to wear them, but they aren't waterproof. On the other hand, a drysuit will prevent you from getting wet but can't keep you warm by itself. 
In most cases, wetsuits will benefit those that plan on swimming when the water is colder. Wetsuits can be worn over a swimsuit, since the material is form-fitting. 
Drysuits will keep the wearer completely dry and are great for those that plan on layering up and don't want to get their clothes damp. Drysuits should be worn over all other garments. 
5. Long Sleeve Shirt or T-Shirt
When it comes to picking your day clothes, you'll want to choose items that are comfortable, moisture-resistant, and that you don't mind getting wet or dirty. Avoid wearing high-end, designer clothes or delicate fabrics that aren't suitable for the outdoors. 
Instead, long-sleeved shirts and t-shirts made from synthetic materials, like nylon, polyester, and Spandex, are suitable for slipping over other clothing. They're also lightweight and won't feel heavy if they get wet, unlike cotton and denim. 
6. Quick-Dry Shorts or Pants
Quick-drying shorts or pants are a must-have when kayaking. Long rashguards and wetsuits can be worn in place of pants, but if these get wet, it'll be beneficial to have a spare set of dry pants you can slip on. Quick-drying shorts or pants can withstand some moisture and can keep your legs dry, especially if you don't have time to change after kayaking. 
Also, keep in mind that while your leggings or gym shorts may be cozy, they might not be suitable for getting wet or rubbing against your skin as you maneuver the kayak. Quick-drying shorts or pants, and other specially-designed water gear, are more practical for these purposes. 
7. Rubber Shoes or Waterproof Sandals
Rubber shoes or waterproof sandals are ideal for kayaking because they allow you to keep your feet dry while on the water. Shoes made from rubber can deter water, while waterproof sandals allow your feet to breathe. Opt for shoes that are comfortable to wear for several hours, and refrain from heels or mesh sneakers that won't dry as fast. 
You can also wear water shoes, which are specifically designed for watersports and are made with quick-drying materials.
8. Rain Jacket or Windbreaker
As the final layer of clothing, reach for a light jacket, such as a rain jacket or windbreaker. Having a rain jacket or windbreaker on hand can keep you warm and dry, and most are loose-fitting so that you can throw them on over your other clothes.  
In the colder months, Monterey is much cooler in the mornings. If you're heading out on an early excursion, you'll want to bring a jacket that you can remove later as temperatures rise. 
A fantastic jacket option is the Columbia Watertight Jacket, which is waterproof, stylish, and warm. It also rolls up tightly into a water-resistant case, making it convenient to carry while on the go.
9. Neoprene Gloves
Now that you're all dressed, there are a few accessories you might want to consider for your trip. 
For example, neoprene gloves are highly recommended to protect your hands from sunburns, blisters, moisture, and the cold. The neoprene material is stretchy and soft, and the gloves are safe to wear for long periods. 
10. Wide Brim Hat
A wide brim hat can offer protection all around your head. If you have long hair that you want to keep secure, using a wide brim hat can also prevent it from blowing in the wind while you're out on the water. 
Similarly, if the weather is colder, a wide brim hat can keep your head warm and can protect your head and neck from UV rays. 
11. Sunglasses
You don't necessarily need to have sunglasses while kayaking, but they can help reduce brightness and increase your visibility on the water. Sunglasses are beneficial for those that wear contact lenses and can't get their lenses wet.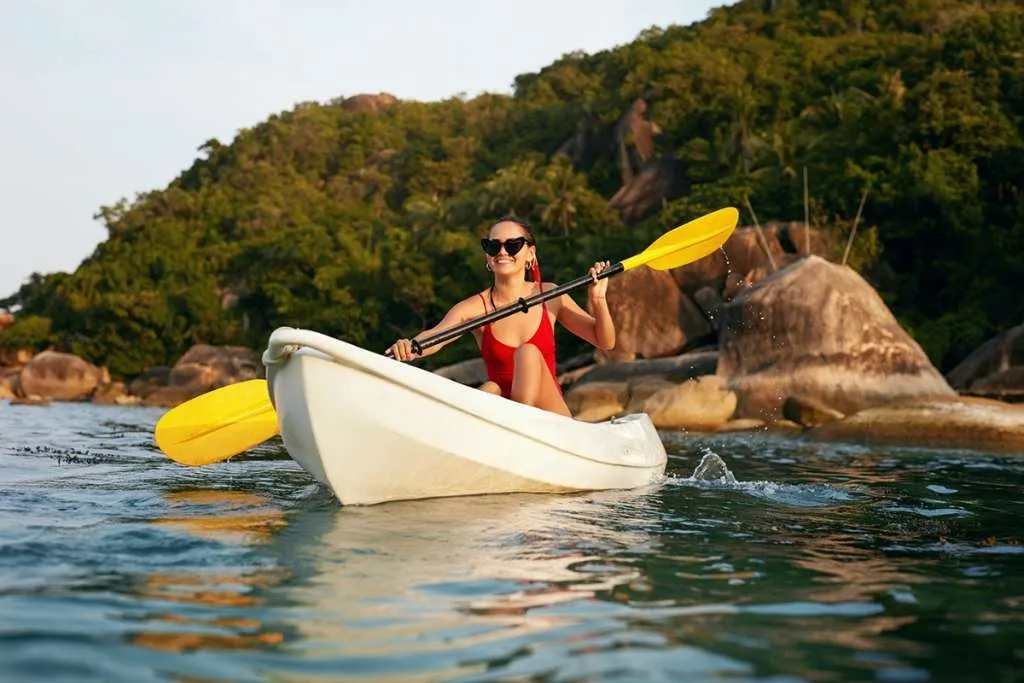 The best sunglasses for kayaking should have rubber grips to keep them in place, so they don't slip off your head. If you decide to wear sunglasses on your trip, be sure to bring an inexpensive pair that you don't mind losing or getting wet.
13. Lifejacket
Finally, an essential item you'll need to complete your kayaking getup is a lifejacket. Lifejackets are designed to keep you safe and protected while on the water. They're worn over all other clothing and come with fastening straps that can be tightened to fit your torso. 
If you're booking your kayaking excursion through a professional company, most will provide you with a lifejacket before allowing you onto the water. However, if you're kayaking privately or don't want to wear the provided jackets, you can bring your own. 
Fortunately, you can find high-quality lifejackets online, like the Onyx MoveVent Dynamic Paddle Sports Life Vest. This lifejacket comes in sizes ranging from XS to 2XL, and has a nifty zip pocket in the front to store any small, essential items. It also comes with a safety whistle so you can signal for help in case of an emergency.
What To Read Next: