If you love adventure, Alaska would be an excellent destination, thanks to its mountains and abundance of nature. Unfortunately, Alaska's weather is unpredictable, and the water temperature can hit freezing before you know it. So, if you are, for instance, kayaking in Alaska, you need to have the right clothes and gear to ensure you're both safe and warm.
Here are 18 things to wear kayaking in Alaska:
1.   Light-colored synthetic top
2.   Dark-colored synthetic top
3.   Medium-weight wool top
4.   Heavy thick fleece jacket
5.   Lightweight rain shell jacket
6.   Polyester underwear
7. Lightweight polyester pants
8.   Heavy-weight synthetic pants
9.   Breathable waterproof pants 
10.  Waterproof kayaking socks
11.  Kayaking boots
12.  Paddling gloves
13.  Warm, stretchable hat
14.  Waterproof sun hat
15.  UV protection sunglasses
16.  Water-resistant watch
17.  Reflective life vest
18.  Waterproof binoculars
In this article, I'll discuss what to wear when kayaking in Alaska. The list includes clothing, apparel, accessories, and gear. Let's dive right in.
Clothing to Wear
Kayaking is such a fun activity, but since you run the risk of getting wet, consider buying a few items of clothing that will help to keep you dry. 
In addition, when it's very cold, you're better off wearing layers. That way, you can remove them when you're warm instead of being too cold with too few.
1. Light-Colored Synthetic Top
Wear a light-colored synthetic top like this 32 DEGREES Thermal Lightweight Long Sleeve Top. The synthetic material wicks moisture, and it's comfortable and soft on your skin. 
In addition, the light color of the top does not absorb much heat and sun. So, if the weather is hot, you can remove all the other clothes and remain with the light-colored top.
2. Dark-Colored Synthetic Top
Wear a dark-colored synthetic top over the light-colored synthetic top. The synthetic material of this kind of top is comfortable and warm, and the dark color absorbs the sun and the heat more than the light-colored top. 
The dark top can therefore give you extra warmth if the temperatures drop suddenly. 
3. Medium-Weight Wool Top
This MERIWOOL Mens Base Layer is made using 100% wool and comes in a variety of neutral colors. 
Since wool is super soft and light, the top will not weigh you down. It also wickers away moisture, and it's odor resistant. 
It will also keep you cool if the weather is hot and warm on a cold day. When you wear this top, you will be comfortable all day long. 
4. Heavy Thick Fleece Jacket
Put a heavy jacket on top of the medium-weight top for maximum warmth and protection from the elements. 
You could go for a synthetic fill puffy jacket or a heavy thick fleece jacket like this Columbia Men's Steens Full Zip 2.0. The coat is warm and cozy, and it will keep you comfortable even when the temperatures drop. 
Remember that you can remove it if the weather becomes hot. 
5. Lightweight Rain Shell Jacket
This jacket is the last layer of clothing on your upper body. Since you'll more than likely get a little wet, you'll want something waterproof, and ideally with a hood.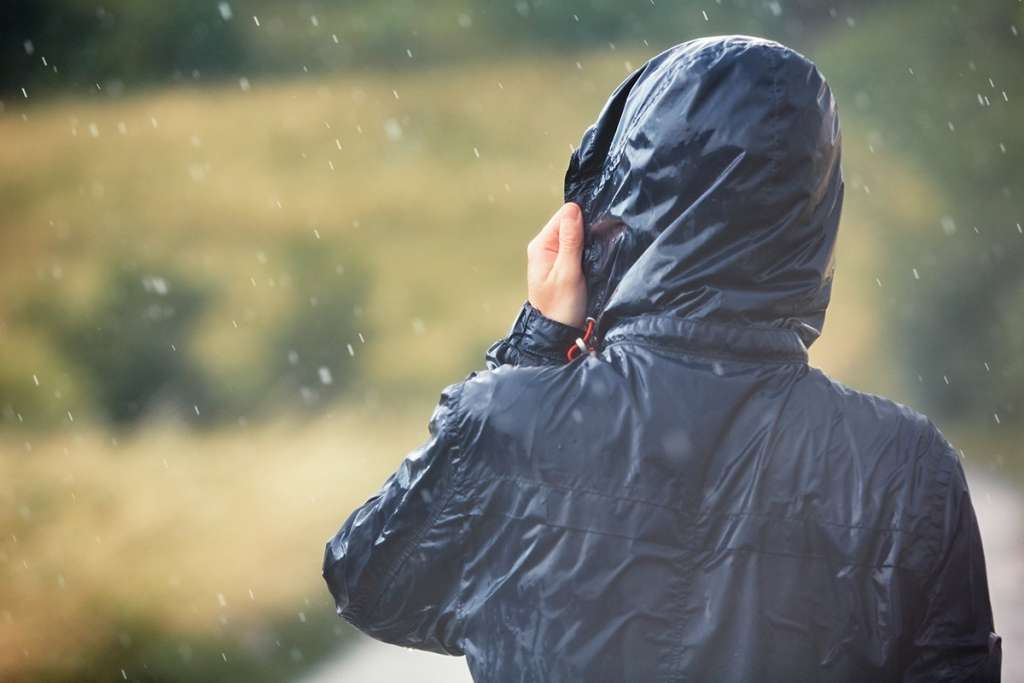 A lightweight rain shell jacket should be big enough to be worn on top of the many layers of clothing, so it's advised to size up at least one, possibly two, if you think you'll have thicker layers. 
The jacket and the hood will protect you from the rain even if it pours.
6. Polyester Underwear
Underwear is the first layer of clothes you should wear on your lower body. One great choice is underwear made from polyester material because it's hygienic and comfortable, especially for high activities like kayaking. It also dries quickly, thus giving you total comfort. 
These ​​Fruit of the Loom Women's Underwear come in a colorful pack of 12, and they're very lightweight and comfortable. 
Alternatively, these Reebok Men's Sport Soft Performance Boxer Briefs come in a pack of 8 and offer more coverage. 
Both are a blend of polyester and spandex, so they're great for kayaking and are stretchy too. 
7. Lightweight Polyester Pants
Next up is the first layer of pants, which are ideally lightweight polyester pants to help keep your lower body cool and warm. 
Polyester also adapts well to the body temperature and wicks away sweat. This type of pants is ideal for kayaking. When you wear them, you feel relaxed, warm, and comfortable all day long. 
8. Heavy-Weight Synthetic Pants
These ATG by Wrangler Men's Synthetic Utility Pant are a kind of heavy-weight synthetic pants that are great for kayaking. 
They're durable, strong, and comfortable to wear. They also provide all the warmth you need on a cold day. In addition, the pants dry quickly because of the synthetic material. So, you should not worry if you encounter unexpected rain. 
9. Breathable Waterproof Pants
You don't want to get wet when kayaking. So, instead of the above, maybe try these BASSDASH Men's Breathable Waterproof Rain Pants, designed to wick away sweat and prevent you from getting wet as your kayak. 
It would be good if the pants had zips at the bottom of the legs to keep out any water. Leg zips are also helpful because you don't have to remove your footwear when removing or adding layers of clothes. 
Apparel to Wear
In addition to clothes, you'll also need to think about apparel, such as boots and gloves.
10. Waterproof Kayaking Socks
These RANDY SUN 100% Waterproof Breathable Kayaking Socks are made especially for paddling sports like kayaking. 
They are water-resistant to prevent your feet from getting wet, and they're warm so that your feet don't freeze when they come into contact with cold water. 
These socks are also thick and cozy to prevent your feet from getting hurt or getting blisters. 
11. Kayaking Boots
When it comes to kayaking boots, wear ankle-high or knee-high boots. They should preferably have ankle zippers so that you can wear or remove them quickly. 
You'll want them higher so you can paddle the kayak, and they keep your feet comfortable and warm. They also protect your toes from frostbite and from getting hurt by rocks. 
12. Paddling Gloves
The most precious assets when paddling a kayak are your hands. If you don't protect them well, they could become cold, raw, and sore.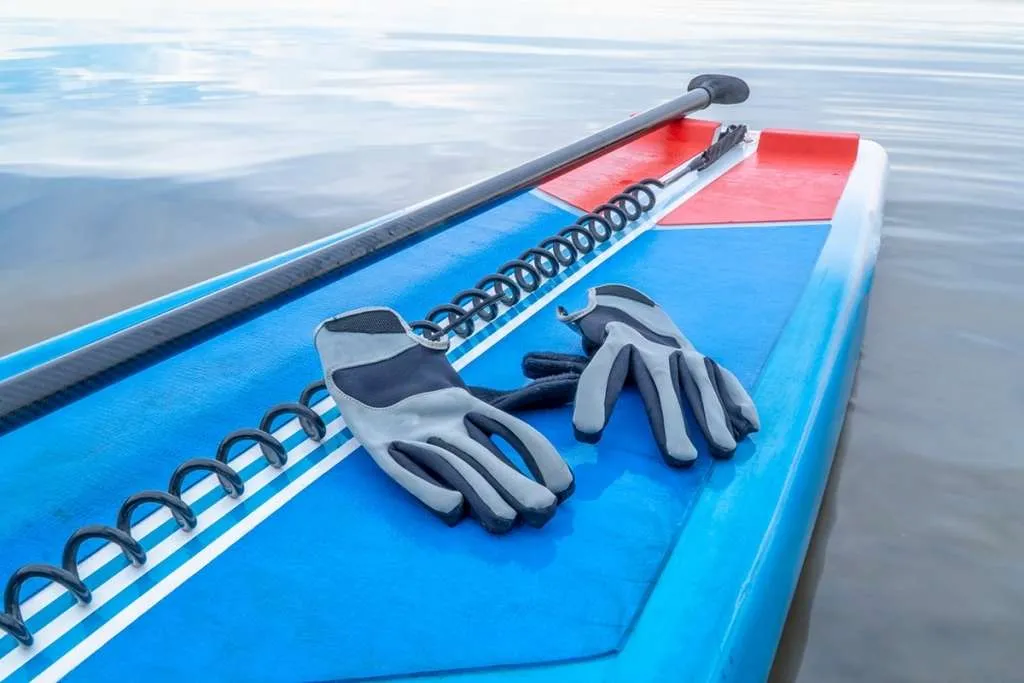 So, go for the warmest model of lightweight paddling gloves you can find. These gloves should prevent you from getting blisters as you paddle and protect your hands from frost.
13. A Warm, Stretchable Hat
Wearing a warm, stretchable hat like this Carhartt Men's Knit Cuffed Beanie will keep your head and face well protected from the cold and the wind as you kayak. 
Avoid cotton hats because they don't wicker moisture, therefore taking longer to dry. Instead, go for a hat made of wool or synthetic materials because such materials are warm and comfortable.  
14. A Waterproof Sun Hat
As mentioned before, the weather in Alaska is unpredictable. So, it's worth investing in a waterproof sun hat that you can wear on top of a warm, stretchable cap.
You can easily remove the sun hat if there is no sun, as most have straps. Just flip it back and let it hang on your back until you need it. 
Accessories to Wear
Along with gloves and hats, consider protecting your eyes and coming prepared with a water-resistant watch.
15. UV Protection Sunglasses
The sun in Alaska is very bright, mainly when it reflects off the seawater. 
That kind of sun is not suitable for your eyes as it can damage them later. Even on cloudy days, you might not notice the damage it's causing. 
That's why you should always wear your sunglasses when kayaking. Look for brands that offer UV protection with dark polarized lenses to give you all the security you need. 
16. A Water-Resistant Watch
In Alaska, the days are sometimes more prolonged than usual. When the daylight lingers into the late evening, it's easy to lose track of time. 
Since you'll be going out into the water, the best watch would be a water-resistant watch. But it's also worth splurging on something with additional features such as GPS, in case something happens ad you get lost. 
Gear to Wear
Last but not least, kayaking out in the open is dangerous, even if the water is calm. So, think about the gear you need to ensure you have a great day and can come home safe. 
17. A Reflective Life Vest
The first thing you'll need is one of these Onyx Universal Paddle Kayak Life Vests. It's a personal flotation device (PFD) worn for safety when kayaking or performing other water sports. 
The reflective surface makes you visible in darkness and also keeps you afloat if there is any mishap. You are supposed to wear the Personal Flotation Device whenever you are on the water, so don't leave home without it. 
18. Waterproof Binoculars
If you want to enjoy Alaska's beauty as you kayak, these USCAMEL Marine Binoculars for Adults couldn't be more perfect. They're a little pricey, but they're waterproof and even have a compass for navigation.
The landscape, vegetation, and scenery in Alaska are all so unique, and chances are you'll come across all kinds of wildlife, including birds and fish, as you cruise. Seeing these things up close using your binoculars is a fantastic experience you won't want to miss out on. 
What To Read Next: