You've worked hard, and you're now ready to take your nursing exams. The big day is rapidly approaching, and you're not thinking about what you should wear, but rather how to pass the exams. What should you wear to the NCLEX, and what's allowed in the exam room?
When planning what to wear to NCLEX, wear comfortable clothes. Wear a t-shirt, sweatshirt, or flannel shirt, and a coat if it's cold outside. You may also want to wear shorts underneath baggy pants. However, leave the jewelry and other accessories at home, as they aren't allowed in the exam room.
If you want to learn more about what to wear and bring to the NCLEX exam room, keep reading. You will learn more about certain exceptions of what you can bring and have with you in the exam room.
Wear a T-Shirt, Sweatshirt, and a Coat
The NCLEX has a maximum of five hours, and if you're shivering or too hot, it can get pretty uncomfortable. 
When sitting for the NCLEX, you'll need to put on a few layers, especially during the colder seasons like winter or late fall. That means that you should wear at least a t-shirt or short-sleeved shirt, a sweater or sweatshirt, and a coat. 
The ideal setup would be to layer the following on the top:
T-shirt or another short-sleeved shirt
A thin long-sleeved shirt like a light flannel shirt, OR
A light sweater
Sweatshirt
Coat
Of course, you probably don't need all those layers if you live in the South, or it's not during a cold season. If it's not cold outside, you probably should take a flannel or light sweater with you if the room is cold.
If you find that your legs get cold easily, then you're going to need to wear leggings under baggy pants. You will get two breaks where you can access your personal items or use the bathroom. If you get too warm in the testing room, you can use one of your breaks to remove a bottom layer.
Make Sure You're Comfortable
Above all, you should be comfortable when sitting for the exam. That means that if you're too warm or too cold, you will constantly be thinking about that instead of the exam. Or, if you're dressed in something that irritates your skin and you're constantly itching, that could contribute to a lower score.
Advice from previous test takers is to be comfortable above all, and don't worry so much about your clothing. While you probably shouldn't go in your pajamas, as you might get too comfortable, you do want to dress casually in your most comfortable day clothes.
Coats, Hats, Gloves Are Prohibited In the Testing Room
Hats, gloves, and coats are not allowed in the testing room, and you will be provided a small locker to put these and other items in during your exam. So if it's cold outside and you need these items to get to the testing location, you will be asked to take them off before entering the exam room.
If you are wearing a long sleeve shirt, you will be asked to push up the sleeves so the TA can inspect your arms.
Jewelry and Other Accessories are Also Prohibited
You can probably keep your wedding or engagement ring on, but you must remove any large jewelry before entering the exam room, as they consider these to be security risks. However, you can wear any jewelry that is smaller than ¼" (0.5 cm) wide. So any small necklace or ring will be fine.
Other accessories like a watch are prohibited.
Religious Exceptions
There are certain things you can wear if they are part of your religious beliefs. For example, if you wear a Habit or a Hijab, you can wear it in the exam room. Or, if you wear a Turban, it's allowed in the room.
However, if you think you can get away with claiming a brimmed hat or billed cap as religious wear, be prepared to defend it. If the TA allows it, you will be monitored very carefully during the exam. 
Comfort Aid Exceptions
There are certain exceptions that you might be able to take in the exam room without prior approval. During the pandemic, you are allowed and even encouraged to wear a face mask in the room.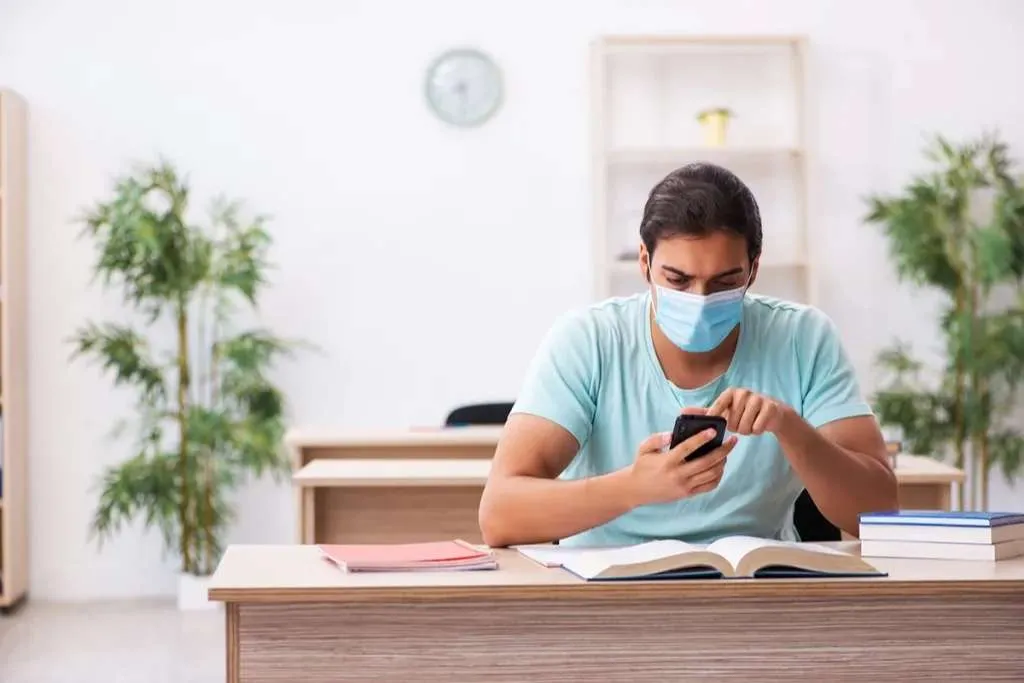 You can also bring the following items into the exam room for your comfort:
Tissues
Earplugs
Noise-Canceling headphones
The testing administrator will provide you with these items if you don't have them. In addition, the following items can be brought in the room with prior approval and accommodation for medical purposes:
Water bottle
Diabetic testing equipment
Medical equipment that is not attached to your body.
If you do have medical needs that need accommodation, you are encouraged to reach out to the TA ahead of time so that everything will run smoothly on the day of your exam.
Other Items Allowed In the Testing Room
Not very many items are allowed in the testing room, as they are concerned for the safety of all test-takers and the administration team. They also want to make sure that you're not cheating and getting the answers from something else.
That being said, here are some additional items that might be allowed in the test room:
However, you can request paper, pens, or a white erase board to write notes on while you're taking your exam. 
Any electronic devices you bring, such as a smartphone or tablet, must be sealed in a bag provided by the testing center in the presence of the TA. When you leave for the day and you've finished your exam, you must present the unsealed bag to the TA before you leave. This is to ensure that you did not look up any answers.
Conclusion
The NCLEX is a very important exam that nurses take, and as such, it's imperative that you dress comfortably, so you don't have any distractions while taking the exam. 
Remember, you will have your picture taken when you arrive. So, you may want to fix your hair and wear clean clothes for the exam. You could wear a "lucky shirt" that is stained, but if the picture is supposed to represent you professionally, you might want to reconsider your lucky shirt.
What To Read Next: