Hoodies are comfortable sweaters that are wardrobe staples for men and women. If you're a man and a woman's hoodie is all you have available, can you wear it? 
A man can wear a woman's hoodie as long as it fits comfortably and he's happy with the hoodie's color and other feminine features (such as embellishments, logos, pictures, etc.). A woman's hoodie can help you create a metro or urban look, depending on how you wear it. 
In this article, I'll discuss the differences between men's and women's hoodies to determine if a man can wear a woman's hoodie. 
Differences Between Men's and Women's Hoodies
There are four critical differences between men's and women's hoodies that contribute to the debate of whether a man can wear a woman's hoodie. These differences are:  
Size and length
Tailoring
Color and style
Versatility
1. Size and Length
The biggest difference between men's and women's hoodies lies in the size and length.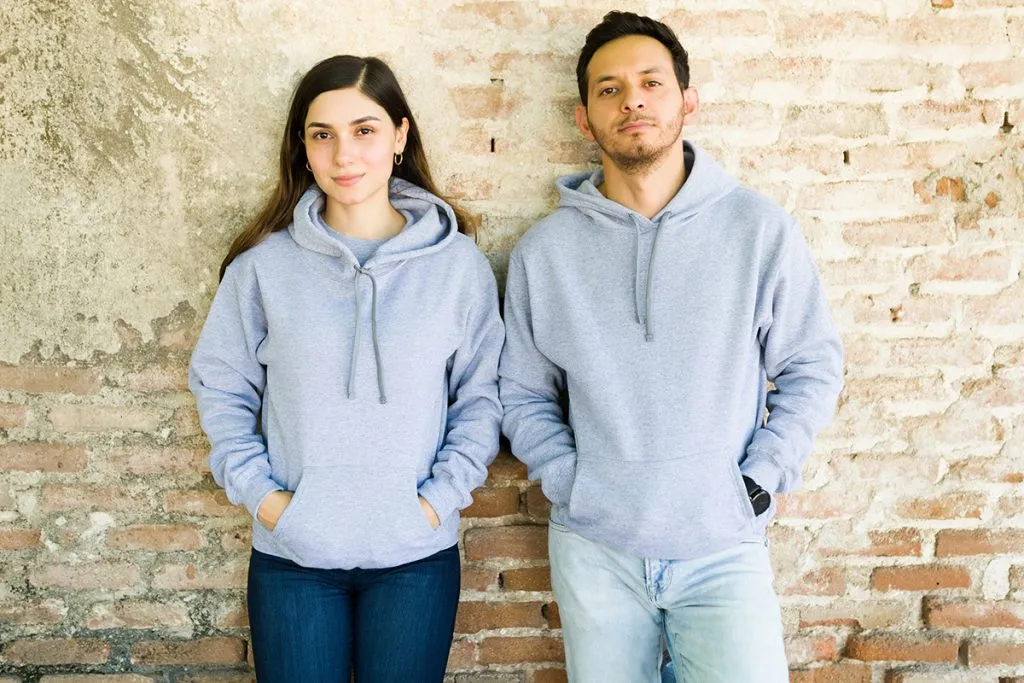 Men's hoodies usually have a longer torso and sleeve length, and a size medium men's hoodie is typically bigger than a women's size medium. In addition, men's hoodies are broader in the shoulder area.
If you're a man wanting to wear a women's hoodie, you would, therefore, need to wear a hoodie at least one size larger to accommodate for the difference.
2. Tailoring
Men's and women's hoodies are tailored differently to accommodate their different body shapes. 
Women have curvier bodies, and the tailoring of their hoodies reflects this. In contrast, men's hoodies are boxier, more rectangular, and don't hug the body as tightly. 
The difference in tailoring is another reason men opt for a larger women's hoodie size. 
3. Color and Style
In fashion, men's and women's stereotypes still exist. Men's hoodies tend to be plainer and come in colors such as blue, brown, tan, and green. 
Since they are more feminine, women's hoodies often come in pink, purple, and softer shades of blue and green. They also have more embellishments or patterns and can have glittery logos. 
4. Versatility
Men's hoodies are more versatile than women's hoodies, and it's easier for a woman to incorporate a man's hoodie into her outfit than the other way around. A woman can create a feminine-looking outfit by accessorizing the men's hoodie with jewelry, a scarf, or figure-hugging jeans or leggings. 
It's much more challenging for a man to create a masculine look while wearing a glittery pink hoodie. 
Should a Man Wear a Woman's Hoodie?
It may be possible for a man to wear a woman's hoodie, but should he? Ultimately, that's up to the individual.  
A man should wear a woman's hoodie if he feels comfortable doing so. If the woman's hoodie fits comfortably, and he's happy with the color and style, there's no reason why he shouldn't wear it.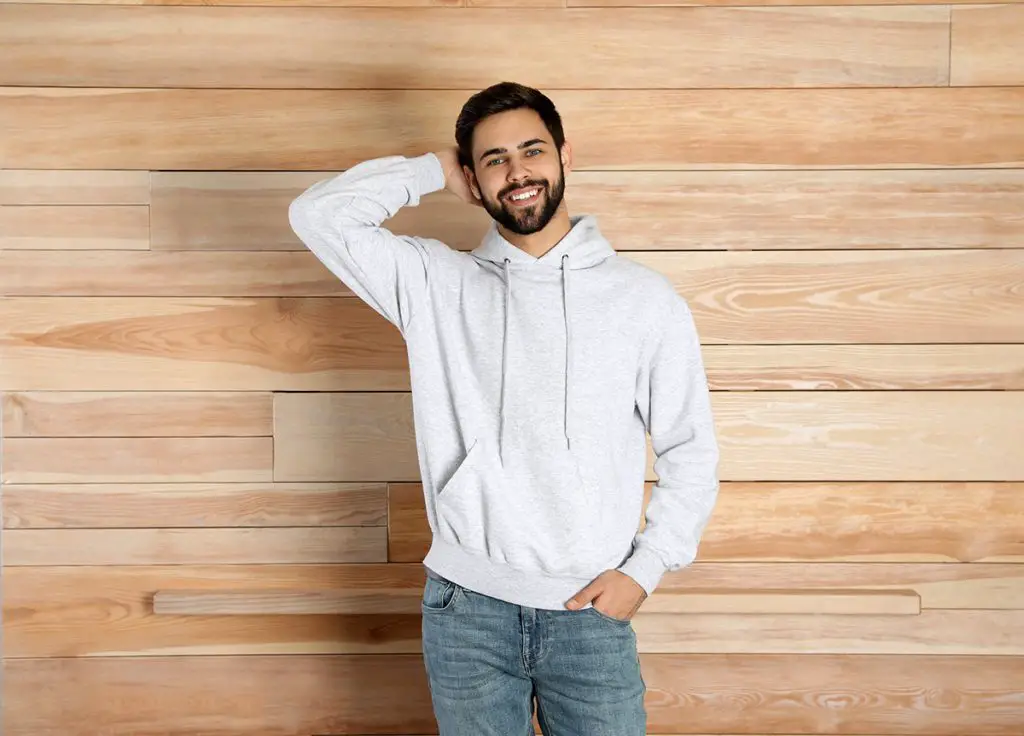 Here are some exciting outfit ideas to consider:
A pink woman's hoodie with your favorite jeans. Pink doesn't always imply femininity, especially if you create a metro look. When worn with your favorite jeans and sneakers, a pink hoodie can make you look modern and sophisticated. 
Pale-colored woman's hoodie and linen shorts. Need a hoodie to keep the chill away on a summer's evening? A white woman's hoodie worn white linen shorts creates a sporty and preppy look. 
A dark-colored woman's hoodie paired with ripped jeans or cargo pants. Women's hoodies are generally more tight-fitting, and a dark-colored hoodie can help you create an urban outfit when worn with ripped jeans, cargo pants, and sneakers. 
Can a Woman Wear a Man's Hoodie?
A woman can wear a man's hoodie if she's satisfied with how it fits and feels. Men's hoodies are typically more oversized than women's hoodies, so they might feel baggy and not provide as much warmth as a tighter-fitting one. 
Popular outfit ideas for women wearing men's hoodies include: 
Gray or light-colored men's hoodie with black leggings. If you have a busy day ahead running errands, looking after the kids, or running around your college campus, why not wear a men's hoodie with some black leggings? The tight-fitting leggings offset the bagginess of the hoodie. 
Men's sports hoodie with skinny jeans. Going to a tailgating party or watching the game on TV with friends? A men's sports hoodie and skinny jeans creates a casual yet sporty outfit. 
Men's hoodie and fitted sweatpants. Men's hoodies make excellent sweatshirts to throw on after a work-out or if you want a comfortable athleisure outfit. They look great when worn with a pair of fitted sweatpants. 
Is It Worth Buying a Unisex Hoodie?
Both men and women can wear a unisex hoodie. Its tailoring and sizing are similar to men's hoodies, so if you're a woman, you'll probably need to opt for one that's one or two sizes smaller than your usual hoodie. 
Unisex hoodies are usually made from stretchy fabric to accommodate both body types. It's always better to opt for a good quality unisex hoodie as the material is thicker and feels soft against the body.
It is worth buying a unisex hoodie if you like sharing your hoodies with your partner, family members, or friends. Unisex hoodies usually come in gender-neutral colors, like gray, black, or blue so they suit most people. 
Unisex hoodies are great wardrobe staples as their neutral colors and style mean that you can wear them with most of what you already have in your wardrobe. 
Conclusion
It's not a fashion no-no for a man to wear a woman's hoodie. As long as the hoodie fits him comfortably, and he doesn't mind the hoodie's style or color, there is no reason why he shouldn't wear it. 
If you like to share your hoodies with others, you might consider buying a unisex hoodie. Unisex hoodies normally have men's sizes but are made from stretchy fabric to accommodate both men and women. 
Buying a good quality hoodie is also important as the fabric is thicker, and it feels softer and more comfortable against the body.
What To Read Next: