The Commander's Palace in New Orleans, Louisiana, offers exquisite fine dining with an interesting back story. This restaurant is "fancy," with a wine room and private dining experiences available to clientele. However, you may be wondering if this "fancy" restaurant also has a "fancy" dress code. 
The dress code at the Commander's Palace is business attire. For both men and women, this means no jeans, flip-flops, or casual clothing such as sweatpants. Men should wear a jacket and closed-toed shoes. Women can wear open-toed shoes as long as they're dressy.
You don't have to dress in black-tie or business professional attire, but business attire is separated finely from casual or business casual clothing. Below, I'll go over the expectations for men and women and answer some of the most asked questions about the Commander's Palace dress code.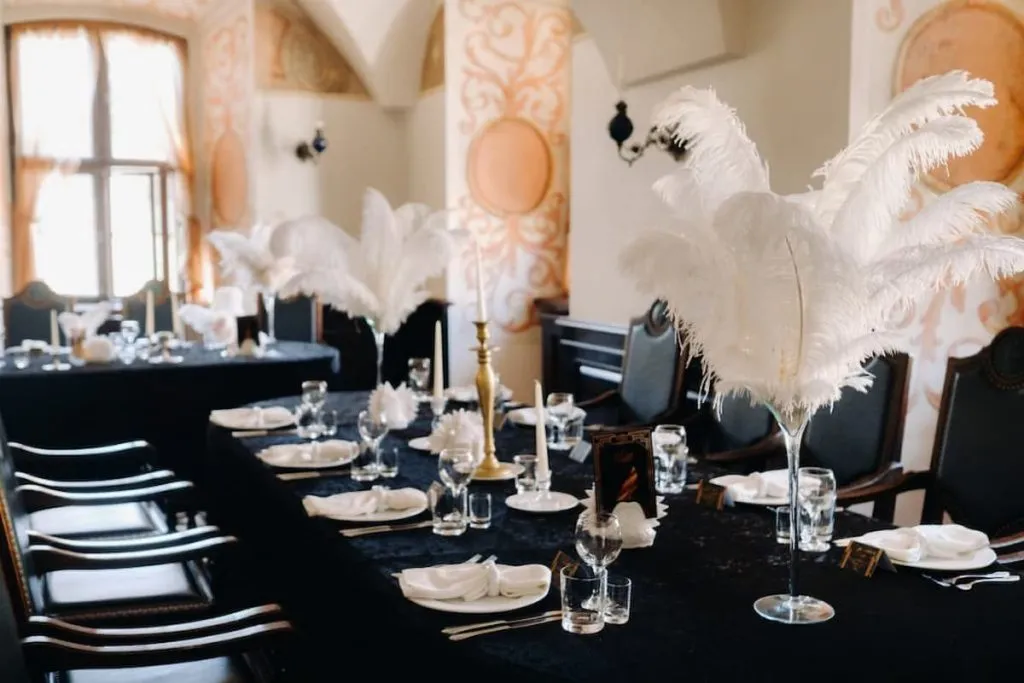 Commander's Palace Dress Code for Women
Women's clothing is often versatile and can fit into more than one dress code category. With that being said, there are some clear "do's" and "don'ts" for dressing business. The Commander's Palace requires a business dress code for its patrons. 
Women should wear business attire at the Commander's Palace. Jeans are highly discouraged. Dressy shoes with a classy skirt and blouse combo is perfect. Business slacks and a button-down shirt would also be appropriate. 
Think about what you might wear to an interview at an office, but dress it up to make it less drab. Ideally, a woman could wear a knee-length or ankle-length skirt with a nice blouse or a dress of the same length. Dresses or a skirt and blouse combo with a blazer always look business appropriate. 
Suppose you're celebrating a special event at the Commander's Palace. In that case, you don't have to think about it like some stuffy business meeting where fancier going out clothes are required. Instead, take a nice outfit you'd wear to the office and throw on a jacket or cardigan over the top to make it more professional. 
As mentioned above and below, jeans should be avoided. The website states that jeans are "discouraged" and ripped jeans are not allowed, so it's clear staff would like you to avoid them at all costs. Jeans will have to do if you have nothing else with you and no time to stop by a store for something more appropriate. Try to pair them with a dressier shirt, high heels, and a blazer to give them a more business appropriate look. 
Commander's Palace Dress Code for Men
The Commander's Palace is more strict but more straightforward for men. The listed dress code on the website has explicitly stated guidelines for how men should dress when they dine at the Commander's Palace. 
Men should wear a suit jacket, close-toed shoes, and collared shirts to the Commander's Palace. Jeans are highly discouraged and ripped jeans are not allowed. Additionally, men's sweatpants, sweatshirts, and open-toed shoes are not allowed. 
Business attire is what you would wear to an office or an interview. You'll want to do a collared shirt, something button-up, or a polo. Though jackets aren't required, the website says they are "preferred" for gentlemen, so they're highly encouraged to get the dress-code right. Men should expect to wear close-toed shoes and avoid wearing shorts, which means a pair of dress shoes and slacks should be fine. 
The dress code is business, not black-tie or business professional. You don't have to wear a tuxedo or a three-piece suit to be seated. However, the line between business and business professional is much finer. 
Business professional often requires jackets and ties. These items aren't required for business attire, and it's also more lenient with the color of slacks (khaki-colored pants are not business professional, but they may be business). Keep this in mind.
How Strict Is the Commander's Palace Dress Code?
Some restaurants have a strict dress code, while others list one they don't enforce. Where does the Commander's Palace fall? 
The Commander's Palace dress code is strict, and you agree to it when you make a reservation on their website. If you aren't appropriately dressed, they may not seat you when you arrive for your dinner.
Unfortunately, this has happened from time to time, and people have been turned away. Most commonly, jeans or shorts are worn when they shouldn't be. Jeans are the more easily excused transgression but ripped jeans will not be allowed at the restaurant. Shorts are also commonly worn in a resort-wear style, but this isn't allowed either. 
With any restaurant, a lot will have to do with who is working that day and how strict the manager on duty is. Because you agree to the dress code when you make your reservation, they can cancel your reservation at their discretion. If you're in a sticky situation, such as not having packed appropriate clothing or losing your suitcase, you can give them a call and explain the situation. Sometimes (but not always), the staff may be helpful or understanding. 
Can You Wear Jeans to Commander's Palace?
Some companies have "casual Fridays" that allow jeans in the office once a week, but that doesn't mean they're business appropriate. This should further prove that jeans still aren't widely accepted in the professional workplace. The Commander's Palace has a similar philosophy. 
Jeans are highly discouraged at the Commander's Palace. Ripped jeans or jeans that you wouldn't wear to a business event are not allowed. You should avoid jeans when you go to the Commander's Palace. 
The staff likely won't turn you away if you're wearing jeans, but another transgression from their list might give them the excuse to turn you away. If you can, dress up your jeans by going over the top professionally with your top half. For men, this might mean a tie and suit jacket. This might mean a nice blouse and a pair of high heels for women. 
If you can avoid jeans, you should. Though the dress code says they're "discouraged," this might just be a polite way for the Commander's Palace to say, "We might not turn you away if you break this rule." 
However, if you are wearing ripped jeans, you can count on this being a no-go for the Commander's Palace staff. If your jeans aren't "ripped" but fall under the more casual category–whether that be embroidery or paint or patterns–you can also expect those to be turned away. 
Final Thoughts
Business attire may be confusing, as many of us work in different office buildings with completely different environments and expectations. When we think about business attire, we must think about it by definition and not by personal, professional experience. 
This means collared shirts for men and closed-toed shoes and suits or sports jackets. Think about a nice pair of slacks or a jumpsuit on the fancier side for women. Dresses, skirts, and a blouse would be preferable. You can always give them a call if you have questions.
What To Read Next: