Wading socks are a type of fishing sock designed to protect a person's feet while wading in water. They're longer than regular socks, made from a tightly woven material, and treated with anti-slip material. 
Here's how you can use wading socks: 
Choose the right wading socks.
Wear wading socks on top of regular or wool socks.
Wear your boots over the entire ensemble.
Pull-on wading socks over boot laces.
Wade into the water with care.
While wearing waders and wading socks, make sure to move slowly and carefully when stepping into deep or fast-moving water, as this may lead to falls and injury. I'll discuss the different variations of wading socks and how to wear them in this article.
1. Choose the Right Wading Socks
Choosing the right wading socks is as important as the correct size of waders. A good pair of wading socks is durable and tight enough to prevent them from falling, but with enough give that it doesn't impair your movement when you're walking or standing in a stream.
There are three types of wading socks:
When choosing a wading sock material, keep these factors in mind:
Durability
Flexibility
Water resistance
Warmth to weight ratio
Cost
Availability
Note that any factor can outweigh another factor depending on what you need for fishing conditions. Usually, 4mm (0.16 in) neoprene booties are ideal for early spring through late fall conditions.
An ideal pair of wading socks will give you:
Traction. A swappable outsole system allows you to alter your traction on the run as needed for the terrain. A high friction rubber with a unique formula that excels in and out of the water when felt is not an option.
Waterproof. Uppers that are breathable, waterproof, and a second skin against a stream. The best wading socks provide the perfect blend of performance qualities in their materials.
Fast-drying. Hydrophobic materials are used to speed up drying to improve comfort and minimize the spread of invasive species. Water flows through internal channels before exiting via midsole ports, removing any extra water and weight.
Airflow. Soles that are vented maximize airflow into or out of the boot, depending on where you need it most. A deep lug pattern grips well in all conditions and adheres less to river bottoms when felt is not an option.
A good pair of wading socks will cost between $35-$60 per pair, depending on what material you choose to purchase a pair of wader socks.
2. Wear Wading Socks on Top of Regular or Wool Socks
Wearing wool socks on top of regular socks before putting on wading boots provides extra cushion and warmth. It's beneficial to wear the wading socks over the wool socks instead of under them for this reason. 
Wearing these socks on the outside of your boots will keep your feet warmer, dryer, and more comfortable. Wearing wading socks on top of regular or wool socks also provides additional support for your ankles. 
3. Wear Your Boots Over the Entire Ensemble
After wearing your waders and wading socks, make sure to cover them with boots. This will help prevent water from seeping into the socks when you walk into a puddle or stream.
This, in turn, will reduce the risk of developing cold feet during fishing. Cold feet are especially an issue in winter months when ice crystals frequently form in streams and ponds. If you are wearing rubber knee-highs instead of thigh-high boots, pull them up so that they aren't covering the bootlaces.
Boots should be worn after you wear all other clothing for an added layer of insulation. This is especially important when water temperatures are colder than normal levels, and it's not possible to wear thermal layers underneath. 
After placing your bootlaces through the loops located in the upper part of the boot, pull them snugly across the top surface of each sock until they pass through one final loop at its other end. This securely fastens both your wading socks and regular socks (which you should overlay on top of the wading socks) to your boots, providing an additional layer of insulation against the cold water.
4. Fold Your Wading Socks Over Boot Laces
To wear wading socks, fold them over your bootlaces to cover your feet, heels, and ankles. This will help prevent any debris from entering the top of your boots while wading in water. Although this may cause slight discomfort at first, it's beneficial in the long run as it helps keep out rocks and sticks that can potentially scratch or cut you.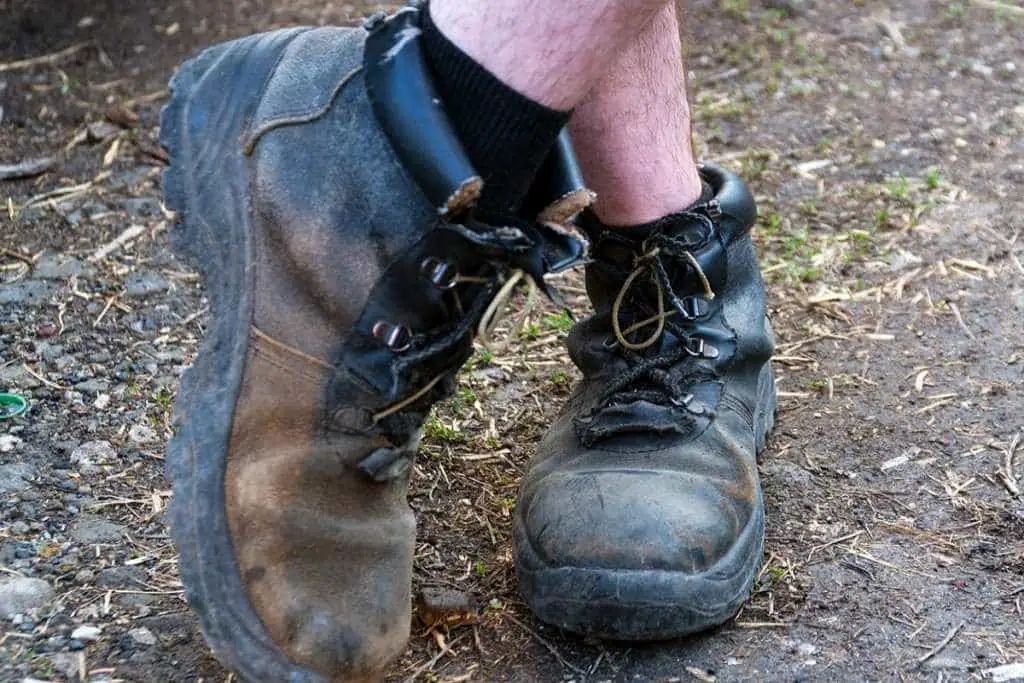 The socks feature a watertight cuff at the top, allowing them to be pulled up over pant legs without fear of seepage. Wading socks give you the freedom to explore deeper waters, giving anglers greater access to prime fishing spots. They can be worn on top of your waders or underneath them.
5. Wade Into the Water With Care
While wearing waders and wading socks, make sure to move slowly and carefully when stepping into deep or fast-moving water, as this may lead to falls and injury. To avoid falls, make sure to maintain three points of contact at all times: two feet and one hand on a firm object such as a rock or tree branch for stability. 
Ensure that there's no loose debris in the area where you plan to enter the water – loose rocks, branches, trees – which may cause you to slip and fall once in the water. 
Wade slowly and with care in areas where currents are stronger than usual to maintain control over your movements. If you unexpectedly slip, immediately pull yourself back up using a nearby branch or object for stability. Be mindful of slippery conditions when walking through tall grasses that may have dew on them. 
Conclusion
Wading socks should be worn over the top of your regular socks for extra durability and warmth. Pull them up firmly so that they cover any part of your leg or feet that may get wet while fishing in the winter months. 
To use these socks, pull them over bootlaces and ensure that they fully cover your feet, ankles, and heels. Wading socks give you the freedom to explore deeper waters for more fishing spots.
What To Read Next: