Whether you're hunting waterfowl or fishing, you need a quality pair of waders to wear over your clothes. These sturdy pants resemble overalls, and they keep your clothes and body dry when you need to wade through the water. Waders are available in various materials, and two of the most common are neoprene and PVC.
Neoprene waders are better for hunting and fishing in cold climates. Neoprene is warmer than PVC, but it's more expensive and takes longer to dry. PVC waders are preferable for hunters on a budget and people who need more versatile waders.
Keep reading to learn more about these two types of waders. We'll look at the merits and drawbacks of both materials and when it's most appropriate to wear them. 
Are Neoprene and PVC Waders the Same?
Both PVC and neoprene are waterproof and will keep your clothes and skin dry under your waders. But the similarities end there. Neoprene is bulky, not breathable, and warm, while PVC is inexpensive, flexible, and lightweight. The two materials have different functions and shouldn't be used interchangeably.
Neoprene and PVC waders aren't the same. Neoprene waders are best for cold weather hunting and fishing. PVC waders are more versatile and are better for use in warmer climates.
Neoprene Waders
Neoprene is a synthetic rubber first created in the 1930s. It's a durable material used for many industrial and everyday items, including gaskets, hoses, wet suits, and gloves. It's weather-resistant and doesn't degrade as quickly as rubber.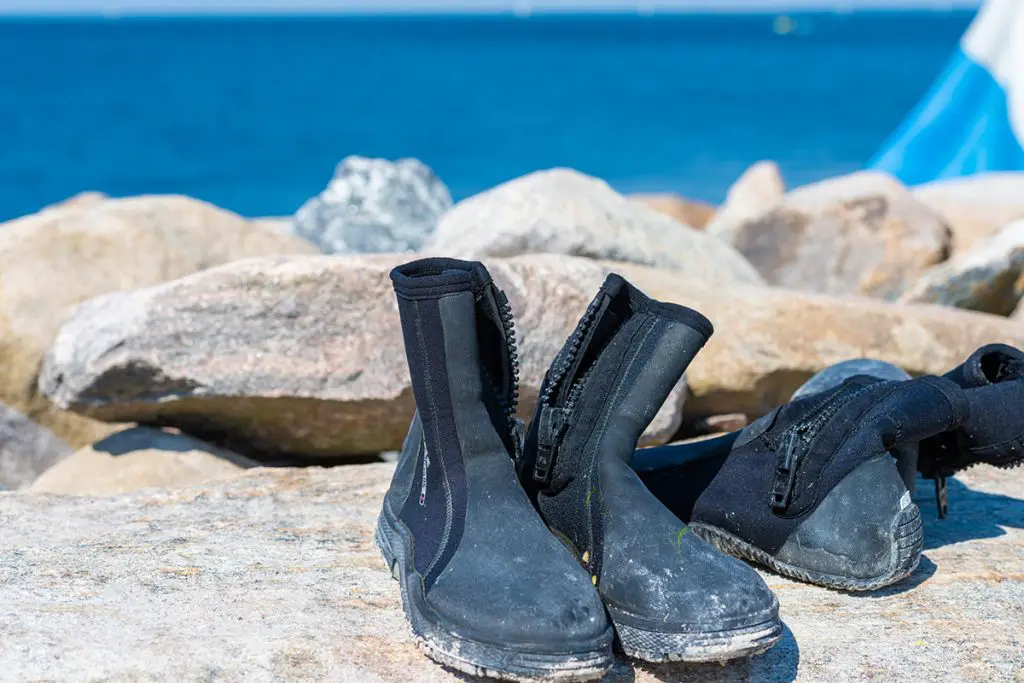 Neoprene waders have a specific niche in the hunting and fishing worlds. They're excellent for cold-weather hunts and long periods wading in cold water. If you need to stay warm for hours and hours, neoprene is the material you want. 
Pros
Great insulator.
Comfortable when waiting in a blind.
Cons
Not as flexible as PVC, which can affect your mobility.
Long drying time.
Expensive.
PVC Waders
Polyvinyl chloride, usually shortened to PVC or just "vinyl," is a synthetic fabric made from choline and ethylene. PVC fabric is waterproof, heat-resistant, and easy to clean, making it more versatile than neoprene or rubber.
PVC/vinyl waders are far less limited than their neoprene counterparts. They aren't as good at retaining heat, but they are easier to move in and won't weigh you down. 
Pros
Inexpensive.
Lightweight fabric.
Dries quickly.
Cons
Poor insulator.
Less reliable than other wader types.
When To Use Neoprene Waders
Neoprene is an amazing insulator, and it'll keep your body heat trapped in the waders. You should choose neoprene waders if you're hunting in a cold climate or plan to be standing in a cold body of water for long periods. Hunting, waterfowling, and fishing in colder months are the perfect activities for neoprene waders. Neoprene waders are especially useful if you plan on sitting in your blind for long periods in the cold.
However, neoprene isn't the most flexible wader material, so don't use these waders if you plan on moving a lot during your hunting or fishing trip. You should also stay away from neoprene waders if your hunting or fishing trip is during warmer months. There are less expensive warm-weather alternatives to neoprene.
If you're looking for a pair of neoprene waders, consider the Foxelli Chest Waders. These camo waders come with boots, a belt with two carabiners, and a carrying bag. You'll have plenty of pocket space for extra shells, calls, and any other pieces of gear you might want to keep close. 
A good pair of neoprene waders is invaluable for a hunter or fisher in a cold climate. Neoprene may be more expensive than PVC or rubber, but it holds heat better than most fabrics out there.
When To Use PVC Waders
PVC is light, flexible, and easy to take on and off. It's also relatively inexpensive, making PVC waders the most accessible kind of waders for new hunters and fishers.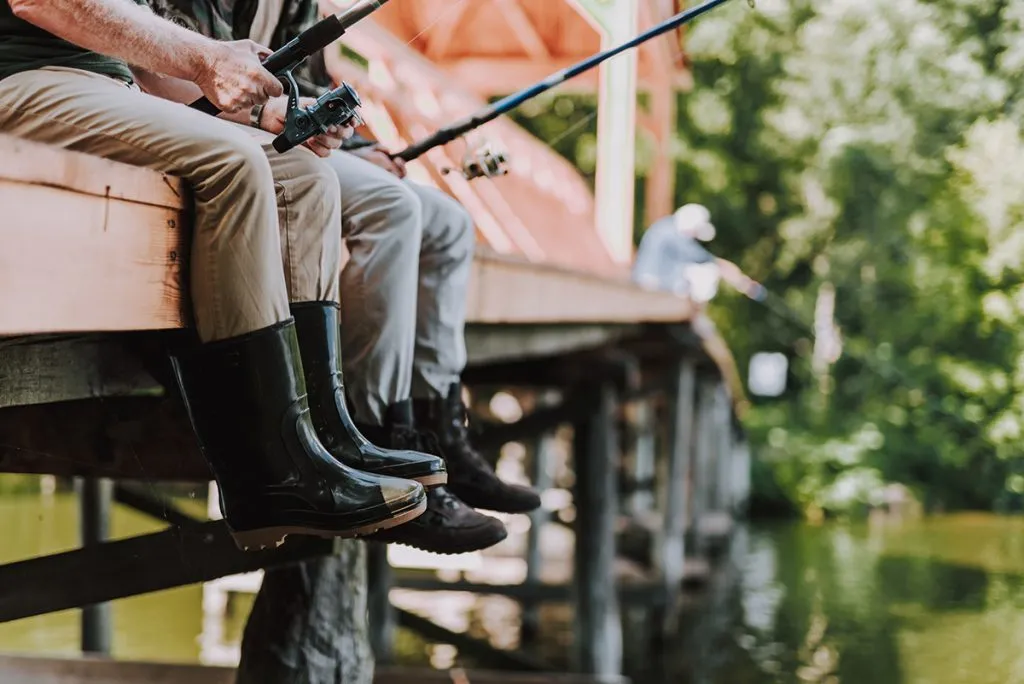 You should use PVC waders if you're intimidated by the cost of neoprene or breathable waders. 
PVC is also a good material for hunting and fishing in warm climates and on trips where you need to do a lot of walking. This lightweight material won't weigh you down and is easy to move around while wearing. 
However, you shouldn't use PVC waders if you're hunting in the cold weather or spending hours on end in the water. These waders are best worn when you're on the move, not sitting in a blind or open to the elements for hours at a time. 
If you're a novice fisher looking for your first pair of waders, look no further than FISHINGSIR Fishing Chest Waders. These waders include boots and a waterproof phone case, and you can choose from several colors. Additionally, the dual layers of nylon and PVC are sure to keep you warm. 
Alternatives to Neoprene and PVC Waders
Neoprene and PVC aren't the only options when it comes to waders. While rubber used to be the material of choice for waders many decades ago, the most popular waders on the market are breathable waders. 
Breathable waders are made of nylon or polyester and an additional layer of waterproof, breathable material called Gore-Tex. This blend of materials keeps water droplets from passing through your waders but allows air and water vapor through. The result is waders that are comfortable, lightweight, and – as the name suggests – breathable. 
The biggest downside to breathable waders is that they're the most expensive option available. They're also poor insulators, so you'll need to wear layers underneath your waders if you're hunting in a cold climate. 
If you want to check out a pair of breathable waders, check out the BASSDASH Chest and Waist Convertible Waders. They are available in boot foot or stocking foot styles, and they're easily converted from chest-high to waist-high waders. While they're undoubtedly more expensive than neoprene and PVC waders, they're so comfortable that you won't regret splurging on them.
Final Thoughts
Neoprene waders are a must-have if you're hunting in cold northern climates or standing in cold water for long periods. The insulation power of neoprene is unmatched in any other kind of waders. PVC is better for hunters and fishers on the move because it's flexible and lightweight. 
However, both of these materials fall short compared to breathable waders made with Gore-Tex. Breathable waders are the most expensive option, but they're also the most comfortable and reliable for warm-weather hunting and fishing.
What To Read Next: