Pantyhose and leggings are popular additions to fall and winter wardrobes. They come in various styles, can keep your legs warmer, and look great with most outfits. But, what's the difference between leggings and pantyhose? 
Leggings and pantyhose are both skin-tight legwear, but they differ significantly in opacity, weight, coverage, durability, and formality. Pantyhose are much less versatile and don't offer as much warmth or coverage, while leggings are thicker and can often be worn as pants.
In this article, I'll discuss the differences between leggings and pantyhose. I'll also elaborate on instances when one may be a more suitable option to wear than the other, depending on the occasion, your outfit, or the setting. Keep reading to learn more.
Differences Between Leggings and Pantyhose
Leggings are a footless, thick, mostly, or entirely opaque skin-tight garment that can be worn under shorts, skirts, and dresses, or in some cases, as a replacement for pants. Many leggings are made from lycra-blended fabrics, which gives them a stretchy and elastic texture.
On the other hand, pantyhose are the thinnest type of stockings. They are usually made from a light blend of lycra and nylon. They are sheer or semi-sheer, footed, and, as opposed to leggings, not suitable to be worn as a replacement for pants. 
Because they are far less durable than leggings, pantyhose are primarily worn for fashion-focused purposes, rather than practical ones. 
With this in mind, let's take a closer look at the pros and cons of leggings:
Leggings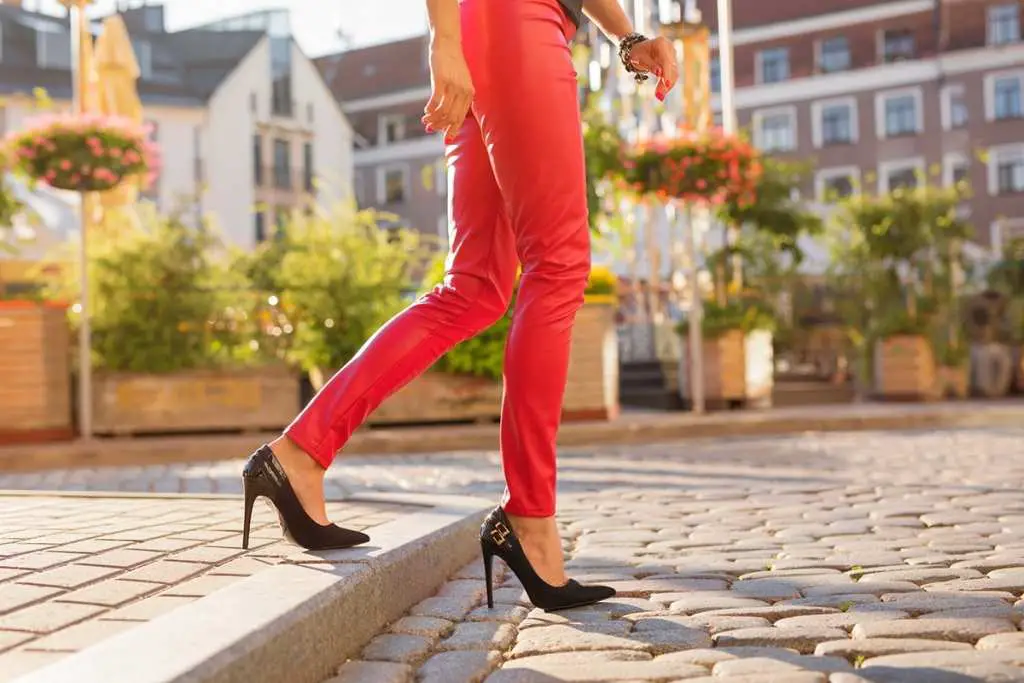 Pros
They provide warmth during cooler months, especially if they're thermal or fleece-lined. 
They're great for working out.
They're comfortable for lounging and running errands.
They can sometimes be worn as a replacement for pants.
They're typically very durable.
Cons
They can be too warm for some summer outfits. 
They may often lack pockets, which can be irritating when worn as pants. 
They can add a bit of bulk to an outfit depending on thickness.
Ways To Style Leggings
Wear them as a fall look. Leggings are an excellent option for layering under shorts, dresses, or skirts in fall when you need the extra warmth. 
Wear them as fitness apparel. Leggings are a fantastic and appropriate option for jogging, yoga, etc. If you plan to wear leggings for a workout, as long as you select a pair thick and opaque enough, there's no reason to layer them under anything. 
Wear them as pants. In casual settings, leggings can replace pants. Now, I'm not talking about leggings that are tailored and designed to be pants, basically. I'm still referring to you're good ol' stretchy, skintight leggings that *might* have a cell phone pocket sewn into the side. 
Can You Wear Leggings to Work?
You may be able to wear leggings to work if you style them correctly and they don't violate the office dress code. Styling basic, black leggings with formal sweaters, shirts, and shoes can prevent them from looking too casual and leisurely. 
Opinions are certainly mixed on this, but there are definitely leggings designed to be worn as a replacement for pants at the office. You'll want to check your company's dress code on this one, and I recommend sticking with neutral colors such as black, brown, or grey. 
This pair of WDIRARA Women's Stretchy Plaid Print Leggings could seriously work as a standalone for pants depending on your office dress code. They're classy, feature front pockets, and you'll still benefit from the supreme comfort of leggings. 
Pantyhose
Pantyhose come in various patterns and coverage and can really dress up an outfit or make a bold statement.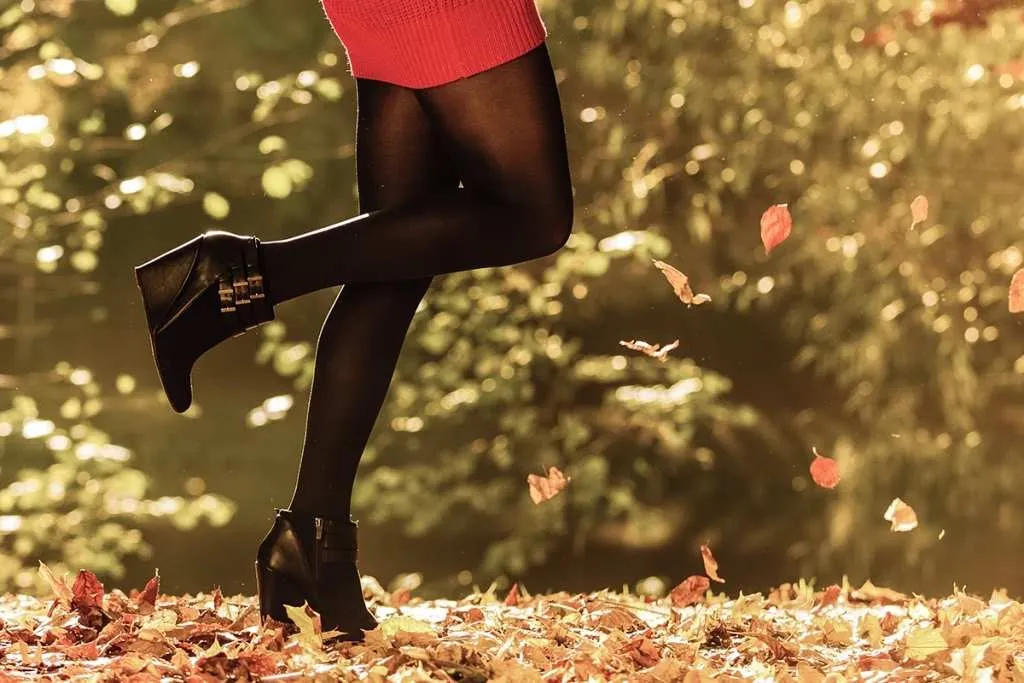 Here are the pros and cons of pantyhose:
Pros
They are lightweight.
They give your legs a seriously silky, smooth appearance.
They are an excellent option for workwear. 
The fishnet varieties can add glamour and sassiness to any outfit. 
The footed pantyhose can add some comfort to heels.
Cons
Sometimes the tight waistband can dig into your hips. 
They're prone to tearing.
They can be challenging to put on.
Ways To Style Pantyhose
Wear them as a fashion statement: Pantyhose can spice up any outfit, and can turn a simple outfit into an eye-catching look. To add some flair to your wardrobe, try playing with a polka dot pattern of pantyhose. 
Wear them for a night out: Fishnet pantyhose can make an excellent addition to a flirty, Summer night-on-the-town kind of look. Their lightweight material also makes them easy to wear on warmer days.
Wear them as office attire: Pantyhose can make a fantastic addition to a work outfit. If you want to stay more formal in your office appearance, opt for something traditional and toned down, like a semi-sheer black pantyhose. Avoid patterns or bright colors.  
Wear them for an elegant look: Pantyhose can add elegance and style to a cocktail dress for a semi-formal social gathering or event. 
How To Decide if You Should Wear Leggings or Pantyhose
There often isn't a cut and dry answer for when to wear either garment, but there are a few factors you should consider to make the decision easier. 
Here's how to decide if you should wear leggings or pantyhose:
Assess the outdoor weather. If it's particularly chilly, leggings – especially pairs designed explicitly for winter wear – could be the perfect choice for layering. Pantyhose won't be as warm, and you may need more or longer layers if it's windy or cold. 
Consider the occasion. Pantyhose are classic for evening attire. Leggings simply can't match the elegance of lightweight, silky, sheer pantyhose. If you're putting together an office outfit, both leggings and pantyhose can be worn, depending on how formal you want to look. You can wear either garment under dresses and skirts to create work-appropriate, fashionable outfits. 
Opt for what makes your outfit more comfortable. Leggings tend to be more comfortable, especially if they're being worn to replace pants. Most leggings don't have buttons or zippers, which also makes them easier to move around in. But if you're looking to add a light layer of warmth to your legs while wearing a form-fitting dress, you may want to choose pantyhose instead.  
Conclusion
While both leggings and pantyhose can add style to your outfit, the question of when to wear one versus the other mostly comes down to whether you're looking for a fashion-oriented garment or one that offers more practicality. 
In most cases, leggings will provide more warmth and versatility, but pantyhose can still be a great way to stylize your outfit, especially if you want to look more formal.
What To Read Next: