Neoprene waders are waterproof and incredibly durable. For those reasons, they're ideal for fishing, hunting, and boating. When wearing neoprene waders, choosing the right outfit to match your activity is essential.  
Consider wearing a thermal base layer, lightweight mid-layer, and thick outer layer underneath your neoprene waders in the winter. A single layer of breathable and lightweight clothing (such as scrubs, sports leggings, and a t-shirt) is ideal in hot weather. 
Wading can be a completely different experience, depending on the season. Therefore, let's take a look at what to wear underneath neoprene waders in the winter and summer. 
Insulating Layers Should Go Under Neoprene Waders in Winter
It's essential to keep warm while wading in the winter. The ambient air temperature and the water's icy temperature can quickly make you feel uncomfortably cold. 
A few thin and insulating layers are more effective than one heavy, thermal layer as your body heat gets trapped between the clothing layers. 
Even though it's winter, you might sometimes sweat underneath your neoprene waders. Since neoprene is a non-breathable material and traps moisture and heat, you should wear breathable fabrics that wick sweat and moisture away from your body. 
The following discusses what you should wear underneath your neoprene waders in the winter: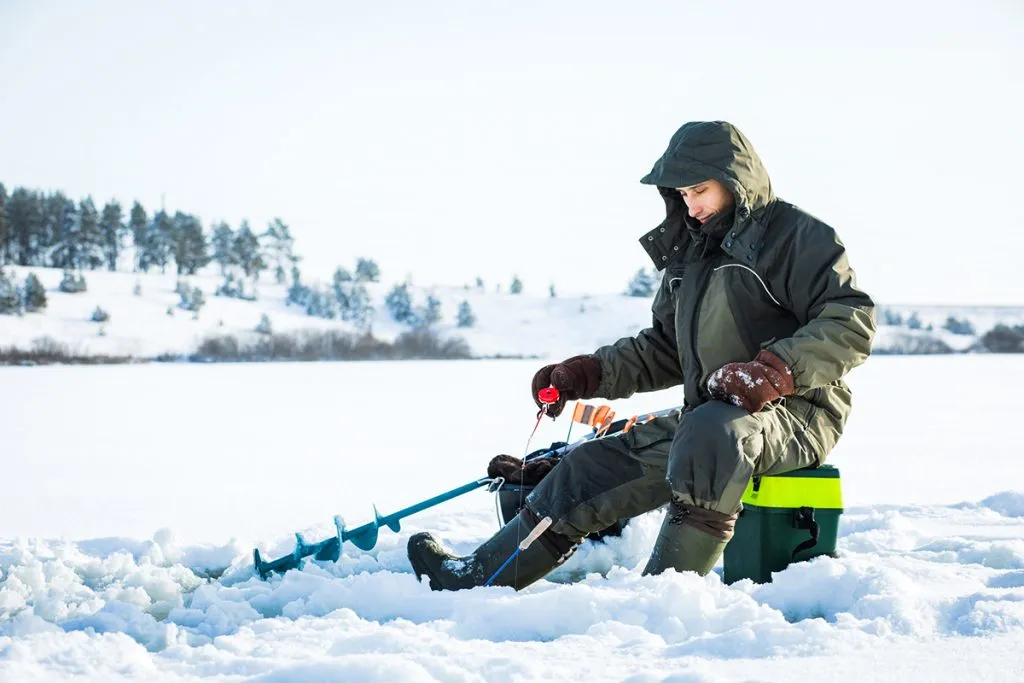 Wear a Lightweight Thermal Base Layer
A lightweight base layer should be breathable and soft against the skin so that you'll feel comfortable. 
Your base layer should consist of a long-sleeved top and a pair of pants (or long johns) and fit snugly against your skin to keep the body heat trapped. 
Synthetic base layers in polyester are affordable and do a great job of keeping you warm. For added warmth, look for a synthetic base layer blended with wool. 
Most wool is not breathable, but merino wool is both lightweight, porous, and moisture-wicking. Merino wool is also incredibly soft, making it perfect especially if you have sensitive skin. This fabric is also antibacterial and is more effective than synthetic fabrics at regulating your body temperature, hence a higher price tag.
Top Your Base Layer With a Lightweight Mid Layer
A mid layer is worn between the base and the thicker outer layer. It aims to provide an extra layer of warmth when there are icy temperatures. 
If you're wearing your neoprene waders on a mild winter's day or in the fall, you can remove the mid layer and wear only your base and outer layers. 
Effective mid layers include technical fleeces, sweaters, fleece-lined shirts, and thin down jackets. 
Technical fleeces are so-called due to their features: most have elastane trims on the sleeves and hem to trap in heat and polar fleece fabric similar to wool but is more lightweight and comfortable. 
A good idea is to vary your mid layer according to the day's temperature. Use a down jacket as your mid layer for very cold days, and think about a fleece top or warm sweater when temperatures aren't as freezing. 
Don't Forget a Thick Insulating Outer Layer
Your outer layer is your last defense against the cold, and you should look at a thick, down-filled jacket and waterproof, down pants. 
If you expect rain or snow while wading, consider wearing a lined, down-filled waterproof winter jacket. 
Some folks find that down-filled pants make them feel too constricted. In this case, a windproof pants layer is an effective but lightweight alternative. 
Opt for Merino Wool Socks
Merino wool socks are incredibly effective at keeping your feet warm and dry. They're typically thick and padded, making your feet feel comfortable in your wading boots. 
These Time May Tell merino wool socks are a great choice for you to consider. They're made of different types of materials: merino wools, nylon, polyester, and spandex. This combination makes the socks reliable and durable, so your feet can stay as warm as possible.
But if the temperatures are extremely low, consider wearing a pair of liner socks underneath for added warmth. 
Breathable Layers Are Great for Neoprene Waders in Summer
Neoprene waders are popular for summertime fishing, boating, or diving. 
Since neoprene isn't breathable, it's easy to feel hot or sweat when the temperature rises. Therefore, you should wear lightweight and breathable clothing underneath your waders during the summer. 
Although it can feel tempting not to wear any layers at all (especially on the hottest days), selecting a moisture-wicking underlayer can help you feel cooler as it moves the heat away from your skin. 
Non-breathable fabrics (such as cotton, nylon, and wool) should be avoided, especially during the summer, as they'll trap your body heat beneath your waders, making you feel hot, sweaty, and clammy. 
The following discusses what you should wear underneath your neoprene waders in the summer: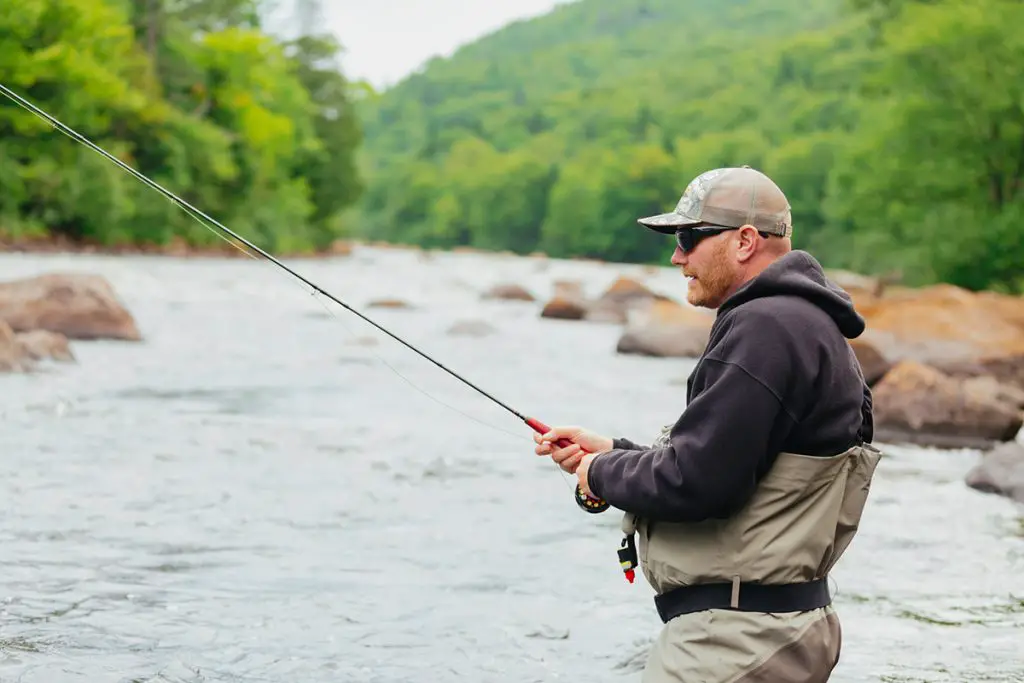 Wear Moisture-Wicking Base Layer
Similar to during the colder months, a moisture-wicking base layer should also be worn underneath your neoprene waders in the summer. You can wear your base layer alone underneath your waders. 
A breathable base layer is suitable for warm weather, and merino wool is ideal as it can keep you feeling cool when it's hot.  
Consider Wearing Sports Leggings or Shorts
If you don't feel like wearing a base layer (which is typically long-sleeved and covers the entire leg), consider leggings, a t-shirt, cycling shorts, or athletic shorts as an alternative. 
Sportswear is designed to keep the wearer cool, and many folks find it more comfortable when wet wading in the summer. 
Wear Breathable Scrubs
Scrubs are incredibly comfortable to wear and fit loosely over the body. 
If you're looking for cost-effective and durable clothing to wear underneath your neoprene waders, scrubs are an excellent consideration. 
Look for scrubs made chiefly from breathable and moisture-wicking fabric (such as linen or rayon) as this will help keep you cool beneath your waders. 
Put On Sports Socks
Many folks enjoy wearing wading shoes instead of boots when wading in the summer. Whatever your choice of footwear, you should still wear socks to keep your feet feeling cool and dry. 
Sports socks are ideal for summertime wading, and you can buy a pack of six for just under $15. These socks are made of quality fabric and are durable. They also provide extra cushioning, adding more comfort to your footwear.
Final Thoughts
Neoprene waders do an excellent job of keeping you dry and comfortable when exposed to water. 
During hot weather, you aim to keep as cool as possible. A single layer of breathable and lightweight clothing is perfect to wear underneath your waders in the summer. Examples include a moisture-wicking base layer, scrubs, and thin sports socks. 
To keep warm in your neoprene waders in the winter, consider a thermal base layer and a lightweight mid and top layer.
What To Read Next: