The rise of the athleisure trend has turned hoodies and jeans into statement pieces rather than comfortable clothing. With hot athleisure brands collaborating with celebrities like JLo, Carrie Underwood, and Lizzo, even leggings have become an almost-dressy or smart casual garment. Smart casual or not, you might be wondering if wearing a hoodie to the club is okay.
You usually can wear a hoodie to a nightclub, but it's best to make sure to check any club policies or dress codes beforehand. While most clubs have a smart casual dress code, some higher-end places may have more exclusive policies. 
In the following sections, I'll give a few examples of what's usually okay to wear in a nightclub and take you through a few tips on how to make a hoodie more club-appropriate. 
Are Hoodies Allowed in All Nightclubs?
Maybe you've decided on a simple night in with the girls when someone suggests going to a club, and you have no backup clothes. Or, maybe you and your boys are already out getting dinner when they suggest hitting the newest nightclub for drinks, though you've come dressed in a hoodie and jeans. The question is, will they let you in?
Hoodies are allowed in most nightclubs; however, this isn't always the case. Some places have higher-end dress codes, while others don't allow certain logos or colors. For this reason, it's always a good idea to contact the club beforehand if you're still unsure.
While celebrities are constantly spotted wearing hoodies on a night out, keep in mind they're likely immune to any dress code regulations due to their A-List status. 
The Las Vegas Nightclub guide suggests keeping things casual dressy but avoiding jerseys and baggy clothing. Howl at the Moon in Chicago doesn't say anything about hoodies being against the dress code but does call out baggy and ripped clothing as well as sideways hats. 
Additionally, depending on where you're located, some clubs may turn you away for clothes that have sports logos on them or if you're wearing what they deem a "gang-affiliated" color. For this reason, it's always a good idea to call the club beforehand if you're worried.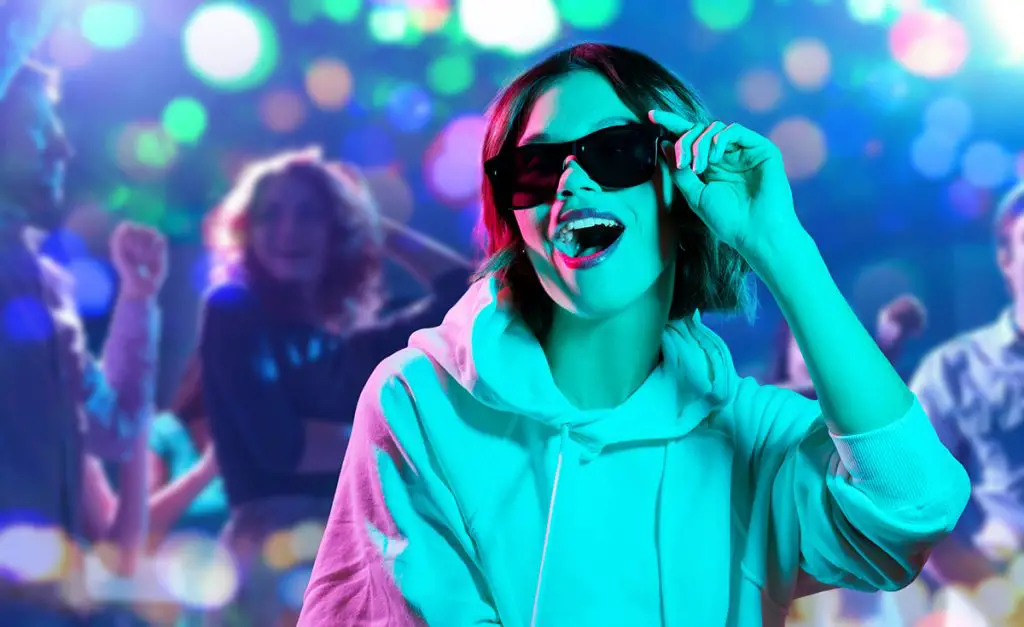 The Smart Casual Dress Code
If you go to the club, you'll notice people dressed in a wide variety of outfits. Some will be dressed in casual clothing as if they decided to go out last minute, while others may be coming in cocktail dresses and high heels. The awesome thing about nightclubs is that they usually get pretty dark, so there's little room to judge a person's outfit, including your own.
Generally speaking, the smart casual dress code is what you'll most often see in a nightclub. Tan France pins smart casual as something between dressy casual and business casual in his Master Class. For this style, think of blouses and pants, skirts or jeans that you'll be comfortable moving around in. 
Club clothing style is always changing depending on the newest trends, and fast fashion can make picking what to wear even more difficult. You can count on a nicer shirt, pair of jeans, and comfortable pair of shoes being a go-to for the nightclub. 
Keep in mind, though, that a nightclub in a college town versus one on the LA strip will have a different vibe. You can call ahead or look at pictures of the establishment before going if you're unsure what works. 
Making a Hoodie Smart Casual
Hoodies can be made smart casual, and the athleisure style is proof of that. Celebrities have been known to dress a hoodie up by layering a blazer over the top or by pairing an oversized hoodie with some thigh high boots (à la Ariana Grande). 
If worn right, plain, nice hoodies can almost be business casual for men. Keep in mind these are hoodies without logos or words on them. Men can dress up a hoodie by adding a flannel over the top or wearing a nice pair of jeans and clean shoes. Drake has been spotted at nightclubs in hoodies, as have many other celebrities. 
What Should I Wear to a Nightclub?
Nightclubs tend to differ a lot from one another in vibe and atmosphere. Some are country-themed, some are trendy, and some are complete dives. If you're unsure where you and your friends will go, and just want to pack a bag to be sure, what can you pack that'll be a hit no matter the club you'll choose?
You should wear clothing that you feel is comfortable to move around and that matches the atmosphere of a nightclub. Most nightclubs have a smart casual dress code, but some may require cocktail attire or business casual. This depends on the club, location, and overall atmosphere.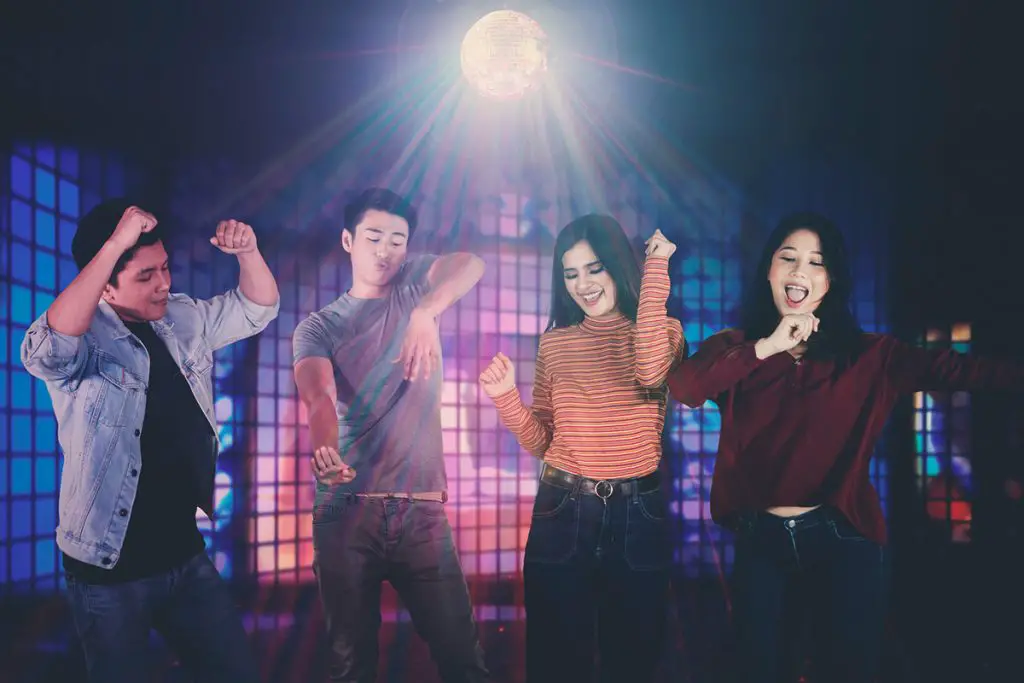 For men, a nice t-shirt and jeans are usually a good bet. Some clubs don't allow white t-shirts (presumably because they're too much like undershirts), and many don't allow sports logos or jerseys. The bouncer on duty may be lenient and allow you anyways, but it's always a good idea or check first.
If you're headed out to a fancier club or going to see a show, a casual button-up shirt is a perfect amount of casual without being too suit-and-tie professional. This COOFANDY Casual Button Chambray is casual and made of linen that won't get too hot in the club. 
For women, picking a go-to outfit can be a little more difficult as female fashion trends change much more often. The Y2k trends of right now remind us of the club clothing popular in the early 2000s, though we went a more business casual route in the 2010s. Things have gotten a little more casual since then, but you can still find girls dressing to the nines in Kardashian-inspired sets. 
A dressy or trendy top with options to wear a skirt or pair of jeans is a good foolproof choice. If you have a feeling you and your friends may be going somewhere on the fancier side, you can grab a cocktail dress or a matching set.
Conclusion
You can wear a hoodie to most clubs, but it's a good idea to call and check in with the management office before you head out. Some clubs have specific rules about colors and logos, while others may turn away athleisure altogether. Dressing up a hoodie with a blazer or a set of heels is a good idea if you're in a pinch and plan on going out.