Paintball is a fun sport to play, and it's safer to play than other sports based on the number of injuries that come from the sport each year. But the low number of injuries in in part due to the gear and clothing that players wear to keep themselves safe. A common clothing item to wear for sports is a pair of shorts, but can you wear them to paintball?
You shouldn't wear shorts to paintball. Wear clothes that cover your whole body when you play. Some paintball facilities prohibit shorts, but you can wear them with longer pants as an added layer of protection. In hot weather, shorts are tempting, but you can wear lightweight athletic pants instead.
If you're new to paintball, you might not know the right outfit to wear and you'd think that a shirt and a pair of shorts can do the trick. This article explains why you shouldn't wear shorts and what you should wear instead. We also have some great recommendations for the best paintball pants that'll protect you better than shorts when you play. 
Reasons You Should Not Wear Shorts to Paintball
When you wear shorts to paintball, your skin is exposed, and you'll get hit by paintballs, which will hurt your bare skin. While the pain depends on your pain tolerance and how easily you bruise, you should take steps to protect yourself when you play. Not only will you end up with bruises, but if you play paintball often, the bruises will accumulate, and your legs will suffer. 
Another reason you shouldn't wear shorts to paintball is if you're in an advanced league, where the shooting ranges are closer or faster. The closer you get shot, or the faster the players can shoot, the more it'll hurt when you get hit. You don't want to get hit by a paintball on bare skin, which is more likely if you wear shorts. 
If the paintball facility where you're playing lets you, you can wear shorts, although it leaves your legs very vulnerable to injury. However, some facilities have strict rules for clothing allowed for paintball, and shorts are often banned. 
For example, Air Warriors Paintball in California requires that players have long pants, and all shorts are banned on the playing field. They also have a five-foot (1.52 m) or more shooting distance. This minimum distance, combined with the ban on shorts, helps prevent serious and minor injuries to players. 
If you want to learn more about what you should wear to paintball instead of shorts, check out this video from PbNation Paintball which explains what someone should wear when playing paintball for the first time.
What Should You Wear Instead of Shorts?
Instead of shorts, you should wear long pants to protect yourself and your skin. Long pants are the best to wear since they'll go all the way down to your ankles. Then you can wear high socks that'll cover the rest of your ankles if any skin is still vulnerable.
You need pants that give you the flexibility to move around. Loose-fitting athletic clothes made from a flexible material will help you move and run around the paintball arena better. Sweatpants, track pants, and anything else with some space between the pants and your legs are great options. 
There are also a lot of pants made specifically for paintball that you can buy. These pants are heavy-duty and will stay in place no matter how intense the game gets. Most of them come with added padding in the knee and hip areas, and they have pockets so you can carry your small items around.
Shorts sound ideal in the summer when the weather is hot, but you shouldn't leave any of your legs exposed, even in the most extreme temperatures. You should choose loose clothes for this reason as well, so air can flow to your body as you're playing. Thin layers are good too, so you still have protection against the paintballs, but you won't overheat as you're running around. 
If you choose to, you can still wear shorts in addition to pants, but you need to make sure your entire legs are covered. You can wear shorts as a base layer or wear shorts over another pair of pants. The long pants will still protect your legs, and you'll have even more protection from bruises and injury because of the added layer from the shorts.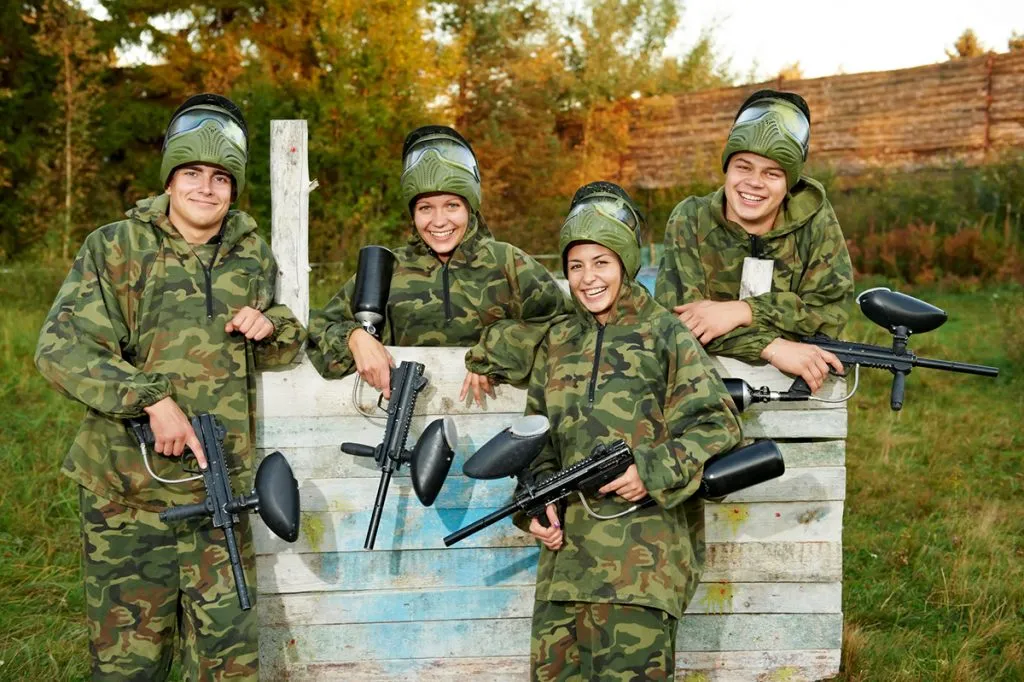 Best Paintball Pants
Now that you know why you shouldn't wear shorts when playing paintball, and you know some better alternatives to shorts, we have a few recommendations for the best pants for paintball.
IDOGEAR G3 Combat Pants with Knee Pads. These pants are half polyester and half cotton, and they come in five sizes and colors. They're heavy-duty with stretchable fabric around the knee, hip, and crotch movement and lots of pockets for your gear. There are also removable knee pads for added protection.
RevolutionRace Women's Nordwand Pro Pants. These pants for women are great for paintball because they're flexible and stretchy, so your movement isn't restricted. There are five colors, and there are zippers on the thighs that give you a way to ventilate your body when it gets hot.
HARGLESMAN Men's Tactical Military Suits. If you want more than just pants, this shirt and pant combo is great for protecting your body during paintball. There are seven color combinations made in durable and flexible fabric to maximize movement. You can also adjust the sizing with an adjustable bucket and elastic waist. 
Final Thoughts
You shouldn't wear shorts when you play paintball. Some paintball arenas ban them altogether, but others allow you to wear them if you wish. If you wear shorts to paintball, you should strongly consider wearing something else under or over them like sweatpants or leggings. 
Instead of shorts, you should wear long, athletic pants that cover your entire legs when you play paintball. Additionally, if you're worried about being too hot in the summer, go for thin, flowy material. 
What To Read Next: