Jury duty is a chance for Americans to serve the government through the judicial process. Upon receiving a jury duty summons, you may have many questions. One of these could include what type of clothing is appropriate to wear. 
You can wear a simple hoodie in good condition for jury duty. When dressing for jury duty, the main goal is to present yourself as respectful of the occasion. 
This article will discuss what types of clothes to wear to jury duty, including acceptable hoodies. I'll also provide details on what to consider when dressing for jury duty and unacceptable jury duty clothing. 
You Can Wear a Hoodie or Conservative Clothes to Jury Duty
According to Pew Research Center, most U.S. adults consider serving on jury duty as part of being a good citizen. It's a professional environment where serious events occur. In addition, you'll potentially interact with lawyers and a judge. As such, you'll want to make sure you look the part. 
The primary guidance regarding dress at jury duty is to ensure you look nice. Some may confuse this statement with wearing expensive, business professional clothing. However, that's not the case. 
When deciding what to wear, select basic clothes that are conservative and in good condition. Some compare dressing for jury duty to dressing for church. A nice hoodie fits this bill! 
In addition to focusing on what to wear, you'll also want to consider how you wear it. Wash and iron your hoodie, as well as the other clothing you'll wear. 
Examples of Hoodies To Wear to Jury Duty
Do you have the urge to wear a hoodie, but you're not sure what type would work for jury duty? I've compiled a few options for you to consider. 
Hoodie examples:
Miusey hoodie: This hoodie is an excellent option for women. The reviews are favorable, with 4.3 out of 5 stars. I recommend selecting one of the basic, solid colors. Pair it with nice leggings or long pants. 
TOLOER pullover: This pullover is essentially for men. It's warm and comes in various colors. Pair it with dark jeans or dress pants for a presentable jury duty look. With 4.4 out of 5 stars, many people agree it's a great pick. 
Hanes pullover: Here's another option to consider. The reviews score 4.5 out of 5 stars, and there are many color options. This option is gender-neutral and could also be used for many other events. This pullover is made of cotton and polyester, so it'll be soft on the skin while also keeping you warm.
After viewing good examples of hoodies, you can determine if your hoodie meets the requirements or if you'll need to purchase one that does. 
When you're well put together, your hoodie can look formal and decent enough for your jury duty!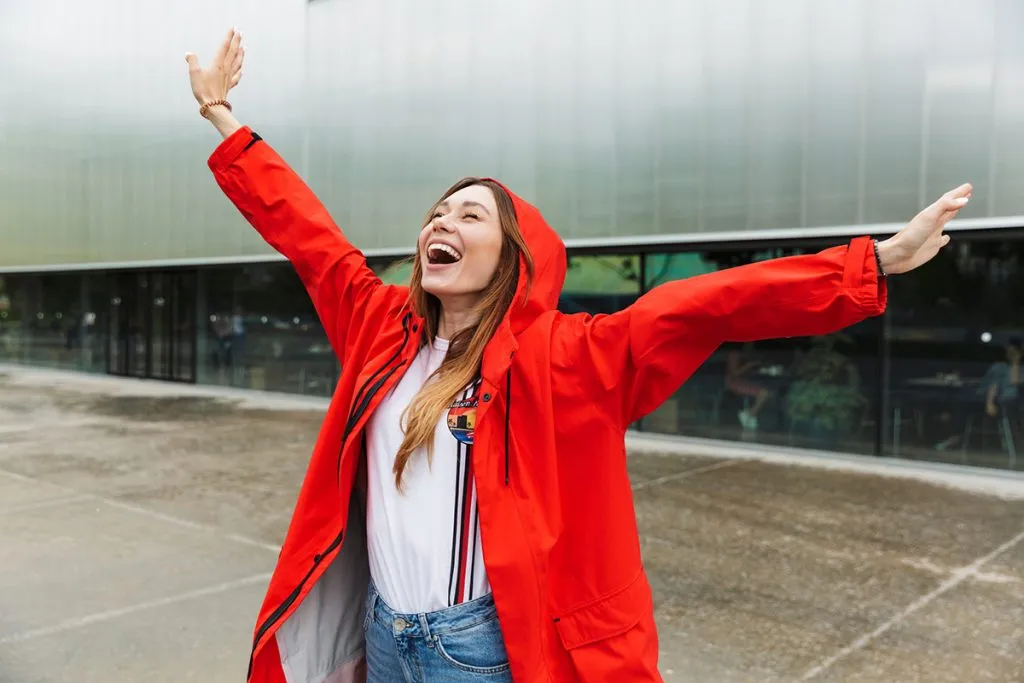 Tips for Dressing Up for Jury Duty
As with dressing for all special events, your outfit has multiple factors to consider. Some guidelines are straightforward, while others may vary based on where you live and the time of year. 
Research the Juror Dress Code and Jury Summons Directions
There will be directions accompanying your jury summons. These directions may detail dress requirements for your specific jury. Be sure to take note of them.
In addition, you can do a Google search to learn about the juror dress code for your county. Try searching your county name + 'juror dress code.' For example, a search of 'Dallas county juror dress code' provides helpful information specific to Dallas requirements.
Consider the Weather and the Time of the Day
How you dress for jury duty can also depend on the time of year, the heat/air in the courtroom, and the time of day. 
Wearing multiple layers is a wise idea to prepare for changing conditions. For example, you could bring a hoodie, a scarf, a wrap, or a nice jacket in case of chilly conditions. You can always remove these articles of clothing if you're warm.
You'll also want to wear comfortable, close-toed shoes. Close-toed shoes will serve two purposes:
Your feet won't hurt after a potentially long day at the courthouse.
The shoes will help you stay warm.
Revealing or Worn Out Clothes Are Unacceptable for Jury Duty
Jury duty is a solemn occasion, and dress should reflect that. Regardless of which county you reside in, steer clear of these things when planning your outfit for jury duty:
Anything revealing
Tank tops
Flip flops
Ripped or dirty clothing
Hats (unless worn for religious reasons)
If you wear something unacceptable to jury duty, you risk someone rescheduling your jury duty. So, dress well the first time you report for jury duty to prevent another visit within a short time. When in doubt, select the formal option. 
Final Thoughts
Many questions come to mind upon receiving a jury duty summons. One of the most frequently asked involves what to wear. A more casual article of clothing, such as a hoodie, is acceptable to wear as long as it is simple and looks nice. Jury duty is a serious occasion, and you'll want to dress for the part.
What To Read Next: