No matter where you work, it's always a good idea to dress appropriately, but what's considered appropriate will depend on your workplace. This means deciding whether you should wear leggings to work will vary from company to company. Some workplaces see leggings as acceptable, but others explicitly prohibit them, and it's essential to know where your workplace stands. 
Here are 15 jobs that allow leggings: 
Old Navy 
Ulta 
Home Depot 
Petco 
Planet Fitness 
TJ Maxx 
Amazon Warehouse 
Domino's 
Lululemon 
Dollar tree 
Lowe's 
Sephora 
Macy's 
Dollar General 
Nordstrom 
And 7 that don't: 
Ross Dress For Less 
Whole Foods 
Target 
Walmart 
Starbucks 
HEB 
Walgreens 
Let's explore each of these dress codes and understand each workplace's rules concerning leggings. These policies are taken either directly from company websites or employee testimonials. Still, it's always a good idea to check with your employer if you have any questions about the dress code. 
Jobs That Allow Leggings
1. Old Navy
The Old Navy dress code is not particular about what employees need to wear, but you need to look generally presentable and not show too much skin. Although sweatpants and "activewear" are not allowed, a normal pair of black leggings without a visible logo, paired with a nice top should be completely fine. 
As a retail position, Old Navy employees should opt for a work outfit that looks like it could be purchased at Old Navy. Aim for dressing in a presentable, business casual outfit that reflects that you care about your position and the Old Navy image. 
2. Ulta
The major rule for Ulta's dress code is to wear all black. 
Although Ulta can be very particular about what stylists are allowed to wear, black leggings with no visible logo or pops of color are encouraged when wearing a dress, skirt, or long t-shirt. Therefore, leggings can be a great addition to your work uniform at Ulta, as long as it's done tastefully. 
Ulta employees are stylists and are supposed to be trustworthy consultants on aesthetics and makeup for customers. Your work outfit should reflect the fact that you know how to dress and create a well-rounded, polished look that customers can trust. 
Additionally, adding a tasteful makeup look can add a pop of glamour to your plain black uniform and make it easy for customers to trust your beauty advice. 
3. Home Depot
Depending on which department you work in at Home Depot, chances are you'll be moving around quite a bit and possibly dealing with heavy machinery or merchandise. 
That's why Home Depot's dress code is relatively laid back. As long as you wear the orange apron and refrain from clothing with political statements, dressing for work at Home Depot should be quite easy. 
When putting together an outfit as a Home Depot employee, personal safety should be your first priority. Additionally, make sure to dress in clothes you don't mind getting a little bit dirty since the required orange apron won't cover your entire outfit. 
4. Petco
Since you'll be working with animals, Petco's dress code is casual. Leggings, jeans, and tennis shoes, and other casual wear are completely acceptable as long as you wear the company-provided T-shirt. 
Unlike some of the other jobs on this list, Petco does not specify that you're not allowed to wear leggings with logos or pops of color. 
Similar to Home Depot, working at Petco sometimes requires getting a bit dirty, as does any job that requires the handling of animals. Dress to look the part of a team member, but make sure not to wear any clothing that will restrict your movement or that you don't want to get dirty. 
5. Planet Fitness
Many gym jobs require employees to be moving around a lot, meaning they'll have a more casual uniform.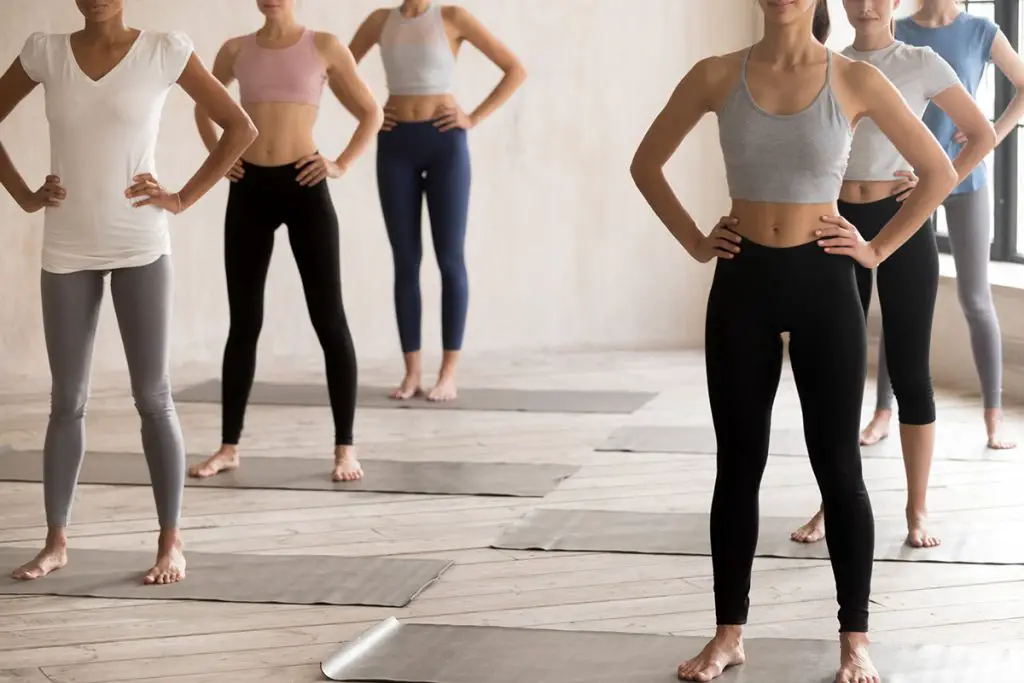 If you're a Planet Fitness trainer, your dress code allows leggings provided they don't have stripes or logos. This does not extend to MSRs (member service representatives) and managers, as they're required to wear khakis. 
However, most trainer positions, including at smaller or independently owned gyms, will allow some form of leggings and other activewear as long as it doesn't show too much skin. 
At Planet Fitness and other chain gyms, you need to look like you're a part of the team. However, the most crucial part of being a trainer is being able to move properly and demonstrate movements safely. Therefore, you'll want to put together an outfit with flexible fabric that you're okay with sweating in. 
6. TJ Maxx
The dress code for TJ Maxx is plain, presentable clothing. This includes leggings, provided they're not see-through or have logos on them. Similar to Ulta, leggings can be worn with dresses and skirts. However, sweatpants and graphic tees are not permitted. 
Even though TJ Maxx is a more affordable, less high-end department store, aim for a business casual look when putting together a work outfit. Doing so will make it easy for customers to spot you if they have any questions. 
Additionally, dressing a bit more formally will reflect your care for your position. 
7. Amazon Warehouse
The Amazon Warehouse dress code is mainly focused on safety. Wearing clothes that are loose, baggy, or otherwise could be caught on something is prohibited, meaning leggings are actually a great wardrobe choice. Fitted jeans are also encouraged.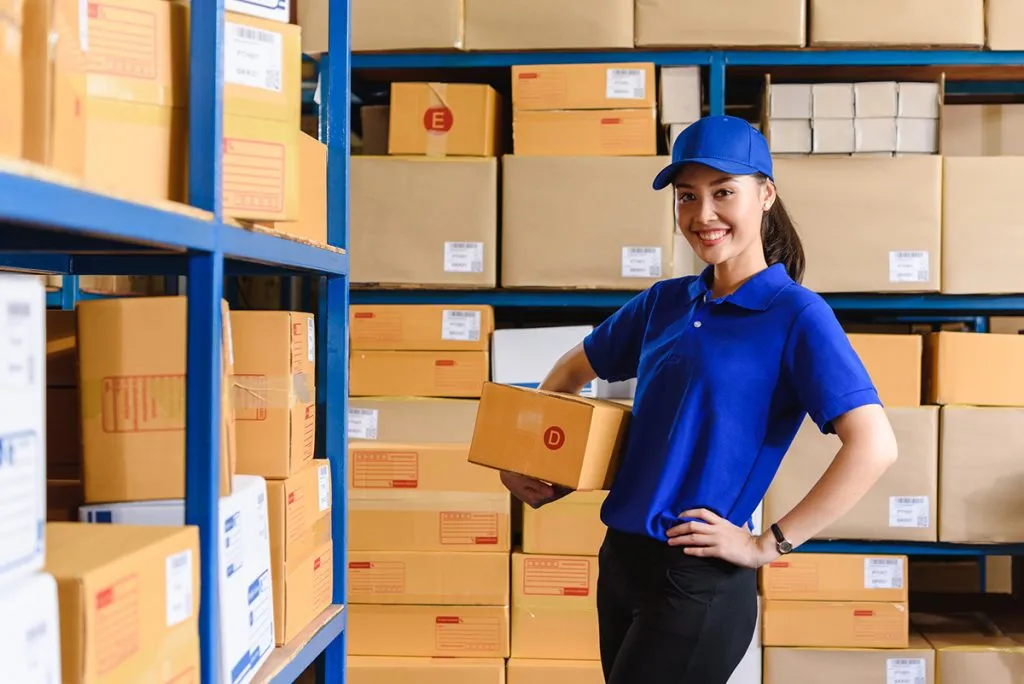 Besides pants, the Amazon dress code is very strict about piercings and loose tops as well, since both of these can be safety hazards. 
Like Home Depot, creating a work outfit for Amazon Warehouse means putting safety first. Of course, you should look presentable and work-appropriate, but avoiding safety risks should be your top priority. 
8. Domino's
Domino's requires their employees to wear "black pants," which extends to plain black leggings.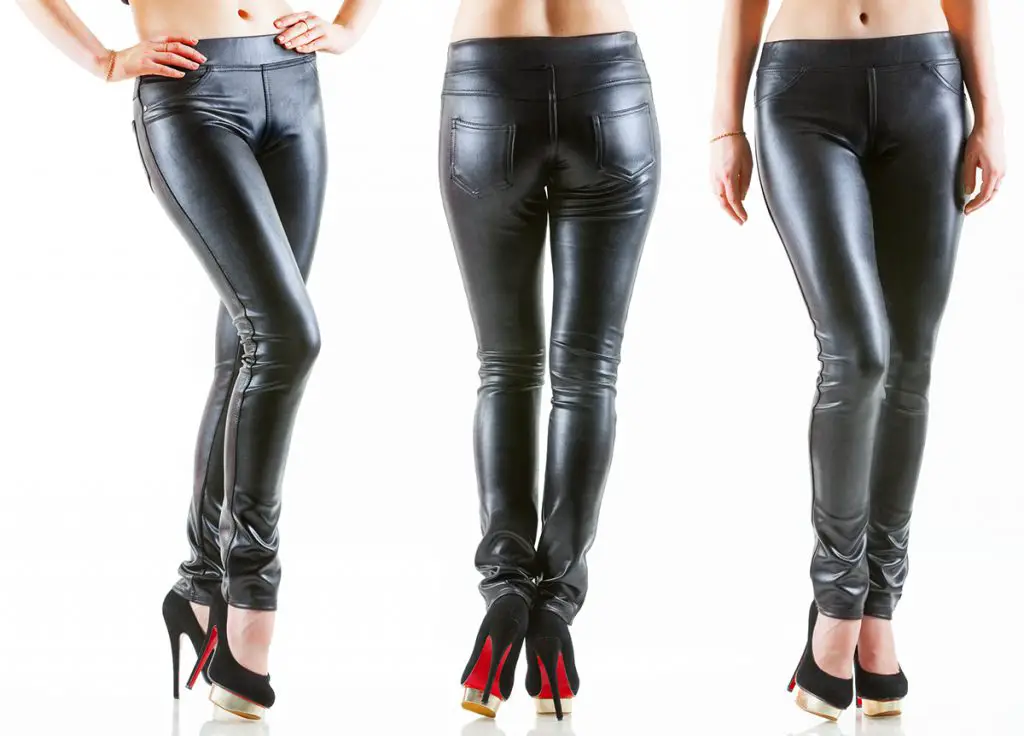 The most important thing about adhering to Domino's dress code is wearing the company-issued T-shirt and hat with the company's logo. Since you'll likely be moving around a lot as a Domino's employee, leggings can be a comfortable and practical wardrobe choice. 
Moving back and forth as a delivery person or kitchen worker will require a comfortable outfit, so make sure to wear something a bit more flexible. Additionally, sneakers or non-slip shoes will be helpful as a Domino's employee. 
9. Lululemon
Lululemon is known for its leggings, so it's no surprise they'd want their employees to endorse them, too. 
Lululemon's dress code is any athletic wear, but Lululemon products are encouraged. Employees are supposed to represent the company's lifestyle and athletic approach, meaning you should look like you're about to go work out when dressing for work. 
If you do choose to wear athletic attire that's not from Lululemon, make sure it's free from logos or company names. Adidas and Nike may be great for working out, but they're less than ideal for promoting Lululemon's products. 
10. Dollar Tree
Employees have described Dollar Tree's dress code as "relaxed," and this extends to leggings. 
They ask their employees to wear their green polo with black pants or khakis, so leggings are acceptable as long as they're not patterned or have logos on them. Additionally, long shorts are allowed as long as they follow the khaki or black rule. 
11. Lowe's
Like Home Depot, many Lowe's employees deal with heavy merchandise and industrial machinery, meaning they should be dressed comfortably and not wear anything that could threaten their safety. 
Therefore, Lowe's employees are allowed to wear leggings as long as their shirts reach the tops of their thighs. This means no crop tops, but most other tops are permitted, provided you wear the Lowe's red vest as well. 
The same Home Depot employee dress guidelines can be applied to Lowe's. Dress appropriately for work, but place your safety and comfort as top priorities. 
12. Sephora
Sephora has a very particular dress code visible to anyone who visits a Sephora store. While the classic red and black smock is required, almost everything else is allowed, as Sephora encourages personal expression through hair, makeup, and even tattoos. 
Moreover, you are entirely allowed to wear leggings or tights under your provided smock. 
If you are a manager, you are permitted to not wear the smock, but instead should wear black slacks and a button-down shirt, but no leggings. 
Like Ulta, aim to create a put-together, well-thought-out look as a Sephora employee. If customers feel you look excellent, they'll be more likely to trust your advice and recommendations as a stylist and beauty product enthusiast. 
13. Macy's
Similar to TJ Maxx, Macy's requires their employees to look presentable and wear plain-colored clothing. 
Slacks, leggings, dresses, and skirts are all allowed as long as they contribute to an overall business casual look. Jeans are not permitted unless you work in the junior's, children's, or young men's department. Macy's employees should generally aim for a presentable and put-together look that reflects their image. 
Like TJ Maxx, curating a business casual, well-crafted work outfit will make it easy for customers to find you and ask for assistance if necessary. 
14. Dollar General
The Dollar General dress code requires employees to wear a company black collared shirt, non-slip shoes, and black pants. 
Therefore, as long as you don't wear leggings with logos, sweatpants, or yoga pants, plain black leggings should be completely fine. Shorts and ripped pants are also not permitted, so employees should ideally opt for leggings, slacks, or black trousers instead. 
15. Nordstrom
Nordstrom asks its employees to wear clothes reflecting the department they work in, meaning your wardrobe can include leggings as long as the entire outfit is work-appropriate. Nordstrom is a higher-end department store, meaning your outfit should be put together and look nice enough to reflect the Nordstrom brand. 
Jeans are not permitted as they're not seen as formal enough, so if you decide to wear leggings, make sure they're worn with a dressier top or underneath a dress or skirt. 
Jobs That Don't Allow Leggings
1. Ross Dress For Less
While leggings might be okay for some individual Ross stores, their dress code doesn't mention leggings. However, they do allow jeans, so you'll still be able to dress casually. Just be sure to wear jeans that reflect a retail or business atmosphere, as you want to keep the required business image.
2. Whole Foods
Whole Foods has a very specific dress code that prohibits clothing made from nylon, athletic wear, and sweatpants. Jeans are permitted, but they cannot have any rips, holes, or frayings. However, if you wear capris, you'll need to wear socks that are long enough to cover any exposed skin.
3. Target
Target employees are known for their uniform, which is almost always a red Target polo and khaki pants. While some stores allow jeans, they must be blue, as black bottoms of any kind violate the Target uniform. So leggings are not allowed for this very reason. However, if you wear them under your khaki pants in the winter for warmth, you should be fine.
4. Walmart
While Walmart's dress code focuses on the ubiquitous blue vest, Walmart is very specific about employees' choice of pants. As a Walmart employee, you are not allowed to wear anything that could be classified as loungewear or activewear, including leggings, sweatpants, or yoga pants. Pants should also be in good repair with no holes or frayed edges.
5. Starbucks
Starbucks may have the most detailed dress code of any company on this list. 
They specify that employees must adhere to a specific color palette and even list the eight acceptable types of fabric permitted. Leggings, sweatpants, and jeans with holes are expressly prohibited, but tights under dresses and skirts are allowed. 
6. HEB
The HEB dress code specifies blue jeans, black jeans, or khakis. While leggings are not explicitly prohibited, they don't fall into these three categories and should probably be avoided. So you'll need to stick to these specific clothing choices, or you risk getting in trouble with your supervisor.
7. Walgreens
Walgreens outlines a pretty particular dress code for their employees, which does not allow for leggings, sweatpants, or denim of any kind. Walgreens employees should instead opt for khaki pants, slacks, or dress pants. 
Final Thoughts
While dress codes can vary from company to company, athletic positions, warehouse workers, and retail salespeople are typically allowed to wear leggings to work provided they follow other dress guidelines. 
Companies with a very specific or strictly-enforced dress code frequently do not allow leggings. 
To avoid being punished for dress code violations, make sure to check individual guidelines for your workplace, ask a superior, and use your best judgment to look presentable in the workplace. 
What To Read Next: