Many sports have specific dress codes either for practical purposes or for tradition. Golfing is one of the sports with the strictest dress codes, so many amateur players may be taken by surprise when they find out they don't have appropriate golfing clothes.
You can't wear cargo shorts while golfing. Wearing cargo shorts to the golf course may be disrespectful to other golfers, and some golf courses may deny entry to anyone not wearing appropriate attire. 
It's best always to double-check that your outfit is appropriate before leaving the house for a round of golf. You should get changed before hitting the golf club if you're wearing cargo shorts. Keep reading to learn more about what not to wear when golfing.
You Can't Wear Cargo Shorts When Golfing
Picking out your golfing outfit is almost as important as picking out your clubs. Wearing the wrong thing could result in the golf club denying you entry, so you would be disqualified before even competing.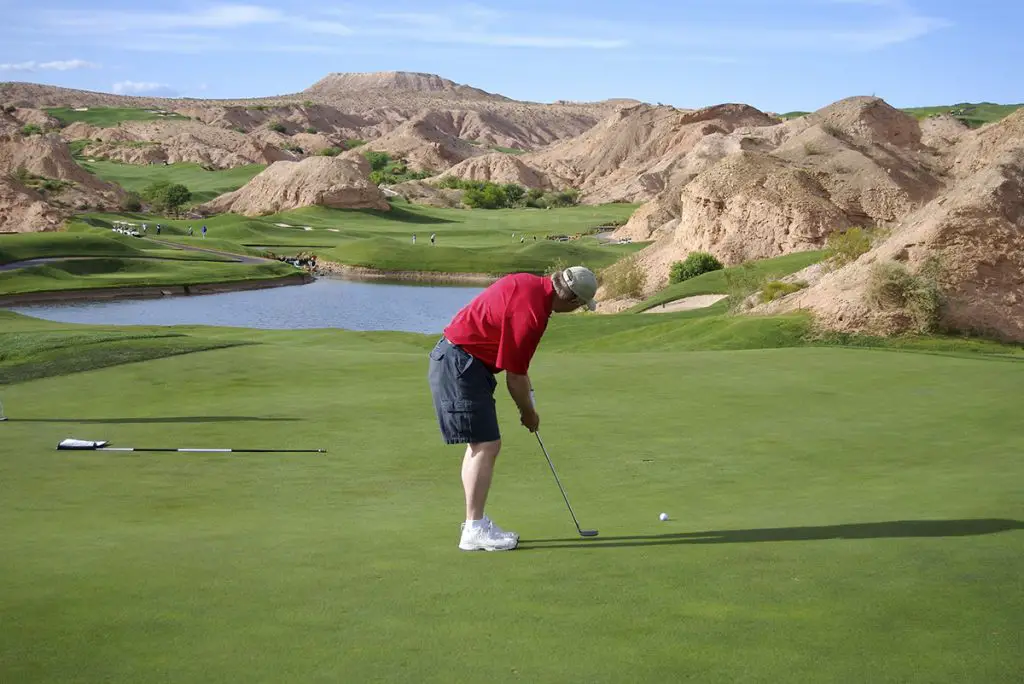 Cargo shorts are almost always banned from golf clubs, so wearing them could result in getting turned away at the door. Unless, of course, you're Barack Obama, who famously wore cargo shorts on the golf course. He ultimately ditched the cargo shorts, though, so don't think about following in his footsteps.
Many golf clubs have a public dress code that's easily accessible from their website. If your golf club doesn't have any general guidelines, it's best to play it safe and avoid wearing the following items:
Jeans
Joggers
Leggings
Tennis shorts
Cargo shorts
Denim jeans
Bathing suits
Tank tops
Tee shirts
If it's your first time visiting that particular golf course, you should take no chances and avoid wearing any of the items mentioned above. Once you're there, have a conversation with one of the staff members regarding appropriate attire to see what is and isn't acceptable at that club.
You Don't Necessarily Need To Wear Golf Clothing
Luckily, you probably won't need to go out and buy a whole new wardrobe to go golfing. Although the dress code is strict, it doesn't require you to buy any specialized clothing that you wouldn't use in other settings. 
Below are some guidelines on how to dress at the golf course:
Avoid Cropped, Baggy, or Overly Tight Bottoms
Your choice of bottoms is one of the most important parts of your golfing outfit. Although you can buy golf pants or shorts, it's unnecessary. You probably already have acceptable golfing bottoms in your wardrobe. 
When choosing a golfing bottom, keep the following in mind:
Pants should go all the way to the top of the shoe. No cropped or distressed pants allowed!
Shorts and skirts are acceptable as long as they're not too short. 
Whatever you wear, make sure that it's not too baggy or tight. 
Look for khaki, white, black, or navy colors. You can wear other colors, but make sure to balance it out with more neutral clothes.
If you follow the guidelines above, you're sure to find something acceptable in your closet. Otherwise, I recommend this Classic-Fit Stretch Golf Pant or these ​​Classic-Fit 9" Shorts. They're both made from quality materials, making them highly durable options that'll make you look like a pro on the course.
Wear Layers if the Weather Is Chilly, But Don't Overdo It
You should be aware of several rules when choosing a golfing top. Also, keep in mind that golfing tops are usually tucked, so pick a top that you can comfortably tuck into your shorts, pants, or skirt. Follow these guidelines for a great golf top:
Polo shirts are quintessential golfing tops. A well-fitting polo shirt made of cotton or microfiber is ideal. 
Short-sleeve shirts are ideal and should go ¾ of the way between your shoulder and elbow. Ladies are welcome to wear sleeveless tops on hot days, but not men.
Make sure your shirt fits well and is not too baggy. A baggy shirt may be obtrusive when you swing those hole-in-ones!
However, keep in mind that most of these rules were made with summer and warm locations in mind. If you decide to golf when it's chilly outside, you can layer up with the following:
Sweaters
Vests
Windbreakers
Light jackets
Collared long-sleeve shirts
Avoid wearing jean jackets, hoodies, and baggy jackets at all costs! Also, make sure that you layer strategically. You don't want your layers to make your movements difficult.
Avoid Boots or Open-Toe Shoes
Shoes are—perhaps surprisingly—one of the easiest parts of putting together a golfing outfit. The biggest mistake you can make is to wear the following:
Open-toe shoes
Street shoes
Boots 
Metal-spike cleats
As long as you avoid the shoes above, you're free to wear any tennis shoes you have. If you don't have any acceptable shoes, I recommend these Tech Response Golf Shoes. These are lightweight, durable, and golf-appropriate shoes that will help you fit in with the pros. 
Ensure Your Accessories Are Functional and Not Distracting
Bottoms, tops, and shoes are the most important parts of any golfing outfit. As long as those are appropriate, you shouldn't have to worry about bringing any accessories with you. If you do want to spruce up your look a bit, I recommend the following items:
Hat: This accessory will protect you from a long day of golfing in the sun. Baseball caps are okay as long as they're not worn backward.
Sunglasses: They're always appropriate and helpful on a golf course as they are great for driving a golf cart on a sunny day. 
Golf gloves: These are a great idea as they can prevent blisters from swinging your clubs all day long. 
Watch: If you want to wear a watch, make sure it's sweatproof, as you might sweat after a day of golfing. 
Belt: If there's one accessory you need to worry about, it's your belt. If your pants or shorts have hoops, you must wear a belt. 
Key Takeaways
Cargo shorts are never acceptable on a golf course. Although golfing dress codes can be extensive, it's not that difficult to find an appropriate outfit as long as you know what to look for. 
Remember to play it safe the first time you visit a new golf course and don't be afraid to have a dress code conversation with one of the staff members!
What To Read Next: