We all love a day in the water to swim, from pools and waterparks to beaches, especially in summer. But most pools and waterparks have rules about the kind of clothing you can wear inside the water. There are several reasons for this. 
You can't wear regular shorts to swim because the material and color will get damaged by chlorine. Regular shorts are not designed for swimming, so they won't be as hydrodynamic as swim shorts, a safety hazard. Moreover, the fibers from shorts can clog up the pool's filtration system.
This article will explain why you need swimwear by describing its features and why regular shorts and activewear won't be as useful. Then I'll list some of the different kinds of swimwear available, so you can identify a style that suits you and that you're comfortable with, so let's get started.
Necessity of Swimwear
There are several reasons why you can't wear shorts to swim, and the most important reason is that most shorts are not hydrodynamic. 
Hydrodynamic clothing reduces the drag and wear of water on the body so that people wearing it can move easily in the water. Naturally, all swimwear is designed to be hydrodynamic. 
Below I'll list some of the features of swimwear that make it effective in the water.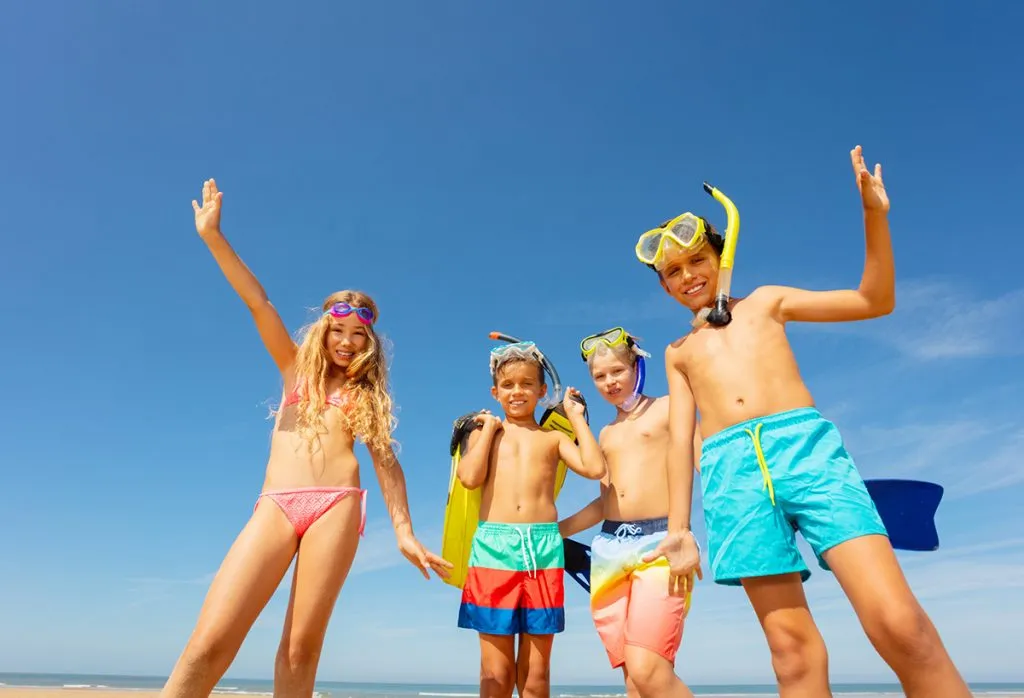 Waterproofing or Quick Drying
If you're wondering if you can wear regular shorts to swim, the answer is no because one of the most important swimwear features is that the material is usually waterproof or quick drying. 
This means that the material will either shed water or dry quickly, so you don't stay wet after you're out of the water. The advantage of material like this is that you don't end up cooling down rapidly in the air outside and possibly catching a cold or any other illness due to the temperature difference. 
The waterproofing also keeps you comfortable because if your clothes stay wet for a long time when you're out of the water, they can chafe at your skin and get uncomfortable. 
Can You Wear Dri-Fit Shorts for Swimming?
Dri-Fit shorts, made of microfiber polyester, can be worn for swimming as they have the same quick-drying properties as clothing designed to be swimwear. They will also allow for ease of movement in the water, though it may get pulled off by strong waves. 
If you have to, you can wear Dri-Fit shorts for swimming, but it's best in a pool where the water is more or less stagnant, and you won't have to push hard against the water to move.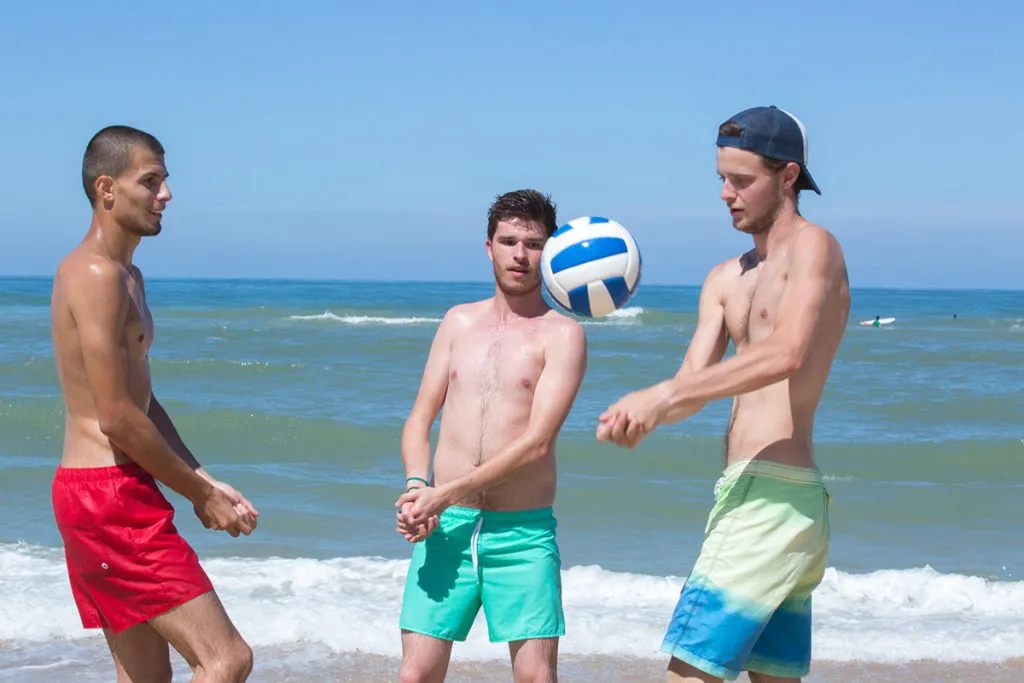 Durability Of Materials
An important feature of swimwear is the material used. Most materials tend to wear out faster when wet, especially materials like cotton, which a lot of regular shorts tend to be. Moreover, the color on regular materials fades faster when saturated in water and chlorine. 
Most modern swimwear is made up of materials like latex or nylon, which hold up well in the water and don't wear out or lose color as quickly as materials as cotton or nylon would. 
Another important factor is that fabrics that break down when saturated with water will leave fibers behind. These fibers will get caught in the filtration system and cause a blockage in pools. 
Can You Wear Spandex Shorts Swimming?
You can wear spandex shorts when swimming because the material is durable, colorfast, and ideal for moving around in the water. They need to be rinsed out with cold water after use in chlorinated pools for longevity, as the chemicals break down the material's structure over time.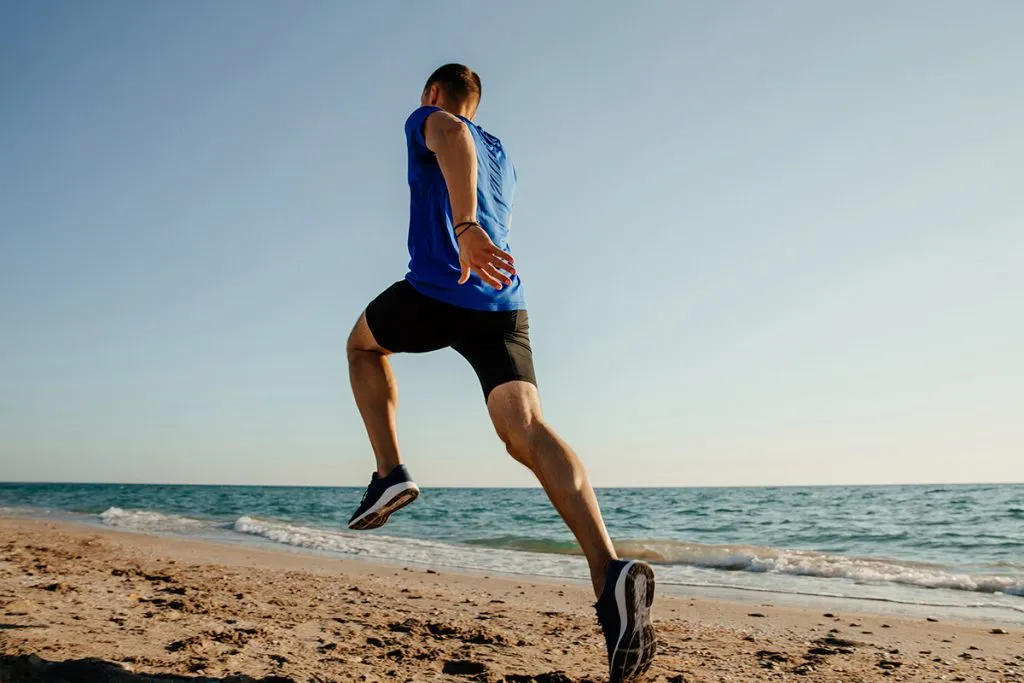 Ease of Movement
Most swimwear is designed to be form-fitting, except for styles like board shorts or swim shorts, which are a bit looser. 
This is because form-fitting clothes reduce the amount of drag on the body, so you can move in the water easily without the friction of the water on your clothes dragging you down. 
Board shorts, which are loosely fitted, are meant to be worn on surfboards and are made of fairly strong and smooth materials, so they also allow frictionless movement in the water. Additionally, the waistband has a velcro fly and a lace-up tie in a double failsafe system that ensures the shorts won't be ripped off by the waves. 
Lightweight materials are an essential feature of all swimwear that contribute to the ease of movement in the water. If swimwear is not lightweight, it can slow you down, and in situations where there is a risk of drowning, the cloth poses a safety hazard. 
Shorts that aren't designed for swimwear will increase the drag on your body when you're swimming because of the friction and weight. Moreover, the heavier your shorts are, the likelier it is that they will get dragged off you when you're swimming. 
Can You Wear Normal Shorts Swimming?
You can't wear normal shorts when swimming as they pose a safety risk. The material will not be as smooth and frictionless as swimwear, increasing your drag and making it harder to move. Additionally, the waistband may not hold up to the force of moving in the water. 
Can You Wear Basketball Shorts in the Pool?
You can't wear basketball shorts in the pool, as they will be too heavy and too rough to wear in the water. The increased drag and weight will make moving difficult, and the waistband fastenings might come undone. 
While basketball shorts are comfortable enough to wear daily and look a lot like board shorts, they are not designed to be worn in the water. The materials may be water-resistant, but they will be heavy and uncomfortable when you're swimming or playing in the pool. 
Can You Wear Gym Shorts to the Beach?
You can wear gym shorts to the beach as long as you're planning to stay out of the water. If you wear them into the water, they will chafe as soon as you get out of the water. Moreover, they will be too heavy to move around or swim in and get swept off by the waves. 
Hygiene
Much like you set aside a pair of shoes to wear to the gym that you wouldn't wear outdoors, it is important to set aside clothing to wear when you're swimming. 
This is because regular clothes or activewear may have been used in many environments and can track dirt, bacteria, and other pathogens. While most pools have chlorine and a filtration system, it is simply more hygienic to have a separate set of clothes for swimming. 
Hygiene is also why many pools in Europe prohibit board shorts or long shorts even though they do classify as swimwear. The understanding is that loose shorts tend to pick up more dirt than ones that fit tightly and are therefore less hygienic to use in a public pool. 
Can You Wear Basketball Shorts to a Waterpark?
You can wear basketball shorts to a waterpark as long as you don't go into the water with them. If you plan on getting into the water, you need to wear tight-fitting swimming trunks as these are more hygienic, easier to move in, and more likely to stay on you. 
Basketball shorts are comfortable enough to move around in if you're just going to walk around or even when you're grabbing a bite to eat. But if you plan on getting on the rides or into the water, you will have to change into clothes designed for swimming. 
Separate clothes for getting into the water will ensure that everything is hygienic, and you'll be more comfortable when you finally get out of the water as well. Additionally, tightly fitted clothes will keep you safe from potential snags that could get you stuck and injured when you're on a ride or slide.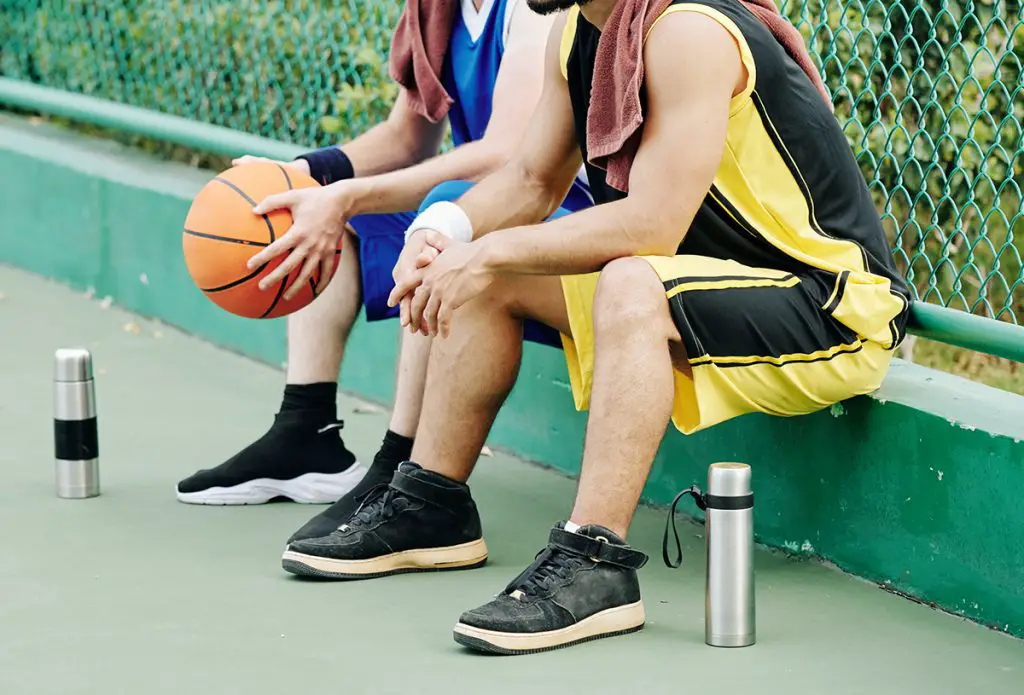 Can You Wear Running Shorts for Swimming?
You can't wear running shorts for swimming as they'll be unhygienic for use in a pool, uncomfortable to move around in, and behave oddly in the water. Running shorts can be worn in private pools if you don't intend to do much swimming or stay in the water for too long. 
If you're thinking "Can you wear sports shorts for swimming?" or "Can you wear workout shorts for swimming?" the answer is no, for the same reasons. Clothing not set aside for swimming will pick up dirt and bacteria outdoors and introduce them into the water. 
They will also not fit well or be smooth enough, which will increase the drag of the water on you, making it difficult to swim, which can lead to drowning. 
Styles of Swimwear
If you're considering wearing shorts to swim because you think swimwear is restrictive or uncomfortable, it may simply be a problem of not having found the style. Here is a list of some of the most popular kinds of swimwear available for men and women so you can choose one that suits you best. 
Swim Jammers
One of the most common items of swimwear worn by men is swim jammers, which are tightly fitted shorts with fabric that usually extends from the crotch onto the leg. 
While they may look similar to underwear, they are distinguished by the materials used, which are water repellent, durable even in chlorine and saltwater, and comfortable. These are popular among most men since they are easy to move in and out of the water. 
Briefs
Briefs, popularly known as speedos, are primarily used by professional male swimmers who participate in competitive swimming. This brand is popular enough that all racing briefs are called speedos regardless of what brand they are. 
They are form-fitting and the most hydrodynamic of all styles of swimwear for men, which is why they are the preferred style for athletes. 
Swim Trunks and Boardshorts
Swim trunks and boardshorts are used more or less interchangeably for shorts that are loosely fitted, smooth, and meant to be worn when surfing. The loose fit makes swimming harder, but they are comfortable enough for recreational swimming. 
They tend to be longer on the leg, reaching about mid-thigh or even the knee, which makes them the most popular swimwear option for men. 
The primary difference is that swim trunks tend to have lining while boardshorts do not. 
This is the best option for people who are thinking about wearing them in a swimming pool or the ocean. Swim trunks and boardshorts are about as comfortable as the shorts that you'd wear to work out or hang out in, just better suited to be worn in the water. 
One Piece
A one-piece is an item of swimwear worn by women that cover the torso, although some styles may have cut-outs at the back. While the fabric typically ends at the crotch, there are some styles where the fabric extends from the crotch onto the leg, known as boyleg suits. 
These styles are comfortable and easy to move around in and preferred by the majority of women. 
Bikinis
Bikinis are two-piece swimsuits popular among women, where the top piece covers the breasts, and the bottom covers the buttocks and crotch. However, they are not the most comfortable for swimming in, and the only athletes who wear them are the ones who play beach sports, not competitive swimmers. 
Wetsuits
Wetsuits are worn primarily to protect the swimmer from the cold and offer additional buoyancy. They are mostly worn by surfers, divers, and people engaged in other activities in the water, and are used by both men and women. 
Final Thoughts
The best kind of shorts to wear to swim are swim trunks or jammers, made of material designed for swimming. This will ensure that you're able to move easily in the water and won't be weighed down by the material of your other shorts like the ones you use for running or basketball. 
Having a separate set of shorts for swimming will also ensure hygiene in public areas and prevent the material and color of your regular shorts from being worn down by the water.
What To Read Next: