When you're on your period, you want to dress as comfortably as possible. For some people, shorts are a great option, as they're less restricting—and great in the warm weather as they allow you to stay cooler! But is it okay to wear shorts on your period?
You can wear shorts on your period. While on your period, you should stick to comfortable clothing made from thicker materials. The best fabrics for this are denim, loungewear materials like sweatshirt fleece, and corduroy.
The rest of this article will go into further detail about which shorts to sport and which shorts to avoid, so you can stay both comfortable and stylish while on your period.
It's Okay To Wear Shorts on Your Period
First, let's talk about why it's okay to wear shorts on your period.
As mentioned earlier, you should stick to clothing made from thicker materials that feel good to wear. Shorts meet these requirements because they come in a wide variety of shapes, fabrics, and textures. It makes it easier to find shorts that fit your personal preferences.
While shorts are an excellent choice, they're not for everybody. It's a matter of preference. You should only wear what you feel comfortable wearing, and as long as you feel good about those choices, it's okay to wear whatever you want while on your period, including shorts.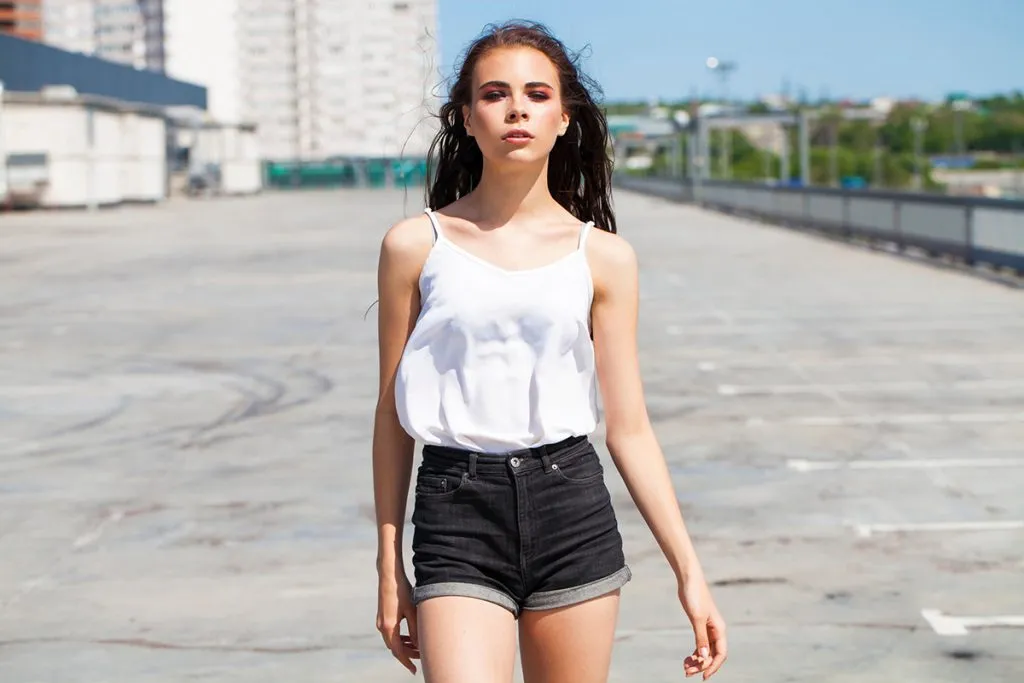 Best Shorts To Wear on Your Period
The best shorts to wear on your period are denim, loungewear (such as sweatshirt fleece), and corduroy. This section will expand upon why these materials make great options so you can make stylistic choices that suit your personal needs.
Denim Shorts Are Thick and Stylish
Denim shorts are great to wear on your period. This is because denim is thick, durable, and easy to pair with just about any outfit.
I recommend the Levi's Women's 501 Original Shorts for their high quality and stylish design. They're 100% cotton and machine washable. These shorts are perfect for women who like a vintage style.
Lounge Shorts Are Comfortable To Wear
Lounge shorts make an excellent option for period wear.
Many lounge shorts are made from sweatshirt fleece, which most hoodies and sweatpants are composed of. Sweatshirt fleece is different from other fabrics because it contains a fuzzy interior designed to keep you cozy.
It's thick enough to mask the bulkiness of pads and comfortable enough to make those cramps a bit more bearable.
If you're looking to add some sweat shorts to your collection, I recommend these Ezymall Women's Comfy Sweat Shorts for their comfiness, flexibility, and affordable price. They're available in various sizes and colors. You can comfortably wear them while running, doing yoga, dancing, and doing other fun activities.
Corduroy Shorts Are Durable and Trendy
One of the main reasons behind corduroy's excellency is the thickness of the material.
Corduroy is a very durable fabric. It goes through a tedious creation process to ensure the material is thick and lasts long.
If you're someone who prefers pads over tampons or period cups, you know how uncomfortable they can be. They're bulky and often show through thinner fabrics like leggings. That's why corduroy is so great—it's much thicker than other fabrics and can mask that uncomfortable pad bulkiness.
Corduroy shorts are also visually appealing and match many current stylistic trends. These Romwe High Waist Corduroy Shorts are excellent because of their trendy style, excellent quality, and reasonable price.
Baggy Shorts Provide Comfort
Wearing baggy shorts on your period is another great stylistic direction to take.
Wearing baggy clothing in general on your period is always a good idea because loose-fitting clothing tends to be a lot more comfortable than the contrary. Tight clothes can feel very restrictive, making matters worse when cramps are added to the equation.
That's why you should wear baggy shorts on your period, like the Lee Women's Relaxed Fit Utility Bermuda Shorts. They're comfortable, and they come in a wide variety of different colors. Also, they pair nicely with a wide variety of tops, including the ZAFUL Cropped Sweater, which isn't only adorable but breathable as well. 
Skorts Have Built-In Shorts
A skort is a pair of shorts designed to look like a skirt, and they're great to wear while on your period.
While skirts usually require you to wear spandex underneath while you're on your period, you don't have to worry about this with skorts. It's because the shorts are built-in into the skirt. Skorts are great to wear while you're on period because while they look like a skirt, they still provide that extra layer of protection with the shorts.
If you're looking for an excellent skort to add to your closet, I recommend the COOrun Women's Active Skort for its flexibility and wide range of colors.
Avoid Wearing Spandex or Mini Short Shorts During Your Period
While there are plenty of options for wearing shorts on your period, there are also some types of shorts that you shouldn't wear if you want to avoid unpleasant situations. Here are a few examples of shorts you might want to save for another time.
Spandex Shorts Are Too Thin
While spandex skorts are typically okay to wear on your period, you might want to reconsider stretchy shorts.
That's because spandex is a thin material that's very form-fitting and even see-through when stretched too far. It might be uncomfortable for you if you choose to wear pads instead of tampons or period cups because the shape of the pad might be visible to those around you. If this is a problem for you, you might want to skip the spandex shorts.
Shorter Length Shorts Are Uncomfortable
Wearing shorter-length shorts while on your period might not be the best idea.
Short shorts tend to be very revealing, and if you wear pads while on your period, they might be more visible than you desire.
However, shorter shorts might be right up your alley if you choose less visible pad alternatives like tampons and period cups. It's really up to you to decide what you feel comfortable wearing.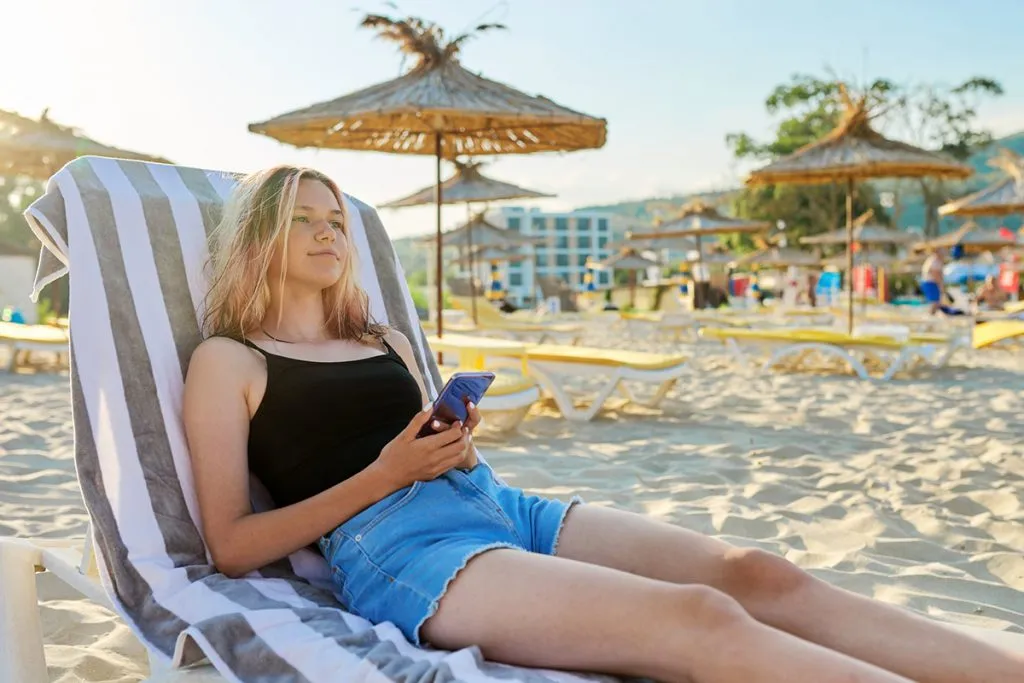 What Should You Wear on Your Period?
Style is a tricky area to navigate, with or without a period. Don't worry; I've created a list of what you should wear on your period to serve as a guideline if you're feeling stuck.
You should consider wearing the following on your period:
Clothes made from comfortable materials
Loungewear like sweatpants or fleece shorts
Thick fabrics such as denim or corduroy
Tops that aren't restrictive
Wire-free bras to minimize tenderness pain
Loose clothing that won't make cramps feel worse
What Clothes Should You Avoid on Your Period?
While there are plenty of comfortable clothing options that are suitable to wear on your period, there are also some things that you might want to reconsider. 
Here are some clothes you should avoid while on your period:
Tight clothing, which can make cramps feel worse
Thin materials like polyester
Light fabric colors
Wired bras, which can worsen breast tenderness
Conclusion
Shorts can be an excellent clothing choice while on your period. However, certain types of shorts might be more comfortable than others.
While this article serves as a guide to help you make the best possible fashion decisions while on your period, they aren't rules, and you can decide what's comfortable and what's not. You know your body better than anyone else does, and you should wear whatever feels best to you while on your period.
What To Read Next: