Many swim trunks look so similar to shorts that most people can't tell the difference between them. Plus, swim trunks are comfortable and durable. Thus, you may be wondering if it would be ok to wear swim trunks as regular shorts.
You can wear swim trunks as shorts, and it's completely acceptable. Doing so can be practical, stylish, and convenient. If you wear your swim trunks as shorts, make sure they're a decent size and fit. Also, make sure that the swim trunks comply with the facility's dress codes.
The rest of this article will list some practical rules to keep in mind when wearing swim trunks as shorts and explain the best times to do so. In the end, I'll also list recommendations for the best swim trunks to wear as shorts.
It's Okay To Wear Swim Trunks As Shorts
Swim trunks are essentially shorts with an internal mesh net liner. Consequently, they're almost entirely interchangeable with board shorts. But before you slip on your favorite swim trunks and head out on the town, you'll want to consider the best ways and times to wear them.
How To Wear Swim Trunks As Shorts
Wearing swim trunks as shorts isn't necessarily a fashion faux pas, but there are a few do's and don'ts you'll want to follow. For example, tropical patterns and super-short swim trunks might not be appropriate.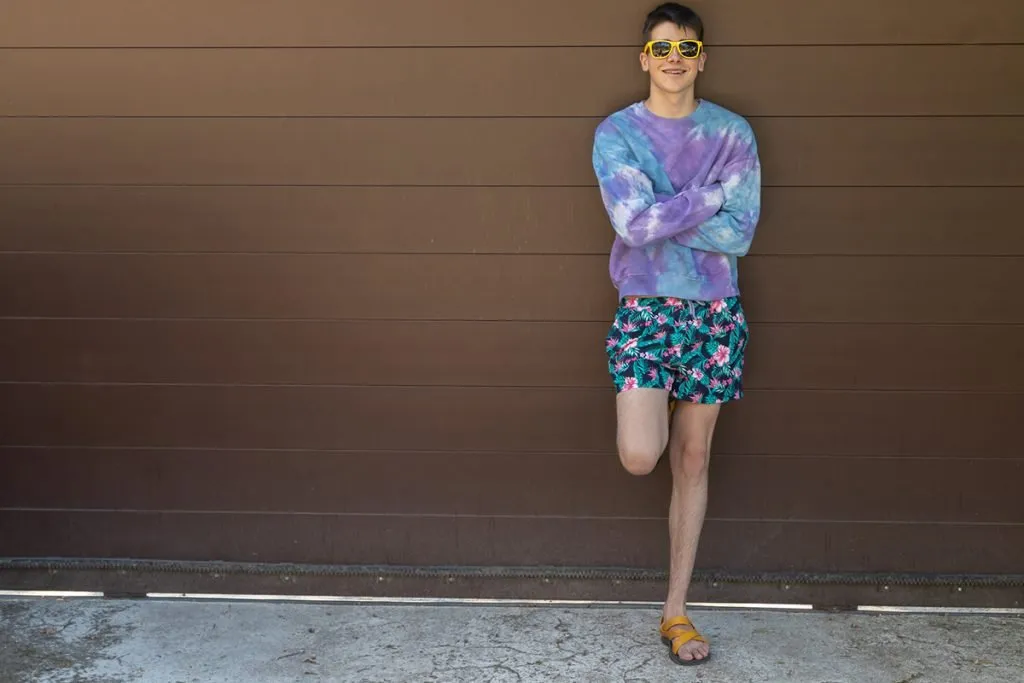 Don't Wear Tropical, Flashy, or Colorful Patterns
Go with a more solid color and tame print when choosing swim trunks to wear out of the water. If you wear tropical prints, it may be obvious you're wearing swim trunks and not shorts. 
Wearing flashy swim trunks may draw some looks in traditional settings unless you're by the beach. However, swim trunks that are solid colored or have tame prints can blend right in with other clothing and look just like shorts. Most people won't even be able to tell the difference. 
However, colorful standout prints may be acceptable if the setting calls for it. And if you still want to wear an eye-catching pattern even though the setting doesn't call for it, that's perfectly fine as well. 
Make Sure Your Swim Trunks Are a Good Length
Choose swim trunks that are the length of regular shorts—this should be easy as swim trunks usually come in pretty decent lengths. 
Avoid wearing anything too short or tight, as these won't pass as regular shorts. Swimwear such as swim briefs and speedos should never be worn as shorts. 
Your swim trunks should come down to 2–3 inches (5.08–7.62 cm) above the knee. How long your swim trunks should also depend on how tall you are. 
For reference, Le Club Original recommends trunks between 4–5 inches (10.16–12.7 cm) for shorter men, 5.5–6.5 inches (13.97–16.51 cm) for average height men, and 7 inches (17.78 cm) or more for taller men.
Choose Swim Trunks That Fit You Well
Your swim trunks should be as well fitted as your regular shorts are. Make sure they aren't too tight, loose, or baggy. A good test to see if they're a good size or not is to see if you can pinch between ½-1 inch (1.27–2.54 cm) of fabric on both sides of your thigh. 
Anything more than that risks being too baggy, and anything less will probably be too tight. Before wearing your shorts out in public, always see how they fit to ensure they look and feel suitable.
Check the Facility Dress Codes
Swimming trunks may not be allowed inside certain places. Check any set dress codes beforehand to make sure, especially if you think you're going somewhere where swimwear may not be acceptable.
When the time comes, use your best judgment to decide whether or not wearing swim trunks to the venue or event you're attending would be appropriate. If dress expectations are more formal, swim trunks will likely not be acceptable.
The Best Times To Wear Swim Trunks As Shorts
Swim trunks are bound to keep your lower half cool and breezy, which is why it's best to wear them with the weather is warm. After all, wearing swim trunks in the middle of an icy winter is bound to leave you feeling uncomfortable.
Wear Swim Trunks During the Summer
Swim trunks can be a highly fashionable and practical choice for daily wear during the summer. If you live in an especially hot place, swimming trunks can make you feel much more comfortable than normal shorts.
That's because the material is more lightweight and quick-drying. Furthermore, the netting is highly breathable, providing air circulation, which can cool you down more in the summer heat.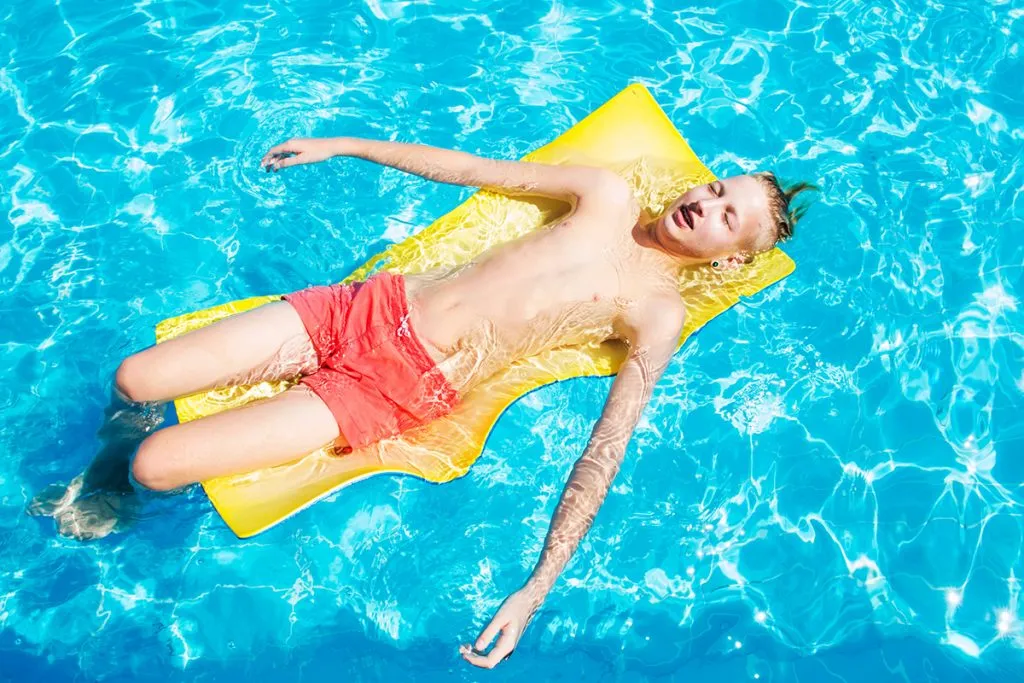 Wear Swim Trunks When Sitting by the Water
If you're by a lake or ocean, swimming trunks are a very acceptable and practical choice, even if you never step foot in the water. You can wear them to places around the water and town, such as bars, shops, and restaurants. Most likely, many people will be doing the same thing. 
Furthermore, if you spend a day at the beach and don't have time to change before going someplace, swimming trunks will relieve the hassle. Just dry them off beforehand and head to your next destination. 
Best Swim Trunks To Wear As Shorts
Here are the best swim trunks to wear as shorts:
These Nonwe men's swim trunks are perfect for hot summer days. They're made with quick-drying, breathable, and lightweight fabric, so you're sure to be comfortable and cool. 
They have multiple pockets for storage and an adjustable waist for perfect fitting. Plus, their solid color design makes them practical and fitting to wear in everyday settings. 
A solid color pair of these Kanu Surf's Barracuda swim trunks look very similar to a regular pair of everyday shorts. They have an adjustable waistband and drawstring for comfortable fitting and great indoor length.
These swim trunks come with cargo pockets for storage and have triple-needle stitching at the seams for extra durability. Plus, the material is breathable, lightweight, and quick-drying.
These swim trunks look just like shorts and will look great with any casual everyday outfit. The elastic waistband makes for a comfortable and secure fit. You'll also get pockets for essential storage. 
The polyester material is quick-drying, lightweight, and comfortable for lots of movement, but still very durable. Many happy reviewers mention how they can easily be worn as shorts.
Conclusion
You can feel free to wear your swim trunks as shorts, especially if it's very hot outside or you're by the beach. However, even if neither is true, you can still wear swim trunks in most casual everyday settings, and no one will bat an eye. 
However, there are some practical rules to keep in mind when wearing trunks as shorts, so you don't go overboard. I hope this article helped give you some useful advice for wearing swim trunks out of the water.
What To Read Next: