If you're new to amateur wrestling, you likely have a couple of questions on what you can and can't wear. The one-piece singlet is the more traditional uniform for various forms of wrestling, including freestyle, Greco-Roman, and folkstyle (collegiate) wrestling. And often the only permitted uniform in wrestling events.
You can wear shorts in wrestling, either during practice or, if allowed, during official matches. In the latter setting, shorts must comply with the established guidelines. A two-piece uniform consisting of wrestling shorts and a form-fitted compression shirt is often required.
The rest of the article discusses some of the main types of shorts wrestlers wear. I also go into what to look for when buying wrestling shorts to help you pick the perfect pair for your specific needs.
Types of Wrestling Shorts
Save your singlets for wrestling tournaments and slip into some comfortable, functional, and stylish wrestling shorts for practice. Let's take a quick look at some common choices.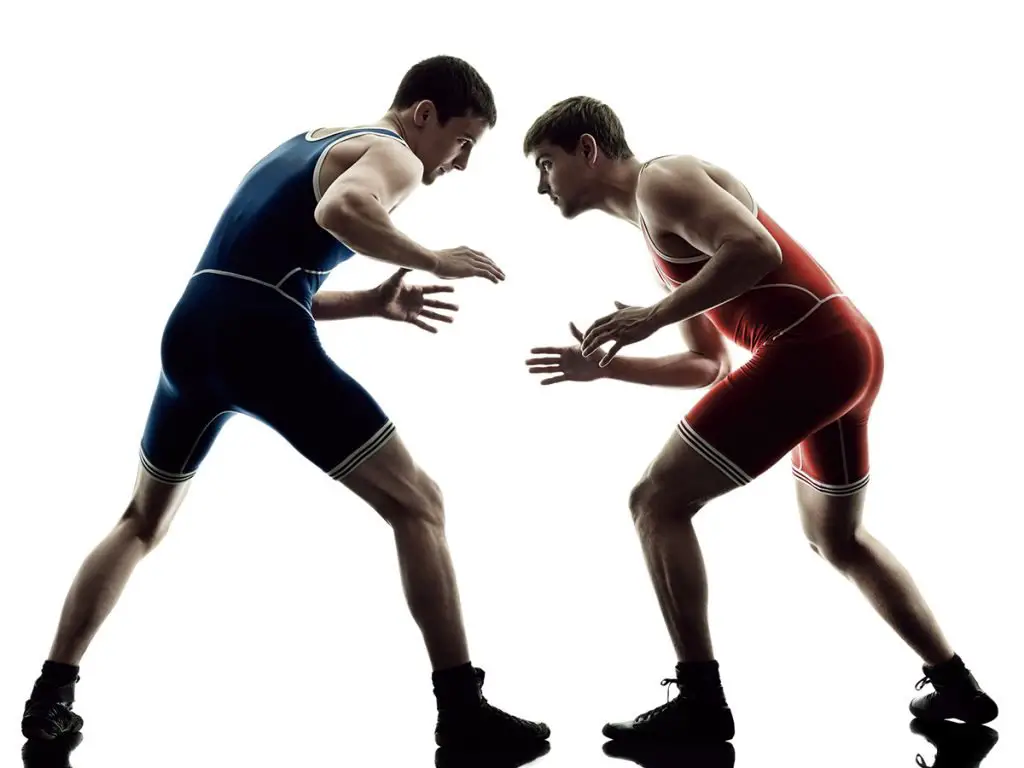 Compression Shorts/Vale Tudo Shorts
Compression shorts cling to you like a second skin, which allows for faster and unrestricted movement. And by applying pressure to the glutes, quads, and hamstrings, they provide extensive muscle support. 
They also promote muscle strength recovery, reduce muscle fatigue, and lower the risk of delayed onset muscle soreness (DOMS).
You'll also appreciate not having to deal with sweat-soaked bottoms during your training sessions. Performance compression shorts like Vale Tudo shorts are made from a blend of materials like polypropylene, spandex, and nylon. These moisture-wicking fabrics have faster evaporation and exceptional breathability, which helps keep you cool, dry, and comfortable.
Compression shorts also help reduce friction, which, in turn, prevents chafing. 
And because they feel very similar to the lower half of a singlet, the shorts are great for helping you get used to wrestling in your tournament outfit.
The only potential drawback with compression shorts is that they don't leave much to the imagination. But this is easily fixed with a groin cup, which protects not just your modesty but your groin as well. 
Alternatively, you can purchase compression shorts with a built-in jockstrap, such as the Diamond MMA Compression Shorts.
Board Shorts
Board-style wrestling shorts have a similar design to the traditional board shorts geared toward surfing and other water sports. But they have been slightly tweaked to make them suitable for combat sports. This style of fight shorts is popular among professional fighters within the UFC.
Unlike compression shorts, board shorts are loose-fitting. 
However, the stretchability of the shorts helps avoid an over-baggy fit. It also provides the wearer an excellent range of motion, further extended by side slits.
Board-style fight shorts are generally knee-length like the Hayabusa Chikara 4 Fight Shorts, but some end a few inches above the knee. They also tend to be lightweight with moisture-wicking and quick-drying properties to help regulate your body temperature.
These wrestling shorts stay in place even during the most rigorous wrestling moves, thanks to an elastic waistband that typically features a Velcro closure and an inside drawstring. You can also find a pair without Velcro fastening, which some find uncomfortable. 
If you're one of those people, Gold BJJ Jiu Jitsu Shorts are perfect for you.
Factors To Consider When Looking for Wrestling Shorts
Here are some things to focus on next time you go shopping for a pair of wrestling shorts:
Size: Manufacturers usually provide size charts to ensure you pick shorts that are the right size. Wrestling shorts should fit comfortably and snugly at your waist to keep them from falling while training, or worse, during a competition. On the other hand, shorts that are too small will restrict your leg movement, also hurting your performance.
Material: Wrestling practice involves a lot of movement and sweat. So you want shorts whose fabric can stretch in multiple directions for ease of movement and has moisture-wicking properties to keep you cool and dry no matter how much you sweat. Additionally, the shorts should be lightweight, so you don't have to worry about them weighing you down, especially when wet.
Durability: Because fight shorts encounter harsh conditions when in use, look for shorts with reinforced stitching along the seams. Double- or triple-stitched seams prevent the material from tearing easily, resulting in long-lasting shorts.
Design: Shorts designed for wrestling should not have exposed drawstrings, zippers, buttons, pockets, snaps, or belt loops. But a feature like side slits on board-style fight shorts is crucial for unrestricted lateral movement and ventilation. And shorts with a Velcro or drawstring closure coupled with an elastic waist stay locked in place despite rigorous training.
Conclusion
Compression or board shorts? It all comes down to preference because both styles offer wrestlers unique benefits. 
That said, some people, particularly men, feel wearing just compression shorts is too revealing. Similarly, wrestling with just board shorts can be uncomfortable for others due to a risk of indecent exposure. So more and more people have taken to wearing compression shorts under board shorts, consequently reaping the benefits of both.
In the end, regardless of the style you choose, as long as you have comfort and unrestricted mobility, you have the best pair of shorts.
What To Read Next: