Las Vegas is an incredibly exciting, enjoyable place to visit. When you plan your next trip, you might be wondering what you should wear while you're in the city. With high temperatures, shorts are definitely the go-to, but can you wear shorts in Las Vegas?
You can wear shorts in Vegas, but it is important to pay attention to each establishment's dress code. Most places like high-end restaurants and shows have a strict "no shorts" rule, while other establishments have no problem with people wearing shorts, as long as they are not athletic shorts. 
This article will clarify your concerns about wearing shorts in Vegas, and will give you options for what you can wear if you happen to visit a place that does not allow shorts. 
What Should Women and Men Wear in Vegas?
The answer to the "what to wear" question varies based on where you are going in Vegas. There are some general guidelines you'll want to follow for both men and women. 
The clothing that women and men should wear in Vegas should be appropriate for the season and a wide variety of activities. It gets very hot in the summer, so lightweight clothing is needed. In the winter it cools down at night, but you will rarely need more than jeans and a long sleeve shirt.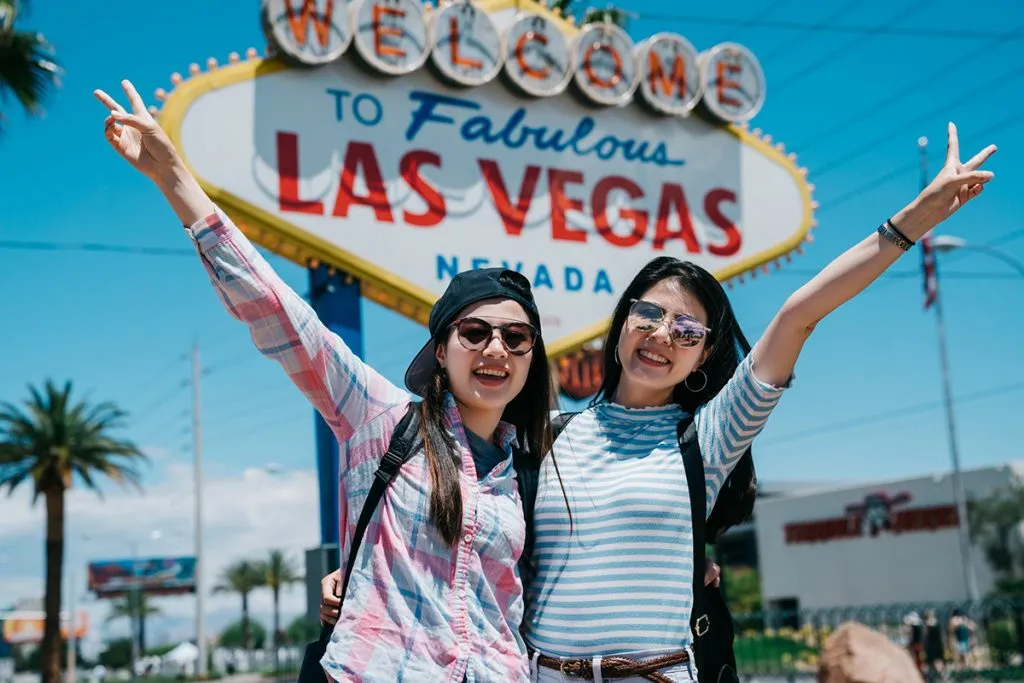 What you wear in Las Vegas depends on your plans. Many activities call for different outfits. If you're going to see a show, you are expected to dress up more than you would if you were hitting the clubs or taking your chances at the roulette table. If your plans involve eating at an upscale restaurant or going to an electronic music club, you'll also want to dress up more than if you're wandering around town or playing poker. 
Let's take a look at what is considered suitable attire for both men and women.
Men
Men should wear pants and collared shirts with dress shoes. 
A casual button-down shirt can be worn during the day while walking on the strip or gambling in a casino, but you should bring along a nice shirt if you plan to dine in a fine restaurant or go to a club. A sports jacket is recommended for fancier restaurants and shows. Some of these places even require men to wear jackets, so be sure to check before you go. 
Bring at least one pair of dress shoes (preferably black) and socks. You'll need them for visiting high-end restaurants and nightclubs, as well as for any fancy events you attend. If you are doing a lot of walking outside, bring comfortable shoes that match your daytime outfit. 
Sneakers are only appropriate at gyms and athletic clubs. 
Women
In Las Vegas, women can wear just about anything they want. You'll see women in shorts, casual dresses, and tank tops during the day. At night, you might see sequins, feathers, and plunging necklines (especially at nightclubs). However, it's perfectly acceptable to wear jeans to most clubs if you pair them with a nice top and heels.
Can You Wear Shorts to a Show in Vegas?
High end Las Vegas shows require more formal clothing, such as jeans and dress shoes (and sometimes even a tie), but less formal shows allow smart casual wear. Check online or call ahead if you're not sure how formal your show is. 
You cannot wear shorts to most formal shows in Vegas. If you are going to a show in a casino, it is okay to wear shorts if the casino dress code allows it. They may, however, ask you not to wear t-shirts and to dress up your shorts with a more formal top. 
Is It Appropriate To Wear Shorts in Casinos?
It is not appropriate to wear shorts in high-end casinos. However, more casual casinos allow patrons to wear whatever they feel comfortable gambling in. You will likely see people wearing shorts and t-shirts in casinos that have a more relaxed atmosphere.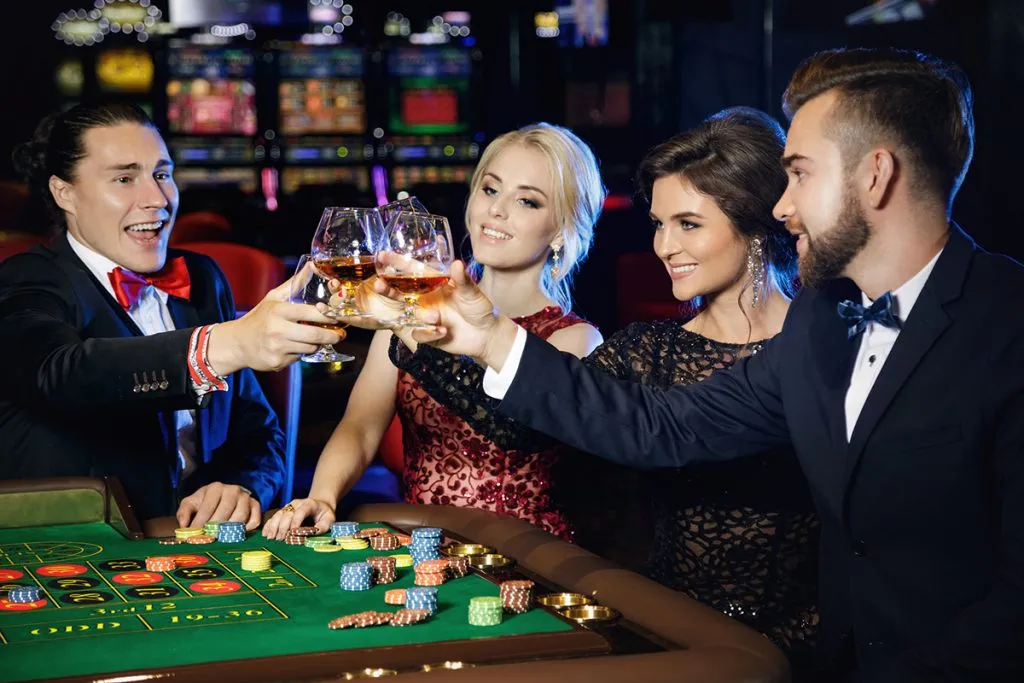 If you are going to a high-end casino in Las Vegas, you don't want to show up underdressed. These establishments require more formal clothing, such as suits and dresses for entry. 
Generally, shorts are not considered proper etiquette in a casino. If you want to gamble and are wearing shorts, be sure to check the casino's dress code before entering or ask a nearby staff member. 
Can You Wear Shorts to the Pool in Vegas?
You can wear shorts to the pool in Las Vegas. At most regular hotel pools, you can wear casual clothing like shorts and T-shirts, especially at family-friendly establishments. However, some pools do have pool-specific dress codes that you should be aware of.
Many hotels have policies about wearing clothing other than swim attire in their pools. Some pools are even topless optional and might have a dress code that specifically addresses that. As a general rule, if you're planning on going to a Vegas pool party, read up on the dress code. Most of them will require swimwear only. 
At some pools, men must wear collared shirts and women may only wear bathing suit cover-ups in the bar areas, but not on the pool deck. Other pools require that men and women wear shirts or shorts when entering or leaving the pool area because the entrance is through the casino. 
If you see someone else wearing clothes other than swim attire at the Vegas pool you're at, it's probably okay for you to do the same! 
Will I Be Able to Wear Shorts at the Restaurants in Vegas?
You will be able to wear shorts to a restaurant in Vegas if it is a more casual dining experience with a relaxed dress-code. Most high-end restaurants and buffets will have dress codes that specify "no shorts." 
At a more formal restaurant, even if the restaurant does not have a set dress code, men will still probably be wearing pants or at least jeans, and women will wear cocktail dresses. 
More casual restaurants offer diners a chance to dine with various dress codes. Checking out the restaurant's website is always a good idea as they will often state what the dress code is or suggest what kind of attire is best for their restaurant. 
Chances are, if you are going somewhere where you see everyone else is wearing shorts, you can wear shorts yourself. In Vegas, that is usually going to be a bar or club with a cover charge, bottle service or a pool party. 
While there's no formal dress code at most bars, casinos, and nightclubs, be aware that many of them enforce a "no sneakers and shorts" policy after dark. 
Conclusion
Shorts are generally accepted in Vegas, except at more upscale restaurants. It is fine to wear shorts during the day as long as you have clean, well-fitting, and decent clothes for later. 
However, if you are going to the club at night or during the weekend, men should dress it up a bit with a collared shirt, and women should wear smart, elegant clothes.
What To Read Next: