Snow pants aren't just thick insulative pants; they're designed to keep snow, ice, and wind off the skin. They work with other clothes such as boots to keep you warm. But you must wear them correctly to enjoy those features.
To wear snow pants with boots, you should 
Get the right size snow pants.
Wear thermal underwear underneath your snow pants.
Pull the legs of your snow pants over your boots.
Keep reading as I discuss the right way to wear snow pants with boots. I'll teach you how to layer clothes properly with your snow pants and give you some tips for finding the best fit for snow pants so that you can be safe from the snow and cold. 
1. Get the Right Size Snow Pants
When purchasing snow pants, avoid a tight and short fit.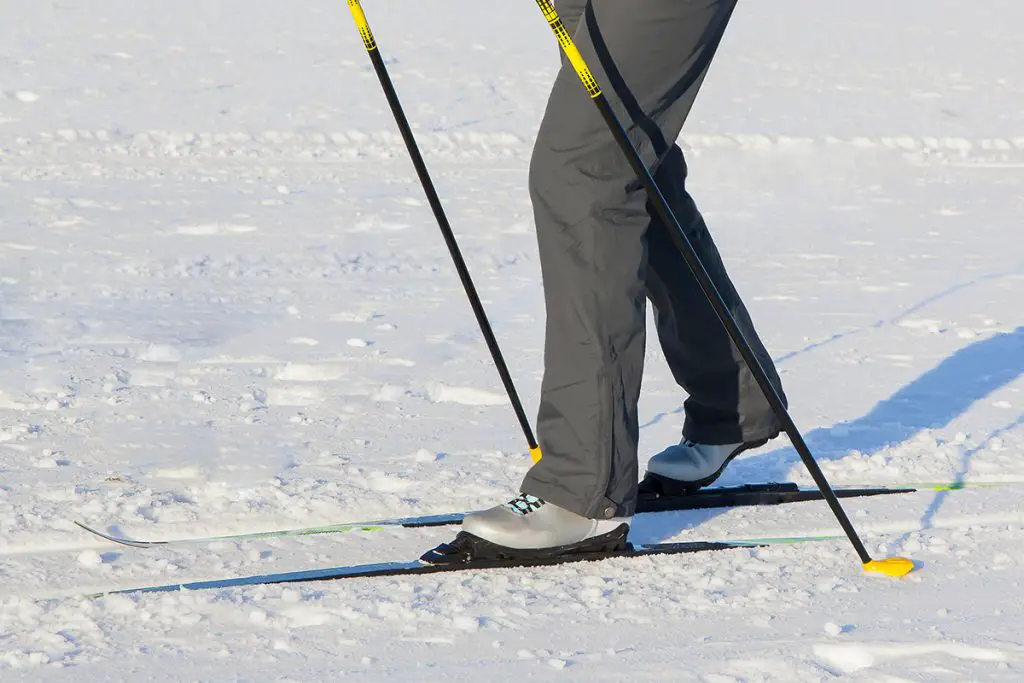 That's because you'll likely want to wear a thermal layer and a standard clothing layer underneath these pants. So make sure you allow your snow pants to have extra room. You want your snow pants to be baggy.
In addition, snow pants have to be long enough to cover the tops of your boots while still leaving extra length for easy movement. That said, they should generally be longer than any other pants you own.
Your snow pants should be about 4 to 5 inches (10 to 12 cm) longer than standard pants. You should also be able to tuck the pants' legs over your boots comfortably while still having the legroom to walk and run. 
Also, check the waistband. It should be comfortably snug. The bottoms of the legs should fit securely around your ankles without putting too much pressure on them. 
For the most versatile fit, look for snow pants with adjustable elastic bands at the bottoms of the legs and the waist. These pants can help you customize the fit, allowing you to seal out snow and the cold without sacrificing comfort. The elastic on the legs can also ensure your pants will fit over any shoes, even bulky ski boots. 
If your snow pants are too tight, you probably won't be able to seal out snow or layer enough clothing underneath to stay warm, so always opt for a baggier option when purchasing snow pants. 
2. Wear Thermal Underwear Underneath Your Snow Pants
Snow pants are loose, waterproof pants that can seal out snow, sleet, and chilly winds. However, they only work as snow pants if you wear the correct underlayers and ensure your pants are tucked in and tucked out in certain places. 
Snow pants won't keep you warm on their own, but they will block out snow, so you should keep warm clothes underneath. That's why you should wear long underwear or leggings, tall socks, snow boots, a thermal shirt, and a snow-proof coat with snow pants.
The proper way to wear layers underneath your snow pants is as follows:
Put on warm, preferably long, underwear or wear a pair of warm tights or leggings. 
Wear a tight thermal shirt and tuck it into your long underwear, tights, or leggings. 
Pull on some warm, tall socks, allowing them to cover the ankles of your thermal pants.
Wear street clothes such as jeans or a flannel shirt over your thermal layer to add more warmth and versatility to your outfit. Doing this is optional.
Pull on your snow pants, ensuring that your shirt(s) is tucked into the pants. 
Slide on your snow boots, leaving them untied.
Layering your clothes in this way will ensure that all of your body's warmth stays locked in while also preventing snow and cold winds from touching your skin or getting your clothes soggy. 
3. Pull the Legs of Your Snow Pants Over Your Boots
Once you have your base layer on, pull the elastic legs of your snow pants over the tops of your boots, pushing the liner over the tongue of your shoes. Then, tie up your snow boots, wrapping the laces or clasps around your pant legs to secure them.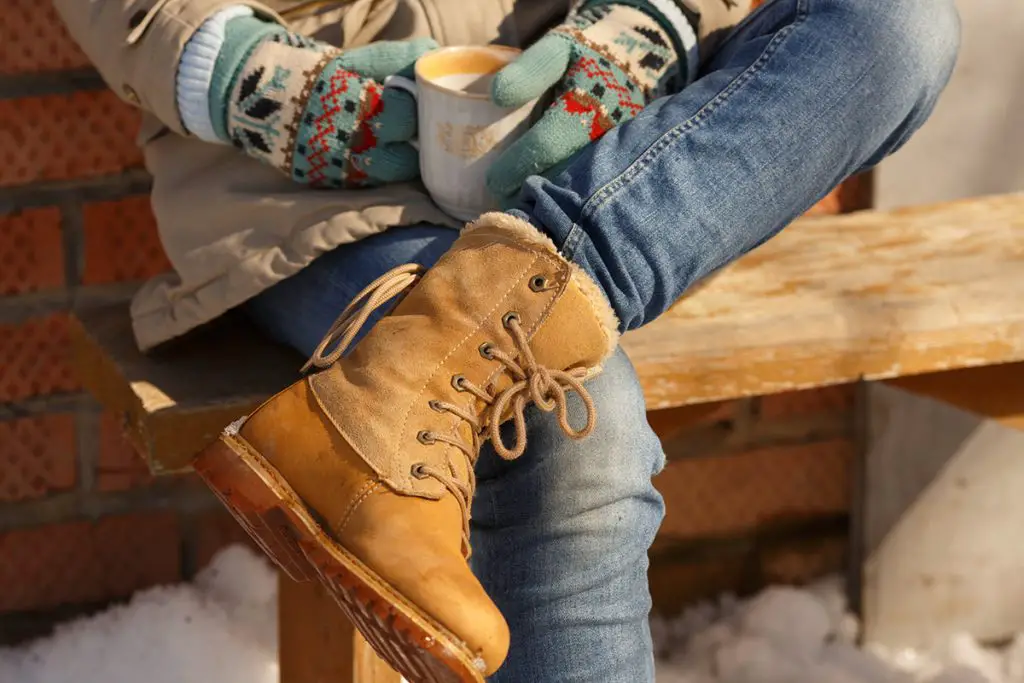 You can put on as many coats, scarves, and hats as you wish after that.
Snow pants are practically snow shields that repel sleet, snow, and ice, keeping your clothes and skin dry and warm. However, for the pants to keep snow out of your boots, you'll have to layer them correctly. 
Snow pants go over boots. That's because snow pants can only keep snow, rain, sleet, and ice from falling into the top of your shoes if you pull them over the gaps, sealing out the cold. Ideally, it would be best to tie snow pants into your boot lacings to create a semi-airtight seal. 
Snow boots keep snow from soaking through your shoes, but they have one weak spot– the tops. The tops of snow boots quickly accumulate caked-in snow and sleet, and once the snow gets in, you'll have soaked socks and freezing ankles. 
Snow pants can prevent your socks and ankles from getting snowy in the first place since they cover the tops of your boots. So, using snow pants to create a "snow bumper" over your boot-tops is the best way to take advantage of their snow-proof properties. 
Snow pants can also be uncomfortable when you tuck the legs into your boots, and they will be far less effective. Often, the baggy legs are too bulky to be comfortable when you shove them down into your shoes, and they may even cut off your circulation. 
Also, if you end up walking through snow or rain, your pants won't be able to keep your socks dry unless you have pulled them over your boots. So, if you don't want frosty, soggy socks, always secure your snow pants over your shoes. 
Conclusion
Snow pants will keep snow from soaking into your clothes, and they provide a windproof layer to reduce windchill. However, they're only effective if you pull the legs over your boots to seal out snow and frost. 
Snow pants are usually baggy, and they should be loose enough to allow you to wear layers underneath without feeling constricted. Once you've found the proper fit and layer them correctly, they'll keep you dry and warm in the most extreme of conditions. 
What To Read Next: