Hip-hop dance is all about being cool and keeping up with the latest dance trends, so your attire when you come to a hip-hop dance class should reflect that. Clothes are becoming an increasingly prevalent part of hip hop dance, and many dancers feel more comfortable if they are pleased with their outfits. 
Here's what to wear to hip hop class:
Baggy T-shirts, crop tops, or hoodies.
Sweatpants, joggers, or shorts.
High-top sneakers and dance boots.
Baseball hats, bucket hats, or beanies.
Dance-safe jewelry.
Many dancers wear what is trending on social media, in stores, and in urban culture. If you are heading to hip-hop class and want to wear the latest fashion trends, look no further than this article. You will discover more than you might have cared to know about hip-hop class fashion.
1. Baggy T-shirts, Crop Tops, and Hoodies
There typically isn't a dress code for hip-hop class, which means you can wear what you are comfortable in, as hip-hop is more about comfort than fashion. If you prefer form-fitting tops, you can wear a tank top, camisole, or tube top.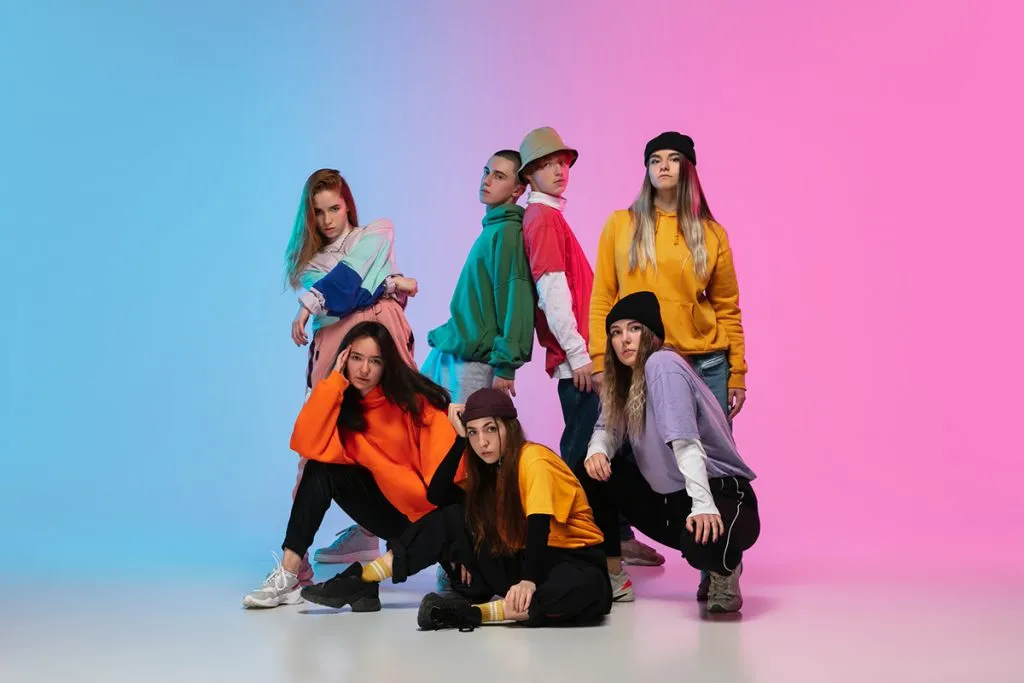 For women, you might get away with only wearing a sports bra or bralette in hip hop class. 
You can wear a baggy T-shirt, crop top, hoodie, or cropped hoodie if you prefer more coverage. Oversized graphic tees are popular, and many women tuck the bottom of their T-shirts into the bottom of their sports bras to create a cropped effect. 
Full-sized hoodies are popular for men, along with jackets, tracksuits, and windbreakers. If you typically get hot quickly, you can wear a tank top or a graphic t-shirt and create some layers, especially if it's cold outside.
Most people choose to wear a form-fitting top with baggy bottoms, or they'll wear a baggy top paired with loose bottoms. You might prefer oversized tops for hip hop class because it gives you a carefree look.
2. Sweatpants, Joggers, and Shorts
Sweatpants, joggers, and track pants are the most popular bottoms to wear in hip hop class. Anything loose, baggy, and easy to move in is ideal. Stylish joggers with zippers, designs, and pockets are a great option, or bright-colored tracksuit pants with designs are also popular. 
Women often wear high-waisted joggers or sweatpants like this Automet High Waisted Athletic Workout Jogger. It features a cinched bottom, drawstring waist, and pockets, and it is available in 17 different colors. 
Velvet tracksuits are also coming back in style, and some dancers choose to wear these. But keep in mind that it might be hard to stay cool if you decide to wear those.
Shorts are another popular option, especially if you are dancing outdoors or in the summer. Men might prefer knee-length shorts, while many women enjoy wearing trendy shorts with an elastic waistband or a tie front waistband. 
Jean shorts are typically restricting and uncomfortable to dance in.
3. High-Top Sneakers and Dance Boots
Fashionable sneakers and high tops are appropriate for a hip-hop class. Choose a shoe with a good grip on the bottom so that you don't slip while you're dancing.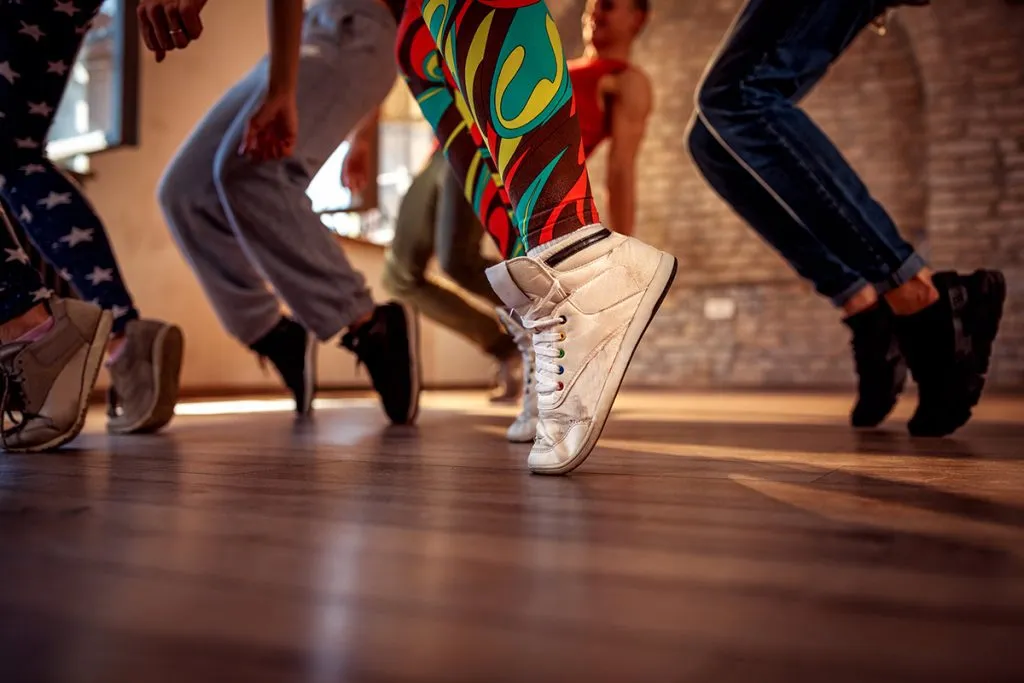 Many people enjoy clean, white shoes for hip hop class. 
Others want flashy and bright sneakers. Shoes can be an essential part of your outfit, so choose a shoe that you feel confident in, and make sure it's comfortable to dance in so that you don't get blisters, calluses, or rub the skin off of your foot.
These Ultimate Hip Hop Adult Dance Sneakers are a great addition to any hip-hop outfit. They are black and come with a mesh design and rubber sole to keep you from slipping. 
They are also lightweight and breathable so that they won't wear your feet down while dancing.
Some people wear combat boots to hip hop class. If you choose this route, pick a shoe with a low heel that provides good arch support. Because combat boots can typically run flat, you might need to add arch support to your shoes to make them more comfortable to dance in.
Many dance schools prefer students to wear shoes that they dedicated solely to hip hop dancing. This rule helps keep the studio clean and prevents dirt, mud, and other debris from tracking inside the studio. 
It also helps preserve the life of your shoes so that they don't wear out as quickly.
4. Baseball Hats, Bucket Hats, Or Beanies
Accessories are an easy way to jazz up your outfit for hip-hop class and add your own personal style. You can choose from a variety of hats and find one that complements your style and adds texture to your look. 
Baseball caps and bucket hats are famous headwear for a hip-hop class. 
Both men and women enjoy wearing baseball hats during hip-hop class. Bucket hats from the '90s are also a popular accessory for hip hop class as well as lightweight beanies. 
Some choreographers choreograph hats into their combinations during class, and many skilled dancers often freestyle with their hats during class time. If you are a new dancer, wearing a hat can give you something to do while freestyling during class. 
You can simply grab the rim of your hat and walk during the freestyle portion of the dance class.
5. Dance-safe Jewelry
Gold chains or necklaces are a great addition to your outfit and give you an added layer of style. 
Dancers should be careful, though, of the type of necklaces and jewelry they wear because they can easily break or snap when performing complex or fast dance moves. Necklaces can also be a safety hazard because they can get caught on your neck and hair while dancing.
Rings are generally a safe accessory to wear, and many women enjoy stacking rings or wearing multiple rings on one hand. 
Men can also enjoy flashy rings during hip-hop class. Dancers should be careful with the type of rings they wear because they can sometimes get caught in their hair or scratch themselves while dancing.
What To Read Next: