With so many brands entering the activewear scene in the last decade, it has become progressively more difficult to be able to find your ideal fit when it comes to leggings. Although the possibilities are becoming virtually endless, shoppers today are having a much harder time knowing what size to shop for, as no two brands offer the same measurements for the same lettered size.  
Many legging brands, including Adidas, Aerie, Lululemon, Nike, and sometimes Fabletics, run true to size. On the other hand, when shopping on Alo Yoga, Athleta, or Old Navy, you might want to go down a size for a perfect fit. Meanwhile, Spanx leggings tend to run a bit small.
In this article, I'll take you through the sizing of some of the most popular activewear brands and give you a concise rundown of how their leggings usually fit.
Do Adidas Leggings Fit True to Size?
Adidas leggings generally fit true to size. Although some styles may feel a bit tight or stiff at first, they start to mold to your body after a while. But if you still prefer a less compressive, comfier fit for lounging around, you need to size up.
When it comes to Adidas, going for your usual size is usually a safe bet, as customers report there's no need to size either up or down for any of their activewear. Therefore, if you want a pair of performance leggings that securely holds you in throughout your workout, you'll be okay with ordering your most worn lettered size from this brand.
As I mentioned, Adidas leggings can feel a bit stiff right out of the packaging, but remember there's no need to panic, as they will quickly mold to the shape of your body after wearing them once or twice. 
Adidas leggings don't run small, as they just need a short break-in window.
With that said, if you dislike feeling sucked in or compressed, you might want to go for a size up. In this case, keep in mind you likely won't be able to perform any high-impact movement comfortably, as it will be a bit harder for your leggings to stay up.
If you're still unsure, you can have a quick look at the site's size guide to determine the range where your measurements fall under. If in-between sizes, choose according to fit preference (snug or comfier) and length.
Do Aerie Leggings Fit True to Size?
Aerie leggings almost always fit true to size. They mold to your body but maintain their overall structure and barely stretch out over time, making them ideal for long-term wear. You can find the perfect fit on this site, as their measurements align with other brands' lettered sizing. 
Given that they don't tend to run either too small or too big, going for your usual size always guarantees at least a decent fit.
They're also an excellent choice for petite and taller women, as they come in a variety of lengths to choose from. This means you won't have to sacrifice the fit of the leggings on your waist and hips to accommodate for length.
You can take a look at Aerie's size chart and determine your size from there. 
Do Alo Yoga Leggings Fit True to Size?
Alo Yoga leggings do not fit true to size, as they usually run half a size too big. Although you can still find some models that vary when it comes to size, for the most part, you'll notice that ordering a size down will give you the perfect snug legging fit.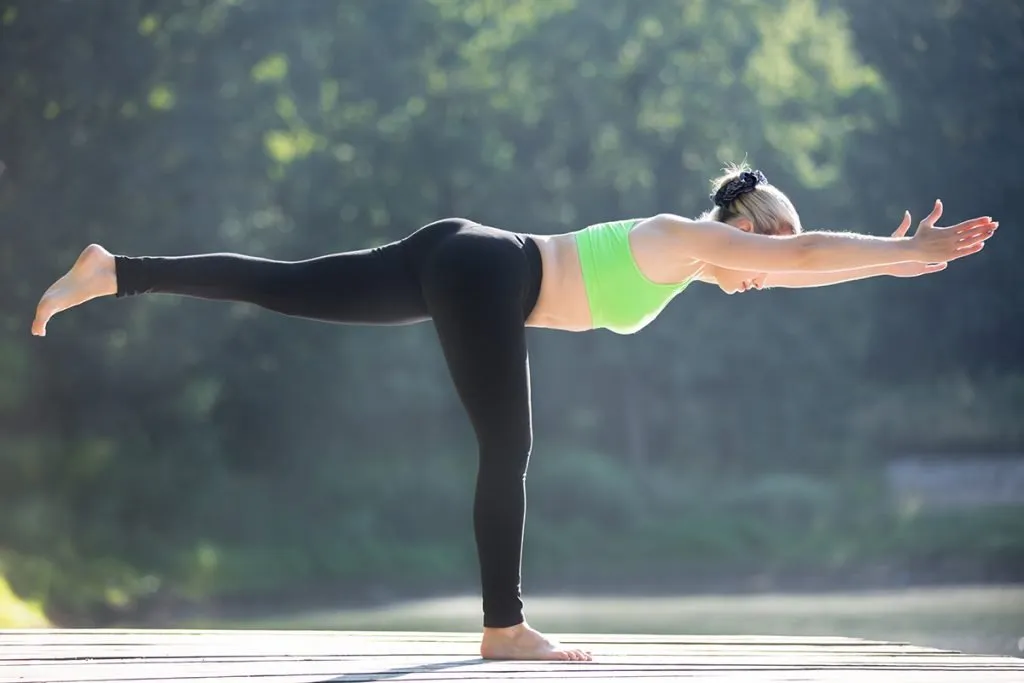 Keep in mind that the difference in sizing is not very significant, and going for your usual order may leave you just as satisfied. With that said, generally, going a half or a full size down may be preferable if you want a more compressive fit.
By looking through their guide, you'll notice that their measurements for each lettered size are about ½" (1.3 cm) bigger than the previous brands. This difference might not be substantial for most, but for those in-between sizes or who are very particular about how they want their leggings to fit, going down a size might be worth it.
Overall, the fit of the leggings can often depend on the particular model and the material it's made out of, so it might be worth checking each piece's measurements and elasticity before deciding on your size.
Do Athleta Leggings Fit True to Size?
Athleta leggings often run big. Therefore, it might be best to order a size down when ordering from the brand. Their materials are very elastic, while their cut is a bit bigger compared to other brands, meaning that smaller sizes can fit you perfectly.
Many customers report that Athleta leggings run a bit large for them, especially around the waist. 
While you still may be able to find some stiffer models that fit true to size throughout the site, it's probably best to look for at least half a size down when purchasing a pair of their leggings.
On the bright side, if you're looking for a lounging-around pair of leggings that offer optimal comfort and mobility, you won't have to worry about Athleta leggings being small, as going with your true size will give you the exact desired effect.
You could take a look through the site's size chart to get a better idea of the range you fall on, but it would still probably be a good idea to look for additional information and reviews before making a purchase. 
Do Fabletic Leggings Fit True to Size?
Fabletic leggings can vary a lot when it comes to size, depending on the model. All their leggings fit differently depending on their cut and material. Ordering a few sizes to choose from or trying models in-store is highly recommended.
While many of the pieces the brand offers are true to size, this might not be the case for the particular pair you're looking for, especially if it's made out of a particularly stiff or elastic material. 
Therefore, if possible, always opt to buy in-store when it comes to Fabletic leggings.
If not, taking a quick look at the brand's size guide and checking each model's elasticity and reviews can help you make a better-informed decision.
Do Lululemon Leggings Fit True to Size?
Lululemon leggings usually fit true to size. However, the fit might vary slightly from pair to pair, depending on style or fabric. Overall, going with your normal size is a safe bet that guarantees at least a decent fit.
Keep in mind that Lululemon used numbered sizing as opposed to letters. Therefore, going through their size guide before making a purchase might be necessary. 
Another aspect to consider with this brand's sizing is that although they use a numbered sizing system, these numbers don't correspond to your usual dress size. For example, a size 4 in Lululemon is usually equivalent to a dress size 0 or 2. 
For this reason, while there have been some reports on Lulu leggings running small, it's hard to tell if this difference in sizing is taken into account or not when making a purchase. Therefore, consulting with the linked size guide is crucial before investing in such a pricey pair of leggings.
A good-fitting pair of Lululemon leggings should have a waistband that stays up but doesn't dig into your skin. You shouldn't see the fabric losing its opaqueness in any area, but the material shouldn't bunch up either. Overall, as long as your pair fits snug and secure but not to the point of feeling uncomfortable, you've found your true size on Lululemon.
One of the perks of investing in a pair of Lululemons is that after finding your true size, you won't need to worry about sizing in any subsequent purchase of the same model, as their cuts seem to remain pretty consistent throughout the years.
Do Nike Leggings Fit True to Size?
Nike leggings usually fit true to size. They might feel a bit snug out of the bag, but they quickly mold to your body after some wear. While most leggings will adequately fit your proportions, some models may be a bit too long, so you might want to adjust your sizing accordingly.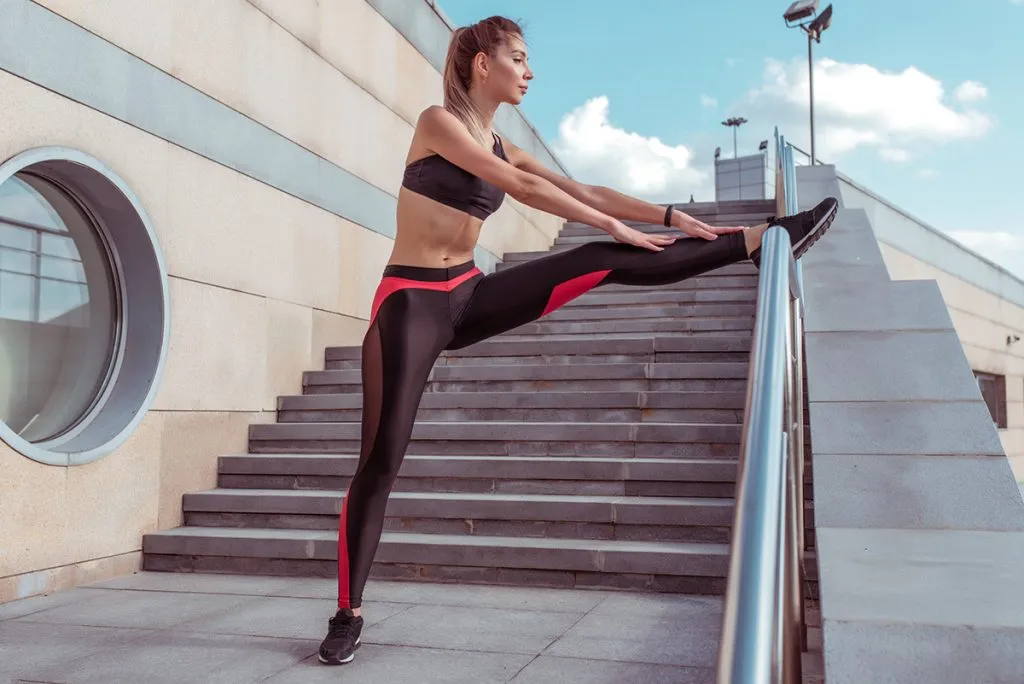 Nike leggings are known to run pretty true to size in most of their models, so you'll likely find no fit issues ordering based on your normal measurements. As I mentioned, similarly to Adidas, some styles may feel a bit stiff and tight on the first try, but the materials used by the brand have the ability to quickly mold around your body.
For this reason, you might want to wear your pair for a workout or two before hurrying to exchange them for a bigger size. 
While the material shapes around your body with frequent wear, it still holds its structure and elasticity, meaning you won't have to worry about your leggings becoming too unsupportive or loose. Their extensive size guide will equip you with all the necessary information you'll need to choose a great-fitting pair of leggings even when shopping online. 
Another factor you'll want to consider before making a purchase is length. 
Given that Nike doesn't offer adjustable inseam lengths on their models, you might want to adjust your sizing a bit depending on your height. More petite women might want to look into buying a 7/8th pair of leggings instead, as most standard models tend to run a bit too long.
Do Old Navy Leggings Fit True to Size?
Old Navy leggings tend to run big. Therefore, you might want to opt for one or two sizes down depending on the legging's style and material. Length-wise, Old Navy offers three different inseams, allowing you to find a pair that fits your height without having to sacrifice overall fit.
Most clothing items at Old Navy are known to run a bit large, and their leggings are no exception. If you compare the brand's sizing chart to what we've seen so far, you'll notice a significant difference between the measurements of the lettered sizes.
For example, a woman with a 24" (60 cm) waist would be a size XXS on Old Navy, but a size XS on Adidas or Nike. Sometimes the differences are even more noticeable, with some sizes measuring anywhere from 1 – 6 cm (0.4" – 2.3") bigger than other brands.
For this reason, you'd want to go down at least a size when purchasing a pair of leggings on Old Navy. Depending on model and elasticity, sometimes you might need to go down even two.
On the upside, you won't have to worry about your inseam length, as the brand offers three different measurements: 
This means that even shorter women will have the opportunity to enjoy a proper 7/8th look, while those on the taller side will be able to enjoy full coverage on their legs during cold winter months. 
Do Spanx Leggings Fit True to Size?
Spanx leggings tend to run small. Given that they're made with ultimate compression and shaping in mind, they might feel a bit too snug for those looking for a regular performance pair of leggings. Going up a size will give you the perfect sinching but not too tight fit most people look for.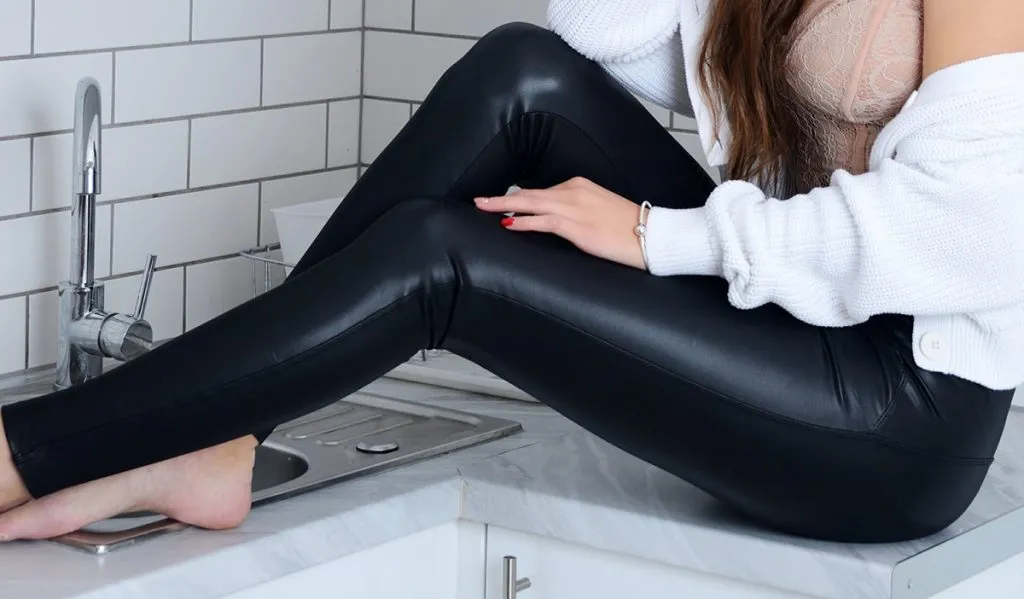 Although their sizing is not always easy to get right, Spanx leggings offer excellent quality and fit once you've figured out the styles that work best with your measurements. Additionally, the brand covers one of the most extensive size ranges, meaning that anyone from XS to 3XS can find their ideal pair of leggings on this site.
When purchasing from this brand, you'll find that although the measurements on their size guide don't differ much from what you'll find on other athleisure companies, most styles still tend to run small due to their highly compressive material.
You can always opt for your normal size if you're looking for a more snug fit, as the fabric has enough elasticity to stretch and mold over time. But if you're looking for a pair of workout leggings that offer optimal mobility, going a size up might be the best choice for you. 
The same goes for those who find themselves in-between sizes. Beware that even after purchasing a size-up, your leggings might still feel a bit tight out of the box, as the material is designed to sit and shape around your body with frequent wear. 
Therefore, don't panic if you need to shimmy your way into your new pair of leggings, as the painted-on look will make the putting-on struggle worth it. 
Conclusion
Finding the perfect size for your newest pair of leggings can often be challenging. But as long you thoroughly check each brand's size guide and each model's elasticity, you'll most likely be able to find a decent fitting pair of leggings no matter the store you're shopping at.
What To Read Next: