Leggings are an increasingly popular fashion option for college students. They are comfortable, affordable, and easy to throw on whenever you need to grab something in a rush. Leggings come in various styles and purposes, so they're a staple in many college girls' closets.
You can wear leggings to college if your school doesn't have a strict dress code. Many clothing stores carry a wide variety of leggings, so you can find a pair to suit your needs. You can dress leggings up or down, and athletic leggings are perfectly acceptable to wear to class. 
Leggings are a perfect solution for college students who will walk a lot on campus, as they are comfortable, and you can wear them with a T-shirt, sweater, jacket, or hoodie. You can even dress them up to wear to work, on a job interview, or on a special occasion. This article will talk more about leggings in college, so let's get started.
Wearing Leggings As Pants in College
Many college women wear leggings as pants today, but some people don't think you should wear leggings as pants. However, many leggings are designed to be worn as pants and serve various purposes. 
Leggings can be cozy and supportive. 
Choosing a pair of stretchy leggings can keep you more comfortable when sitting long hours in a classroom or walking several minutes across campus. If you decide to wear leggings as pants, know that you have many options before you. 
Choose the right pair of leggings for every outfit and occasion. Let's now talk more about when and how to choose the right pair of leggings.
Athletic Leggings
Athletic leggings designed for practicing yoga or working out are a popular choice to wear to college.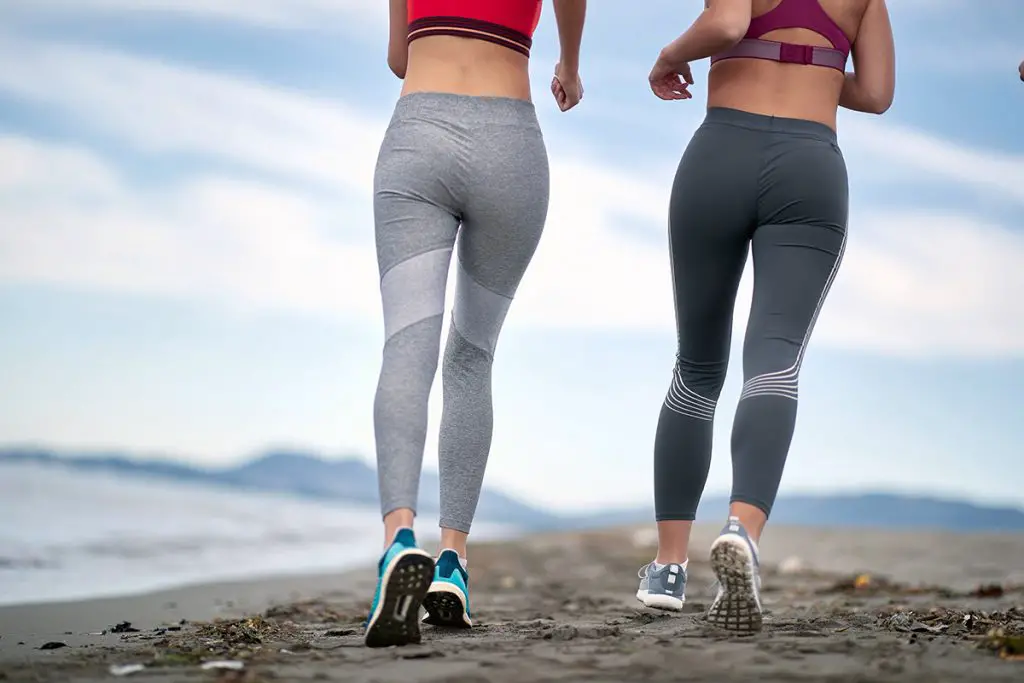 These leggings are great because they are comfortable, breathable, and stretchy. Most of these leggings are created for people to stretch or run in, so they stay in place at the waistline. Many athletic leggings come with pockets for your phone and keys, which make them a popular choice for college students on the go.
LuluLemon, Outdoor Voices, and Gymshark leggings are suitable for high-quality athletic leggings to wear to college. 
If you are willing to splurge, these LuluLemon Full-Length Yoga Pants are an excellent option to wear to college. The lycra fabric moves with you, and it eliminates sweat and moisture, which helps reduce embarrassing sweat stains.
Athletic leggings come in various cuts and lengths such as high-rise, mid-rise, and low-rise. 
There are also full-length, cropped, or Capri-length leggings, so you'll want to choose an appropriate pair for the weather and the temperature in your classroom. ODODOS Women's High-Waisted Workout Leggings are an affordable option for those who don't want to spend a lot of money on leggings. 
These leggings come in various colors and patterns, so you can dress them up or down.
Most athletic leggings are high-waisted, and many women prefer high-waisted leggings because they hide love handles, offer a more flattering look, and are generally more comfortable. It also reduces the risk of showing your underwear when you bend over, stretch, or move. 
Fashion Leggings
Other leggings such as leather or faux leather leggings, velvet leggings, or other thick and high-quality material leggings are popular options to wear to college. 
These leggings look stylish and can make your outfit look polished and sophisticated. You can style leggings with a blazer for a job interview, or wear them with a nice blouse for a special occasion. Pair a nice pair of leggings with an oversized sweater for a more casual look.
These Tagoo Women's Faux Leather Leggings are a perfect way to take your outfit to the next level. They are stretchy and high-waisted, offering tummy control with a wide waistband. You can wear them to class or on a night out, and they are available in black, brown, and red.
Jeggings
Jeggings are a popular choice among college students, especially those who work or adhere to strict dress codes. They feel comfortable like leggings, but they look like jeans on the outside. Many jobs have a no legging policy, so jeggings are a perfect solution for those who still want to be comfortable while looking like they are wearing real pants.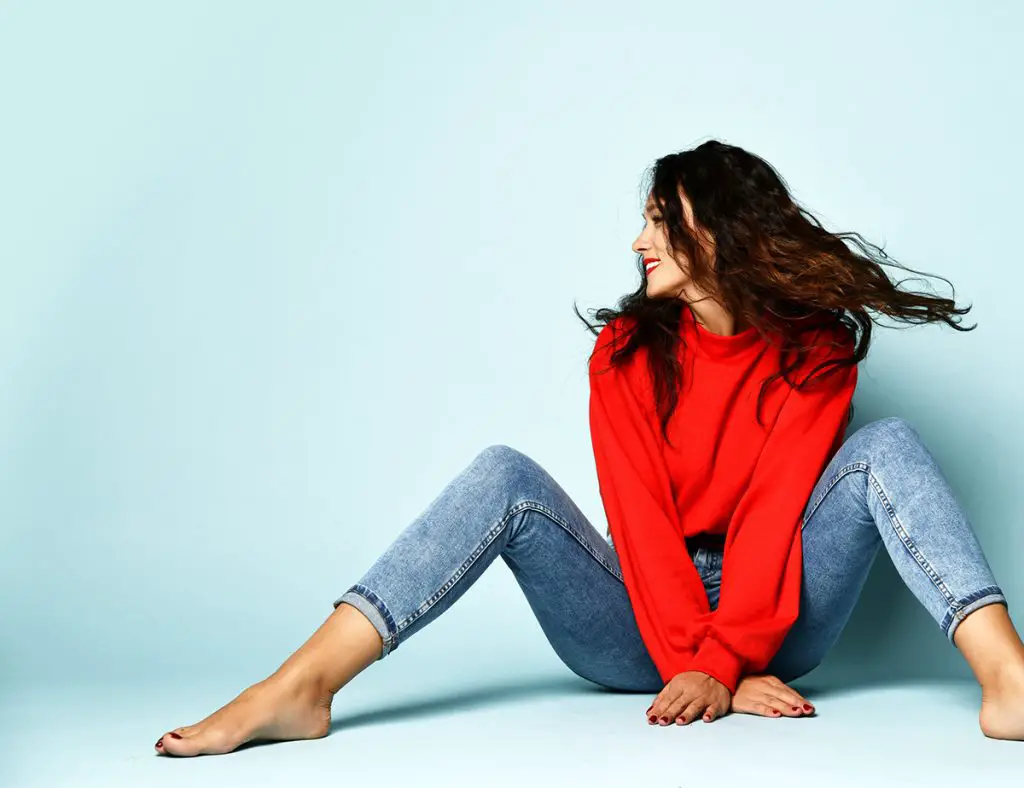 Some jeggings have pockets, which many women love, especially those in college who are traveling light. 
Many jeggings are high-waisted and offer a comfortable feel and a flattering look. You can wear jeggings to upgrade your outfit and make it seem like you dressed up without putting on constricting jeans.
And, some fashion designers have created jeggings to look like skinny jeans, complete with the working zipper and button at the waistline. The front and back pockets are authentic, and when you're wearing them, they don't look like jeggings or leggings.
Treggings
Treggings are trouser-type leggings similar to jeggings, except they emulate dress pants rather than jeans. 
These types of leggings are perfect for job interviews, work, and any event where you need to look polished and sophisticated. Treggings are ideal because they carry all the comfort of leggings with the look of work pants. 
Leggings To Avoid Wearing to College
You'll want to avoid wearing any leggings that are thin or see-through. Many people make the mistake of wearing leggings that were made for layering purposes as regular pants. These leggings are designed for wear under skirts or dresses, and they function similarly to tights. 
Because of this, the leggings are often see-through, and you can end up exposing your underwear through the leggings.
Final Thoughts
Leggings have been around for many years, and they are a staple among many college women. 
You can wear athletic leggings as pants, while jeggings and treggings are other acceptable options for leggings that function as pants. Jeggings and treggings can pull your look together while offering comfort and flexibility throughout the day. 
You can wear athletic or yoga leggings even when you're not at the gym. Because they are designed to be durable and moisture-absorbing, you can wear them as pants all day long.
What To Read Next: