Abu Dhabi, the capital of the United Arab Emirates, is a popular travel destination because it has year-round sunshine, gorgeous beaches, stunning skyscrapers, incredible mosques, and a history going back 8,000 years. If you're planning an Abu Dhabi trip, you may be wondering what's appropriate and acceptable to wear in this Muslim country. 
You can wear shorts in Abu Dhabi; however, they must go down to the knee for both men and women to be considered acceptable and otherwise appropriate. Only when at the beach are shorter shorts allowed, but not elsewhere.  
Are you planning a trip to Abu Dhabi and stressed about what to pack? This article will answer your questions about wearing shorts in Abu Dhabi, dressing guidelines for women and men, and provide suggestions for must-haves to bring with you to Abu Dhabi. 
Acceptable Standards for Wearing Shorts in Abu Dhabi
Shorts are acceptable to wear in Abu Dhabi only if they're knee-length. This is true for both men and women, although it's less common for women to wear shorts at all. 
The one commonplace shorts are generally permitted is on the beach. Short-shorts, in particular, aren't considered appropriate for men or women to wear beyond the beach. All shorts should go to the knee or just slightly above to be within the dress code. 
This means that for women, Bermuda shorts are the way to go. I like the Stelle Bermuda Shorts because they're lightweight and loose-fitting. These are essential qualities for travel in Abu Dhabi because it's usually hot in the city. It's disrespectful for women to wear anything that clings too tight to the body, so the loose fit of these shorts is ideal.  
However, there are options beyond shorts for women that I think are even better for traveling in the heat of Abu Dhabi. I like wearing Harem pants because they're loose-fitting and usually made in a thin material that is extremely breathable. Additionally, they're light and easy to pack. On particularly hot days, I recommend wearing a skirt that falls below the knee.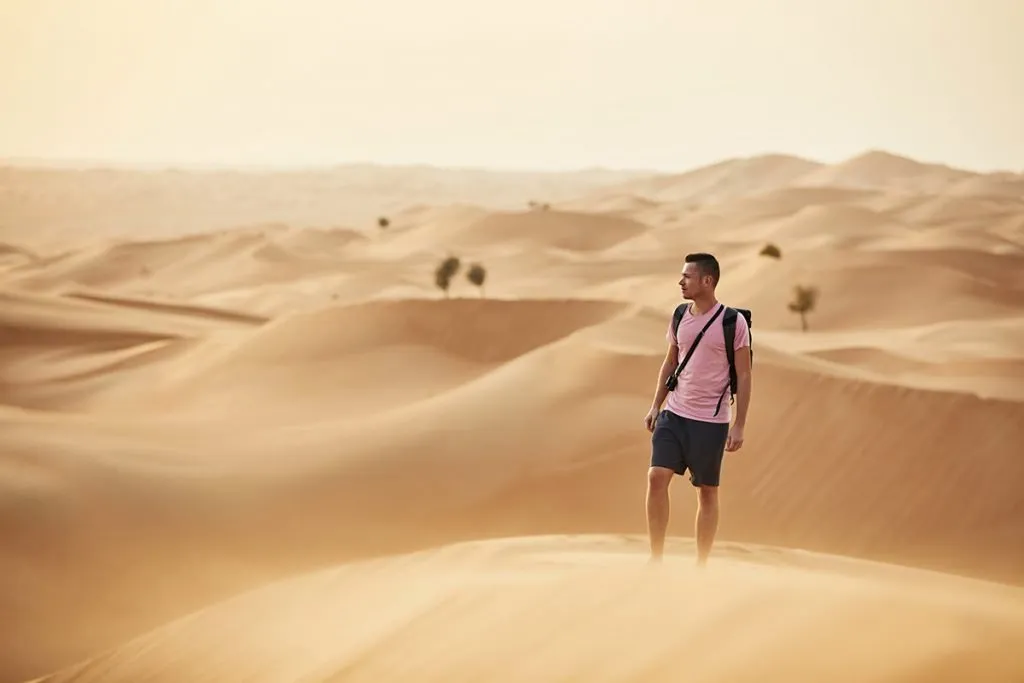 Tips for Dressing Appropriately in Abu Dhabi
Dressing in a conservative country like the United Arab Emirates can be a bit daunting for travelers, especially those from countries where it's common to dress more immodestly, like the United States. 
Here are some things for women to keep in mind: 
It's not necessary to wear a burqa at all times. Some people think that it's required for all women to cover their hair at all times in Abu Dhabi, but this isn't the case in the UAE for tourists. However, if you're entering a mosque or any religious or government building, it's a good idea to put on a head cover.  
Bring a shawl with you. Some mosques and other attractions require women to have their shoulders covered, so you'll need to cover up with a shawl if you're wearing a tank top. A shawl is also helpful to protect yourself from dust and sunburn. 
Don't wear anything that clings too close to the body. Tight-fitting clothing isn't a good idea for women, so leave your leggings and bodycon dresses at home! 
Don't bring anything white. Or, if you do choose to bring white, don't expect it to stay clean. White clothing items get dirty quickly from all the dust in the air. 
You can wear whatever you want to the beach. The rules for conservative dress don't apply to the beach, so feel free to bring your bikini as long as it completely covers your backside. 
In general, modesty is best. If there's anything you're questioning is "okay" or not, it's best to just pick something more modest. Make sure that your thighs, cleavage, and midriff are covered at all times, except when you're at the beach. 
The rules for dressing are generally more relaxed for men, but there are still some things to keep in mind: 
Don't wear tank tops or deep V-necks. These items are seen as attention-seeking instruments, so they should be avoided. 
Speedos are allowed at the beach, but swimming trunks are more acceptable. There aren't any official rules against Speedos, but it's best to cover up more, even while at the beach. 
If you plan on going to nightclubs, bring closed-toe shoes and full-length pants. Some nightclubs in Abu Dhabi have strict dress codes that require these items for men, or you'll be denied entrance. 
Don't wear anything with offensive slogans or symbols. It's inconsiderate to wear anything with any kind of inappropriate symbolism or phrase. 
Don't wear short shorts. Short shorts are rising in popularity for men, but they're not allowed in Abu Dhabi. 
Wear light colors, but not white. Light colors will keep you cool, but whites will get dusty and quickly give you a dirty appearance. 
Abu Dhabi Travel Apparel Must-Haves
Here are some items that are must-haves for your trip to Abu Dhabi: 
Rain jacket. Many people travel to Abu Dhabi for the sun, so they may forget to grab a rain jacket. However, it can get quite rainy in winter, so don't forget this essential. 
Moisturizer. The air in Abu Dhabi can be dry, so moisturizer is key. 
Sunscreen. Abu Dhabi is sunny year-round, so you'll need a lot of sunscreen.  
Sunglasses. You'll need all your sun essentials for this trip! Sunglasses will help you protect your eyes from harmful UV rays. 
Comfortable walking sandals. You're probably going to be walking a lot, so you'll need suitable footwear. However, I hate wearing socks when it's hot out, so I always opt for nice walking sandals, such as the CIOR Sport Sandals. These sandals have great arch support, and the heel straps are padded, which reduces chafing and blistering.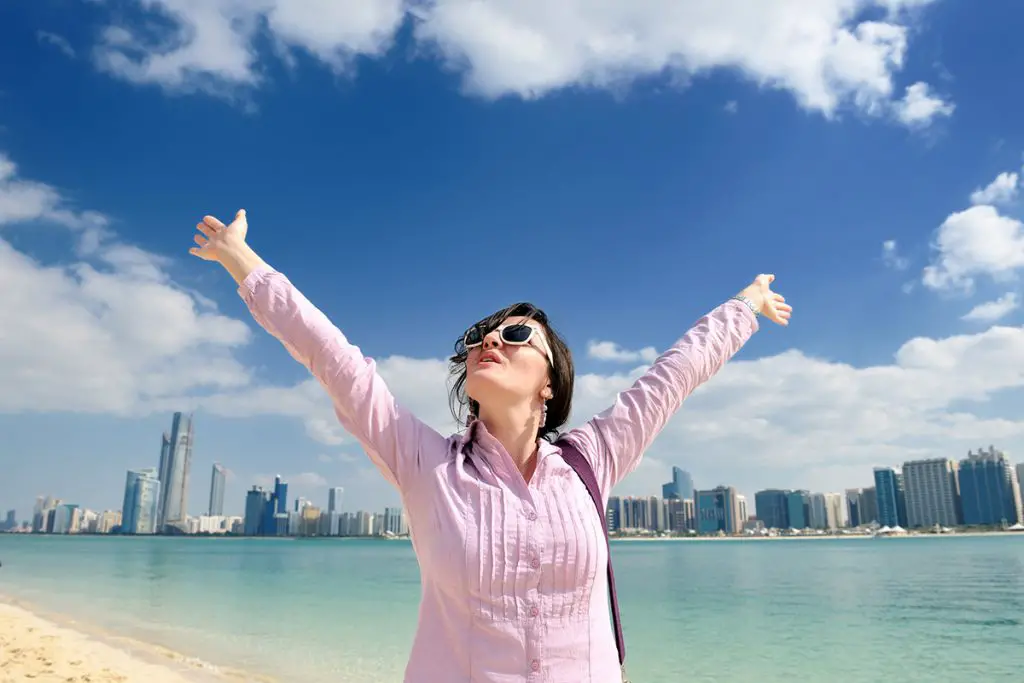 Conclusion
Abu Dhabi is a beautiful city with a lot to offer, from its stunning beaches to the mosques and the impressive shopping malls and skyscrapers. However, it's a Muslim country, so to be a respectful tourist, you have to keep some dress rules in mind. One of the most important is that shorts above the knee are not acceptable for men or women anywhere but the beach.
What To Read Next: